Your Profile
Under Your Profile in the Settings menu, you will be able to change a number of central settings for the system as a whole. On this page, we will shortly explain what all these settings entail and what you should be wary of.
Personal information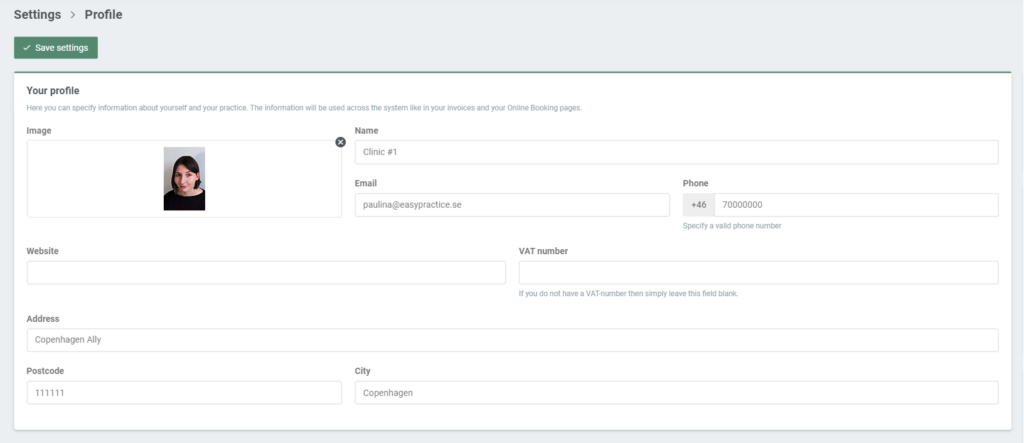 The name and address that you state under 'Your Profile' will also be visible on your Online Booking page and on the invoices that you send to your clients. The image you attach to your profile will also be visible on your Online Booking. A business logo or friendly image of yourself might therefore be the most suitable choice.
All messages that you send to your clients in the system, either automatically or manually, will be sent from the email address and phone number that you state in your profile.
VAT number
If you are a member of the European Union, you might not have to pay VAT for your current EasyPractice subscription. To be eligible for the VAT exception, you need to apply a valid VAT number to your profile. The VAT number needs to be registered for cross-border transactions in the EU.
Automatic Log Out
This function will allow you to set a duration of account inactivity after which the system will automatically log you out. By default, the account is logged out after 24 hours of inactivity.

Change your password
To change the password of your account, fill in the new password twice. Then click on 'Save settings' in the top left of the Profile page.

Download Data Processing Agreement
Download the Data Processing Agreement to learn more about how EasyPractice keeps your personal information safe.

Change the language of the system
You can choose to change the language of the system to English, Danish, Swedish, or Norwegian.
It will also determine how your clients view your Online Booking. Please note, however, that the default messages of your Emails and SMS will not automatically change according to the system language. Therefore, make sure that the messages you want to automatically send to your clients – e.g. booking confirmations or invoice messages – are edited manually.
SMS sender name
Choose which name or phone number that should be used when sending SMS messages to your clients from the system. Note that you need to apply a phone number if you want your clients to be able to answer your messages directly.