Payment rates
With the extension app 'Payment rates', you can give your clients the option to pay in rates. The app can be used both for online payments and for manual invoices. Either way, EasyPractice will automatically create and handle the accounting of the rates.
How to enable payment rates for online bookings
Start by activating the app in EasyPractice's App menu. You will find it in the category 'Payments' next to EasyPay.
To enable payment rates for online bookings, go to 'Services' in the top menu bar. Then, click on the service that you would like to offer payment rates for. Under Online Booking you can enable your service for online bookings. If the service has been made available through Online Booking, you will find the alternative for payment rates right below: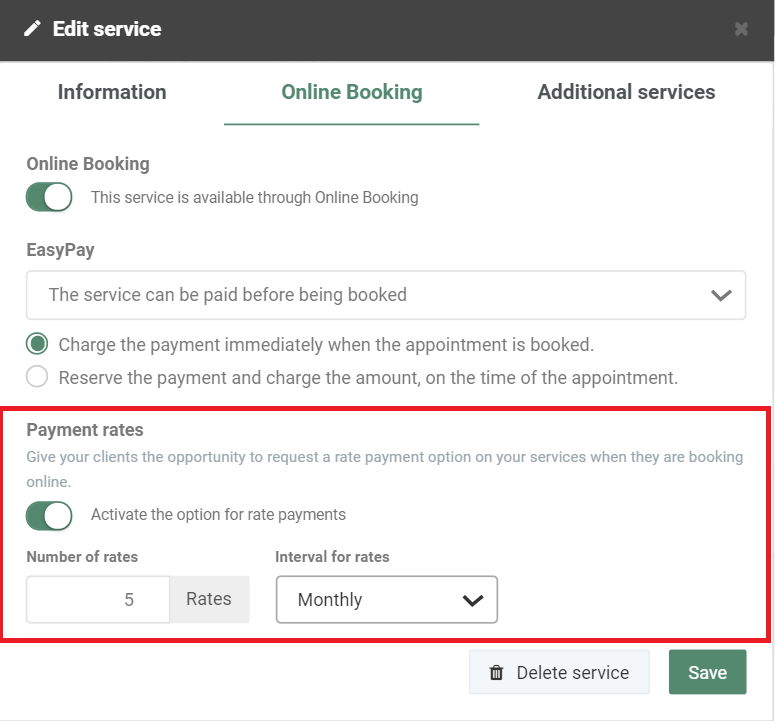 It is up to you to decide the number of payment rates and how often (daily/weekly/monthly) the money should be withdrawn. If you choose the interval option 'Specific interval', you can choose a specific number of days between each payment. Finally, press 'Save' to enable payment rates for your service.
When your clients book the service through your Online Booking, they will now find the following payment option:

Every payment rate will then automatically be withdrawn from the client's card. A receipt, with the total amount of payment, will also be sent to the client immediately.
How to use payment rates for invoices
If you are currently not using EasyPay for online payments, you can still make use of payment rates, as payment rates can be applied to manual invoices.
To split an invoice into smaller payment rates, start by going to 'Inovices' in the top menu bar and create a new invoice. Right beneath the invoice information, you will find the option for payment rates: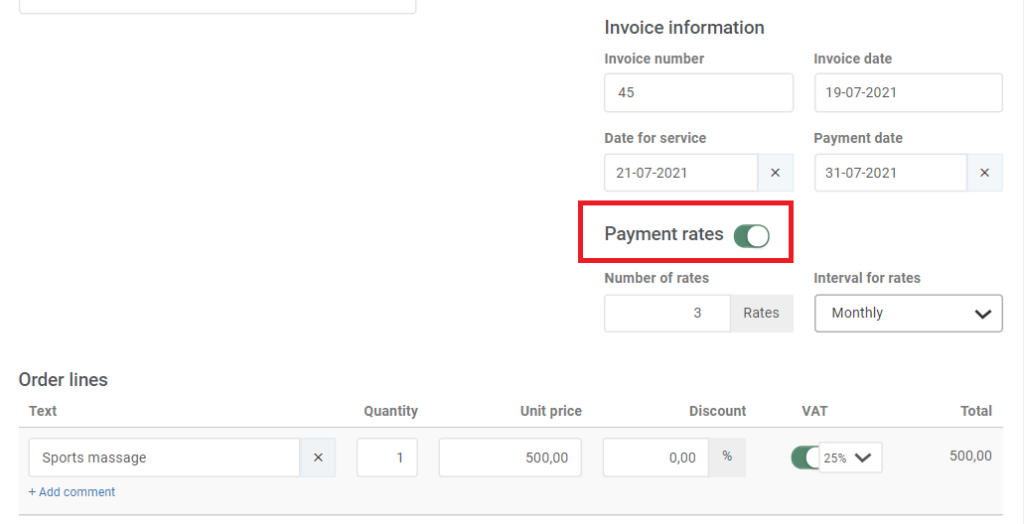 Choose the number of rates and how often the client should be charged (monthly/daily/weekly). Then simply save and send the invoice to your client. Separate invoices for every payment rate will then automatically be created and sent to your client over the course of the payment period.