Cleanup
With new rules and regulations in place, therapists and practitioners must properly handle data. With our Cleanup app, you can easily locate clients that have been inactive for an extended period of time. You just add an interval for when data should be deleted and EasyPractice will take care of this automatically. This way, you don't have to worry about manually deleting anything. Also, if you are obligated to delete sensitive data after, let's say, five years, you just set your account to delete clients that have been inactive for five years.
Setting up the app
Firstly, you need to find the app 'Cleanup' and activate it on the app page. A step in the activation process will be setting it up. Here, you can choose the inactivity time after which the clients will be deleted. In short, you can write any number of years that your regulations require. Besides the time frame, you can also specifically define what 'No activity' means for you. You have several options here, such as: no appointments, no journal entries, no emails or SMS sent, etc.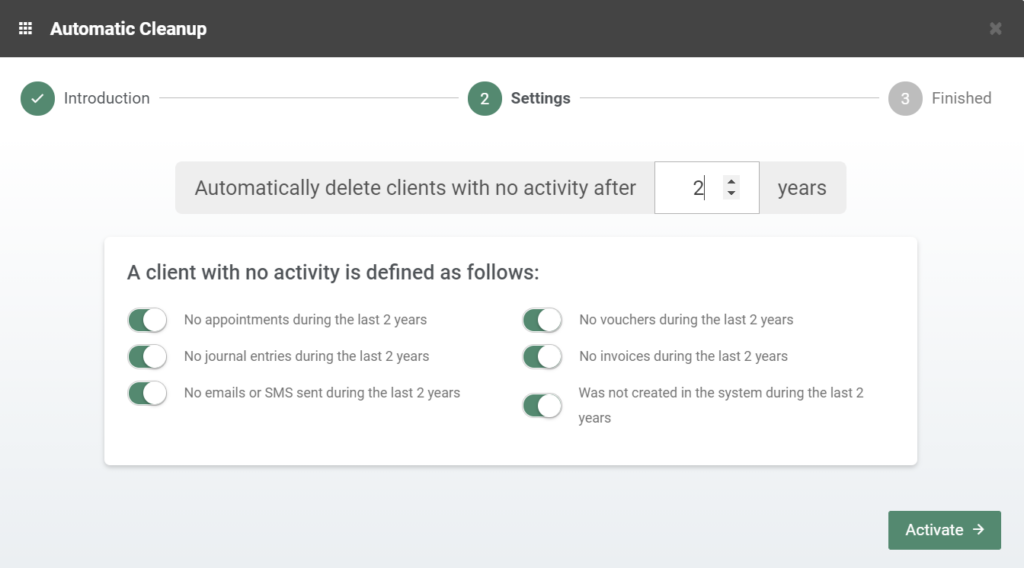 Once you have set up the app, you can view and edit it in the settings menu. Here, you will also be able to see the clients that were found to be inactive for the chosen time period. You will be notified 7 days before a client is deleted, and you will have the option to cancel the deletion if you wish so.