Sync all your calendars
If you are using several different digital calendar systems, it can quickly get a bit confusing and might even cause you double-bookings in the long run. EasyPractice has therefore developed several integration possibilities with external calendar systems such as iCal and Google Calendar.
How to sync your calendar with Google Calendar
EasyPractice has created an app that makes it even easier to sync your EasyPractice-Calendar to Google Calendar. This integration works in two ways: making it possible for you to see all your events from Google directly in EasyPractice, as well as to see your bookings from EasyPractice in Google Calendar.
Start by activating the app Google Calendar. You will find all apps under 'Apps' in the top menu bar. Then simply scroll down to the Google Calendar app and click 'Activate'.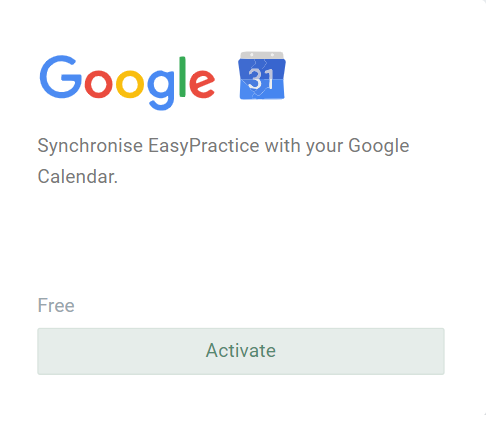 First, you will get a quick overview of the app. In the next step, you will be able to choose which Google Calendar account you want to synchronize with EasyPractice. You can only choose one account. If you want to change your account at a later point, you need to de-activate the app and restart the installation.
When you have chosen an account to connect with, EasyPractice will request access to your Google Calendar account. Accept the terms to proceed with the installation. Note that all information that is being sent from EasyPractice is encrypted, for secure handling of your client information. You choose which of your EasyPractice calendars will be synchronised with your Google Calendar, and if you have several employees, you can adjust which employees can see the bookings made in the Google Calendar.
In the final step, you will be able to choose 1) if you want the integration to work in both directions or only in one direction, and 2) which calendar from EasyPractice you want to synchronize with Google Calendar. This can also be edited afterward under Settings –> Google Calendar.
Tips: In the Settings menu for EasyPractices Google Calendar app, you can also choose to hide sensitive information from your calendars. This means that no information about your client will be shown in your Google Calendar so that you can safely share your weekly schedule with family or co-workers.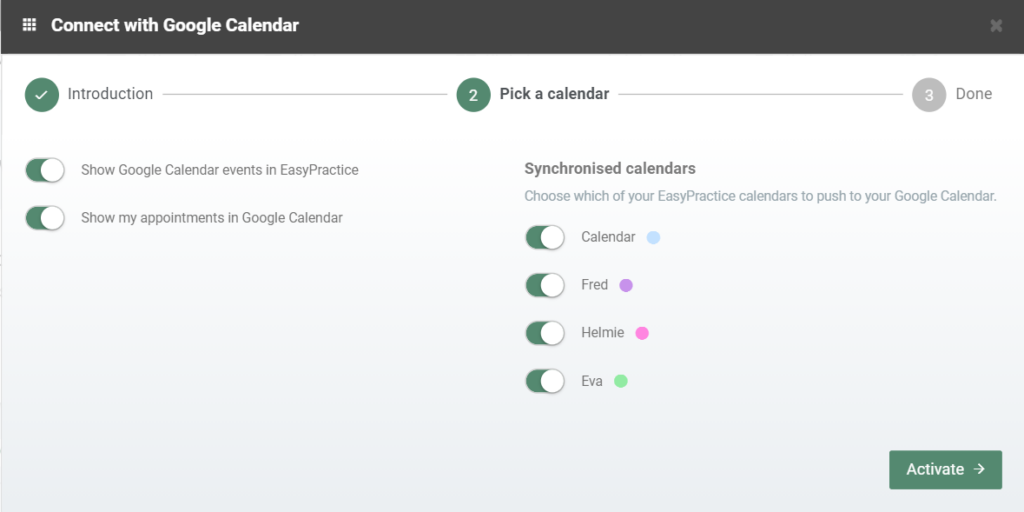 How to sync your Online Booking with Google Calendar
The integration with Google Calendar can also block available spots in your Online Booking. This means that if you create an event in Google Calendar, it will automatically block that time and date in your Online Booking, so that you don't risk getting double-booked. To activate this function, go to Settings –> Online Booking –> Other:


Note: In order for your Online Booking to be blocked, your Google Calendar events need to be marked as 'busy'. To change the settings for your Google Calendar events, go to your Google Calendar page and create a new event. Then choose 'busy':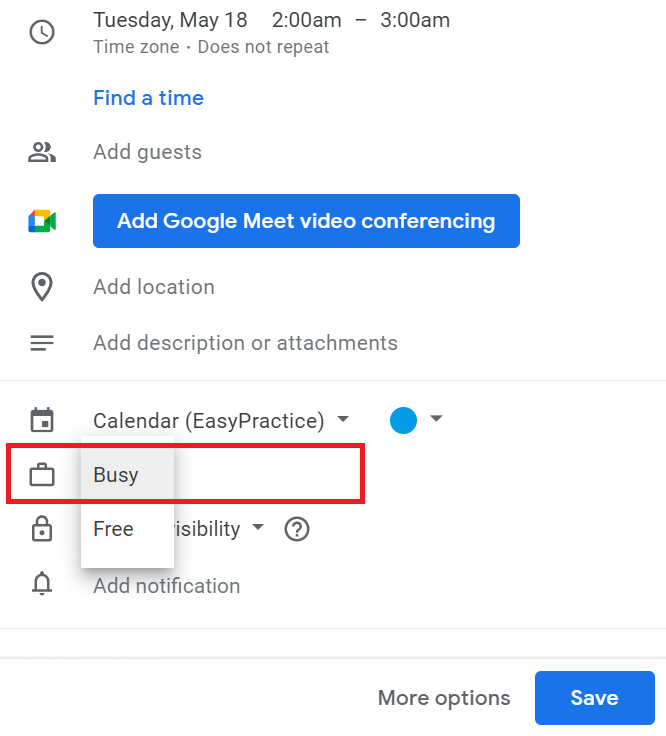 You will only have to save the settings once. Then all your new events will automatically block your available slots in Online Booking.
How to sync your calendar with other external calendar systems
If you are currently using a calendar system other than Google Calendar, you can still install a one-way synchronization with EasyPractice. This means that your appointments in EasyPractice will be visible in your external calendar system.
To do a one-way synchronization, go to 'Settings' in the top menu bar and click on 'Calendar'. Under 'Private links to calendars', you will find the links to all your EasyPractice calendars. Simply click on a calendar to copy the calendar link. You can also choose all calendars at once. The link will be used for your synchronization.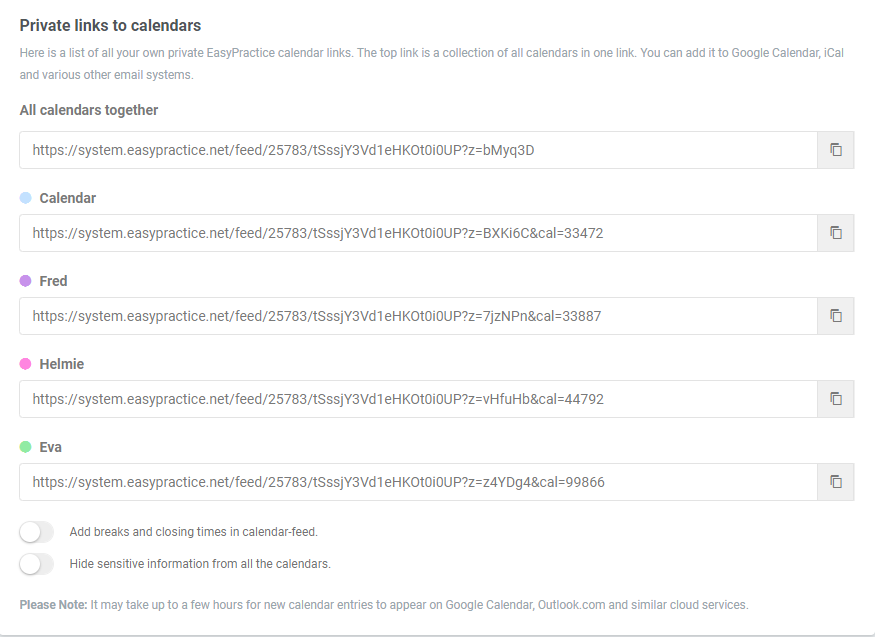 Note: At the bottom of this page, you will find an option for hiding sensitive information from your calendars, so that you don't have to worry about showing sensitive client information in your external calendar system.
Now, log in to your external calendar system. In the case below, I will synchronize my calendar to Outlook, but the same principle works for other calendar systems, including iCal and iPhone.
When you are logged in to your system, click on 'Add calendar' to add a new calendar.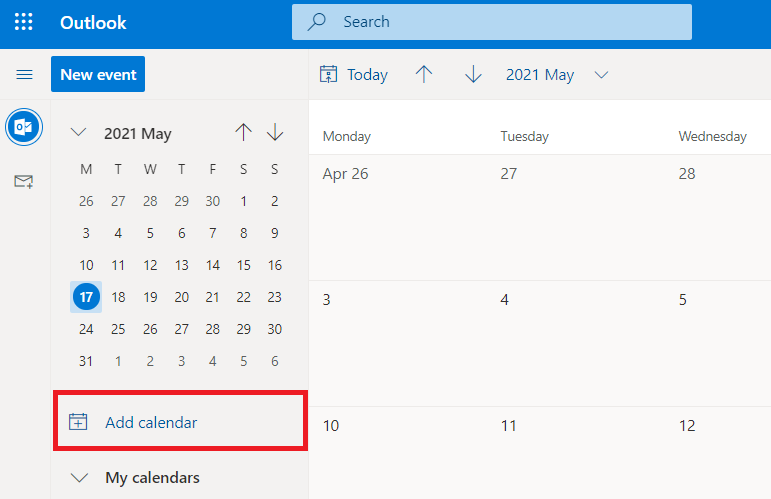 Then choose 'Subscribe from web'. In other calendar systems, it might say 'Subscribe from URL' or similar. Finally, insert the calendar link that you copied from EasyPractice, to subscribe to the calendar.