Merge clients
Sometimes duplicates are accidentally created in your list of clients. This might happen, for example, if a client registers on your booking page several times and every time creates a new profile. To simply delete the duplicate, however, might create some problems. Perhaps your client has entered different vital information at different times, meaning that his or her information is spread across different client profiles. Or perhaps you have already started writing in two different journals for the same client. Then deleting the duplicate might cause you some severe problems.
But no need to worry! EasyPractice's 'Merge-function' makes it possible to merge two different client profiles, thereby combining their information.
How to merge client profiles
To merge two clients, start by going to one of the client's profiles. Right above the client's name and address, you will find the alternative 'Merge clients'. Click on the button and then choose which client profile you want to merge with the present one. Click 'Next'.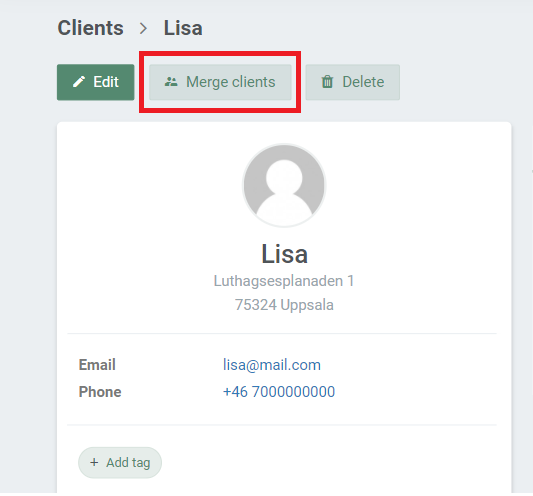 In the final step, you will see an overview of the two merging profiles. As you can see in the example below, the client profile with the most data will take precedence, but you are always allowed to change this. Importantly, however, data from both profiles will immediately be transferred to the main profile. This means that no important information is lost in the process and that you can now find all relevant information in one single profile.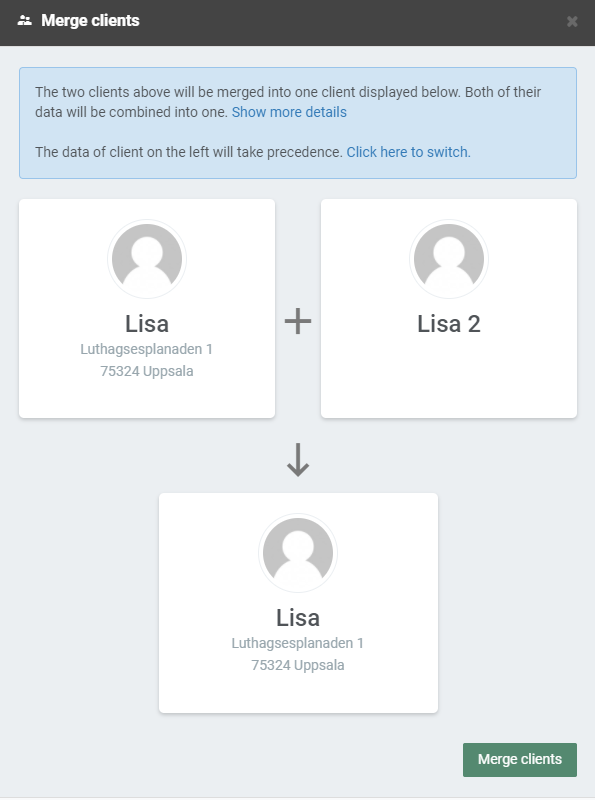 Finally, click on 'Merge clients' to merge the profiles, and you will only have one main client profile left in your system.