Online Courses
Easy Practice allows you to create your own Online Courses that you can share with your clients. In this app, you have the ability to easily create and tailor your courses that can be paid for directly through EasyPay. Once your clients buy the course, they can navigate it at their own pace.
Online Courses Overview
When you get into your Online Courses app, you will first see all your courses, whether they are published or not, and the number of purchases. So, here you will have a great overview of your courses and how well they are doing. Here, you also have "Create new online course" and "Overview of online courses" buttons.

Clicking on a course will give you more detailed information about the course. You will also be able to see the total amount invoiced, the clients that bought the course together with the dates of the purchase. You can add a new purchase here as well. This is also where you edit your course and view it, so you know how it looks for your clients.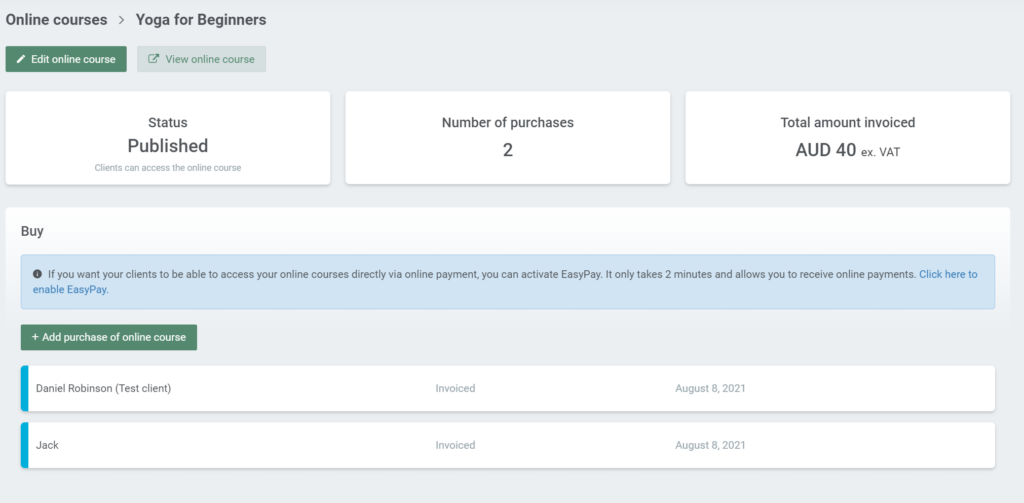 Creating a course in EasyPractice is simple and fast. You can create, edit and delete your courses as you see fit.
With a range of functionalities, you can create personal and professional courses that you offer to your customers directly in our system. This includes the opportunity to:
Combine informative texts with videos and pictures for a better course experience
Upload files and link to external sites
Let your customers sign up and pay for the course directly through your online booking