Discount codes
This app allows you to offer your clients discounts on your services, either by applying the discounts yourself or by letting your clients apply a discount code when they book an appointment online. The app can be activated in the EasyPractice App menu.
How to add a new discount code
To add a first discount code, go to 'Settings' in the top menu bar and choose 'Discount codes'. Then, click on +Create new discount code. Here, you can find all alternatives available for your discount code: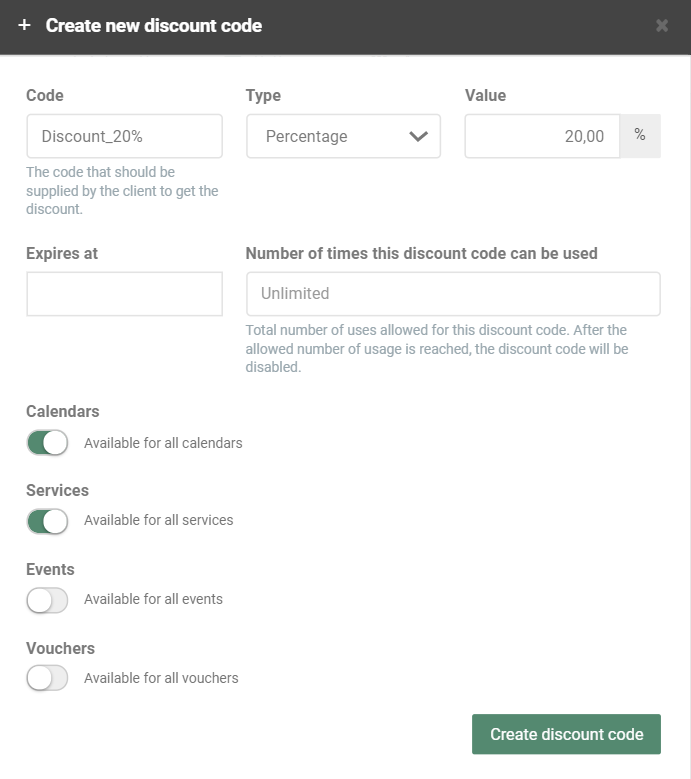 Start by setting a name for your discount code. Keep it rather simple (but not too simple if the discount is exclusive) to avoid that your clients mistakenly apply the wrong code.
Choose between giving a total value discount or a percentage discount. Then, set the value for your discount code.

If you want, you can choose an expiry date for your discount code. Perhaps, for example, if the discount is part of a larger campaign. You can also set a limit for the total number of times the discount code can be applied.

Choose which calendars, services, events, or vouchers the discount should be available for.
Finally, click on 'Create discount code' to save your settings. The discount code will then be found in the settings overview for discount codes. As long as the code is active, your clients will be able to apply the code when they book a new appointment online. To de-activate a discount code, click on the discount code and press 'Edit discount code'. You will then be able to make the code inactive.
How to apply a discount code manually
Perhaps you want to apply a discount code to a specific client and booking? Then simply click on the booking in your calendar and press 'Apply discount code':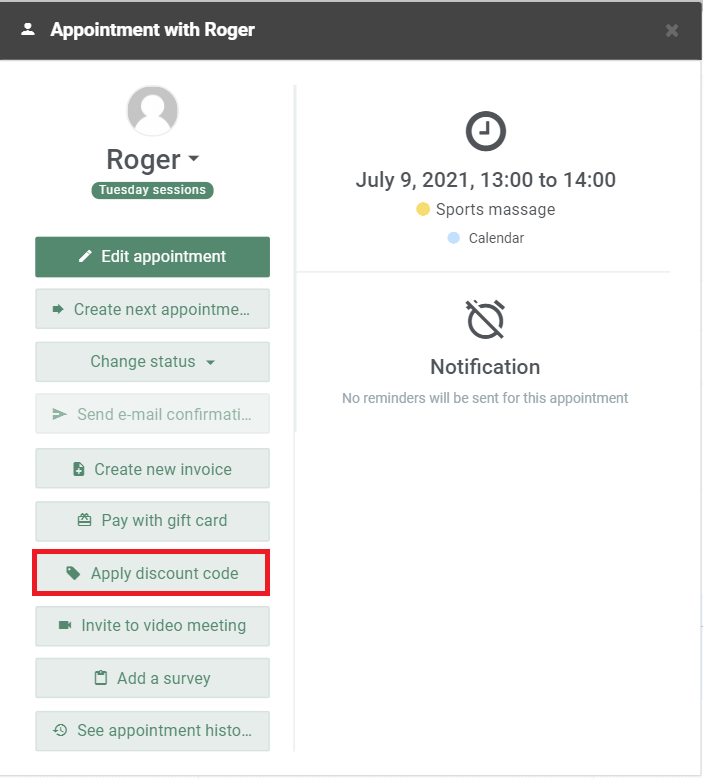 You will then be able to choose between all active discount codes that you have created. When the booking is invoiced, the discount code will automatically be applied.
View key numbers about your discount codes
If you click on a created discount code under 'Settings' –> 'Discount codes', you will find some key statistics about the code. The information shows the number of times the code has been applied, by whom, and the total amount discounted: