Payment options for events
Online Payments
If you have activated EasyPractice's own online payment solution EasyPay, you will also be able to enable online payments for your events. This is usually recommended, especially if you are expecting a lot of participants over the course of time. The online payment option can be activated when you create an event or course. It can also be activated for an already existing event, by clicking on the event and choosing 'Edit event' –> 'Settings'.
In the same way as for services, you can choose between:
Not activating online payments before signup.
Making online payments an requirement before signup.
Making it optional to pay for the event before a signup.

To learn more about EasyPay and how online payments work, check out our full EasyPay guide here.
Invoicing
If you prefer sending manual invoices to your participants after their registration, you can use the invoicing function in EasyPractice. Luckily, you don't have to create a separate invoice for every participant. Instead, you can click directly on an event in your calendar and choose 'Invoicing'. Here, you can quickly mark all participants and send a standard invoice to them: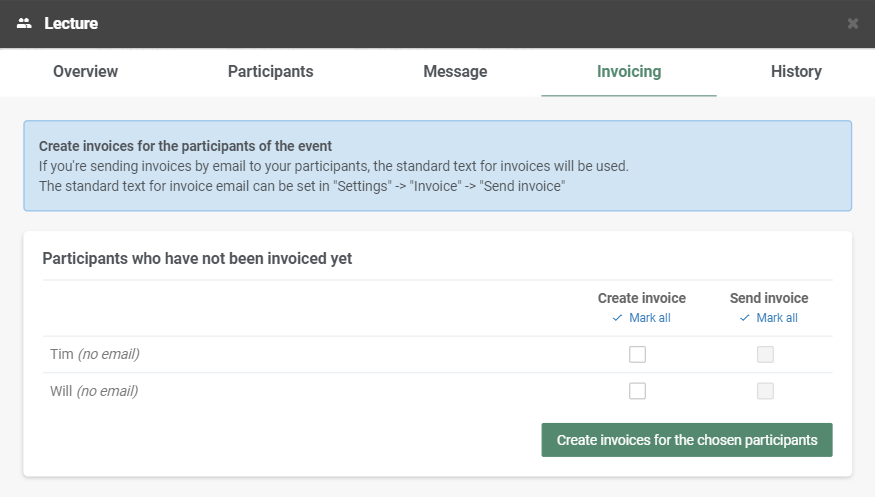 Note that the standard text for invoices will be used in this email. To edit the invoice text, go to Settings –> Invoice –> Invoice text. You can also edit the email that includes a link to your invoice, by going to Settings –> Email & SMS and editing the message under 'Invoice'.
To learn more about the invoice function in EasyPractice and associated payment options, check out our full guide here.