Adding new services
How to add a service
Start by going to the service overview, by clicking on the menu bar 'Services'. Then click on 'Create new' to add your first service.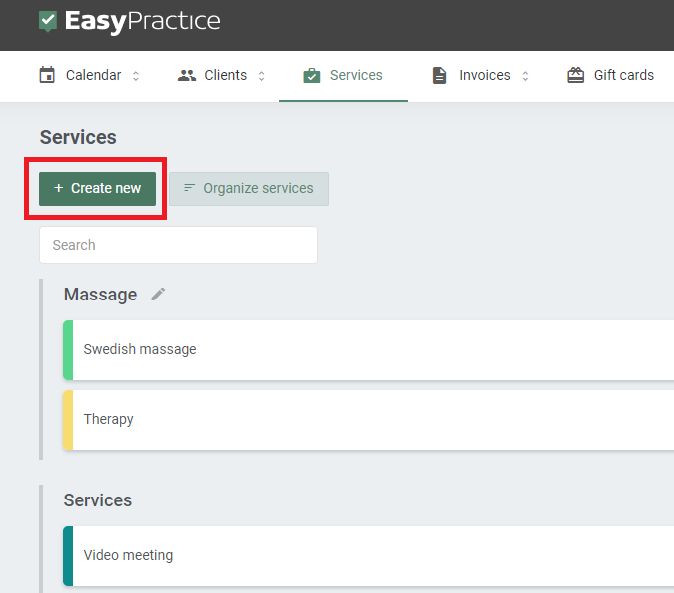 Here, you will be able to choose between four alternatives. To add a regular service, choose 'Create new service'.

In the following step, you will be able to edit your new service: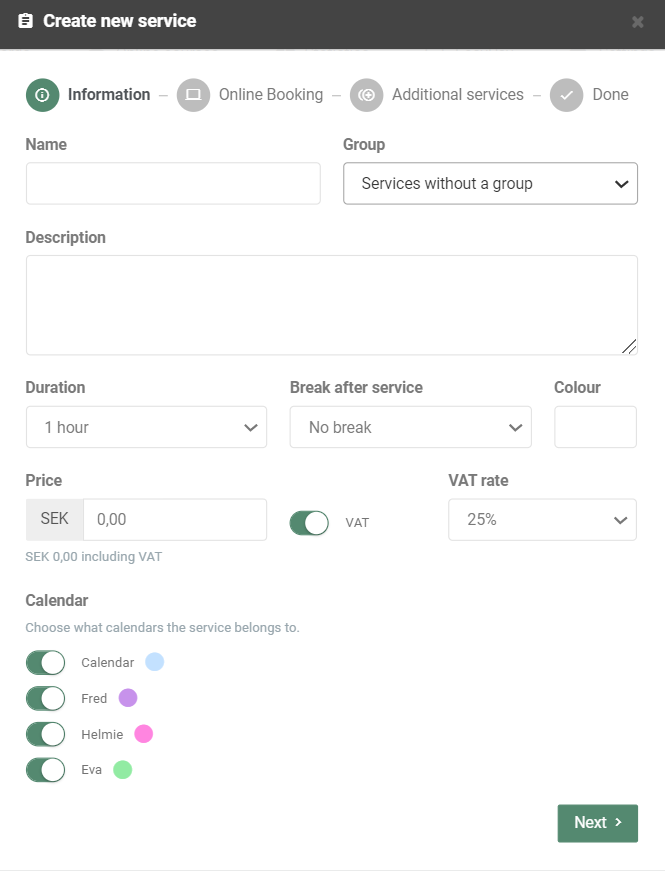 All the information about your service will be visible for your clients – either in your Online Booking or in the confirmation messages or invoices that you send to your clients through the system. Therefore, try to be as informative as possible in regards to the service you are offering. In the first step, you can add or choose:
The name of your service. Keep it short but informative.
Whether the service should belong to a service group or not. Service groups are a great way to organize your services in your Online Booking. Read more about service groups here.
A short description of your service.
The duration of your service.
An automatic break after an appointment. For example, if you know that you need 15 minutes after a therapy session to edit the client's journal, then add a 15 minutes break to your services so that it is always included in your time schedule.
Colour of your service. The color will show in the bookings in your calendar, in order for you to keep your bookings and schedule in order.
The price of your service. If you want to show the VAT rate to your customers, click on VAT and then choose which VAT rate should be applied.
What calendar the service should belong to. If you make a service available in all calendars, your customers will be able to book that service across all your locations, employees, or similar.
Finally, click 'Next' to save your changes. In the final step, you can choose whether or not the service should be made available in your Online Booking. Then click 'Add' to add your new service.
Edit your services
Your new services will automatically show in your Services overview, as well as their price and duration. The service can always be edited again, by simply clicking on the service you have created.