Calendar blocking
With the function Calendar blocking, you have the ability to create one-way or two-way blocking rules for your calendars. This will be helpful, since this function will block out availability on the receiving calendars so that you can avoid the risk of double booking. This will give you as a practitioner and clinic manager better control over your calendars and booking and how they interact with each other. Additionally, since you can now link several calendars together and have them synced, this is a great feature if you have multiple calendars.
How does this work?
Firstly, you can locate the function under "Settings" → "Calendar", under Private Links.

Here you can create both one-way or two way blocking rules between calendars. By doing this, you can block out time for other appointments. This could be beneficial if you e.g. have both online or in-person meetings. As a user, you have the possibility to block availability both in your calendar but also in your online booking.
Its important to know that each rule has its own validation. There are no restrictions for how many rules you can create, but you need to be careful about how many rules you create and set up, because they need to make sense.
You can move and replace rules as you like, but it will take into account future and past booking. So keep in mind that this is a quite dynamic function.
One-way blocking: the rule only blocks availability in one calendar.
Two-way blocking: any booking in each calendar will sync and block out availability against each other.
How to create a new rule
To add a new rule, you need to click on " + New blocking rule", and then this will show.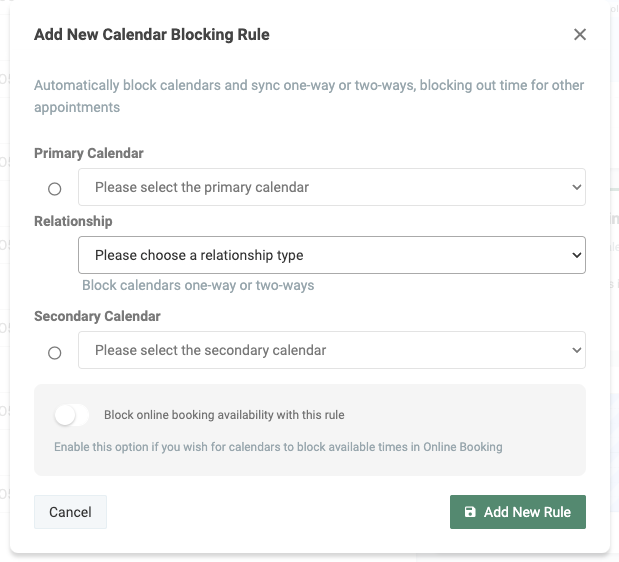 Here you can choose which primary/secondary calendar you want to include in the rule, and under "Relationship" you can decide if you want it to be a one-way or two-way blocking.
Lastly, you can decide if you want to block online booking availability as well with this new rule. When you enter your rule, click "Add new rule", and it will appear as seen below. Note – always remember to press "Save setting" on the top of your Calendar Setting page, so you don't lose your changes.

Here we have created a rule that say that calendar "Trondheim" shall block out time and availability in calendar "Oslo". If you want to change it into a two-way rule, you can just click on the rule and change the relationship between your primary and secondary calendar.
How will the calendar blocking rule appear
After the rule is deployed, and we only have the two current calendars showing – the calendar will look like this. The gray boxes that appear are the blocked calendards appointments and events.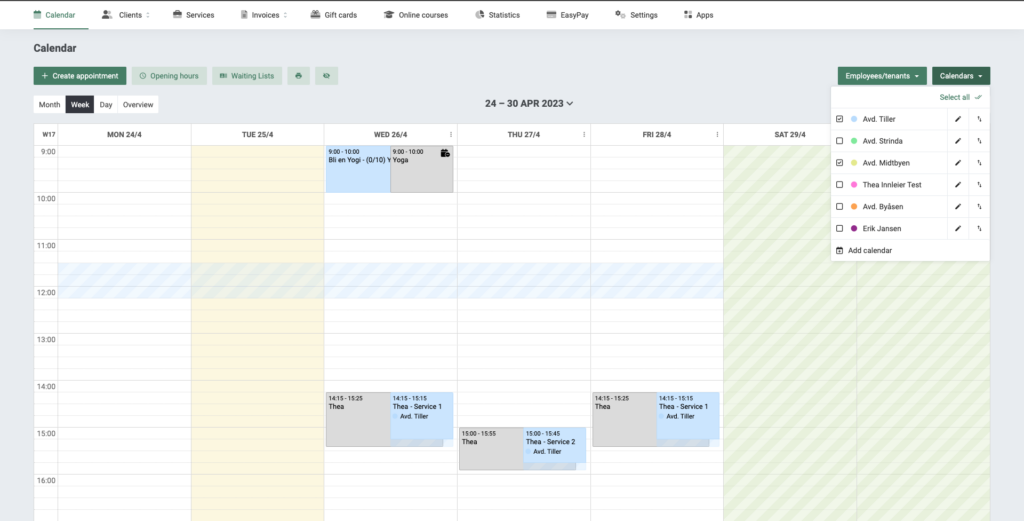 If we only select the "Oslo" – calendar, which in this example is the secondary calendar. It will look like this: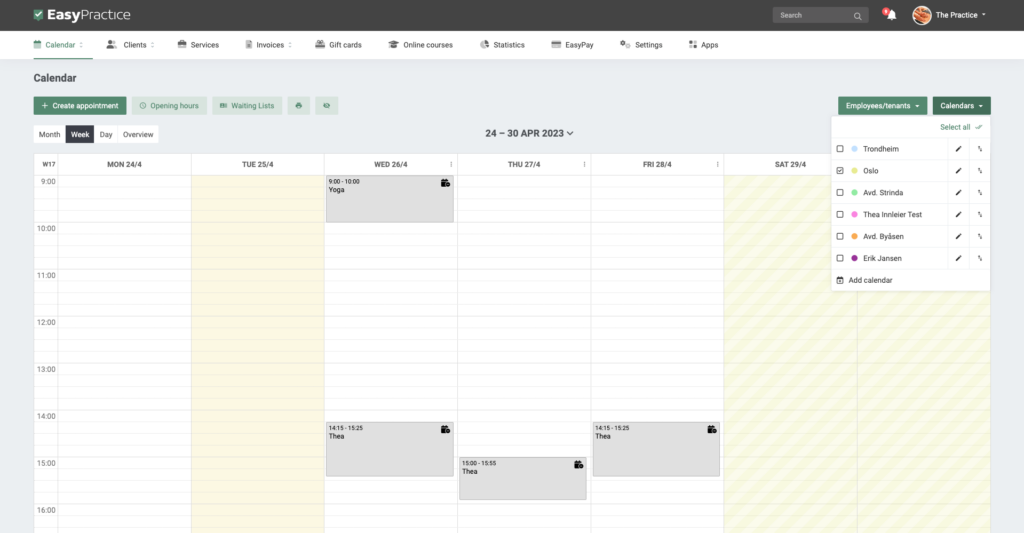 Here we can see there are appointments or events happening that do not belong to the "Oslo" calendar. If you click on the gray boxes, this box will appear and give you more information about the scheduled appointment. Here you can also see which calendar the booking is from and information about the rule.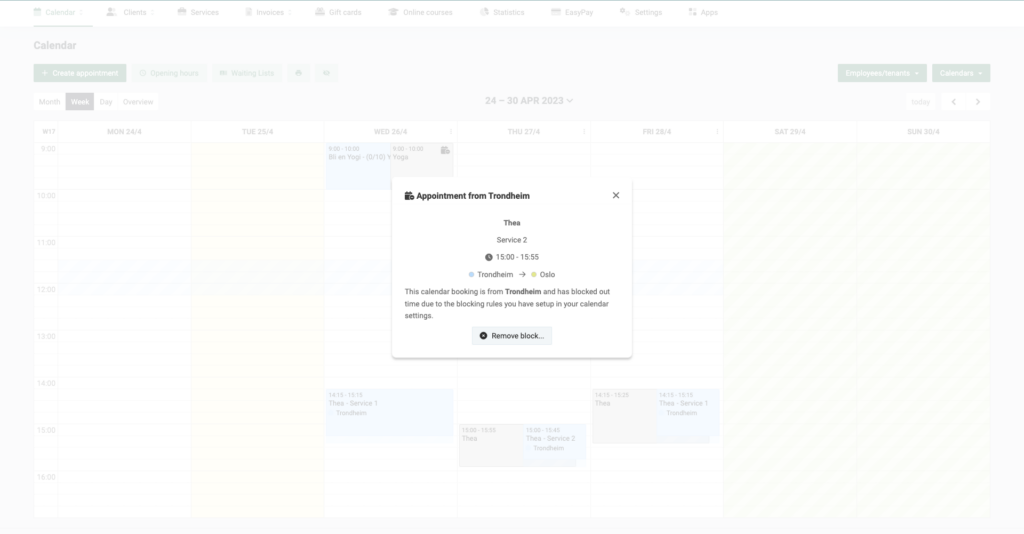 If you want, you can exclude this booking by clicking "Remove block". By doing this, you will not delete the original booking, but you can restore the availability for that time slot. The gray box will therefore disappear from the block calendar. The appointment will still be shown in the primary calendar.
As a user, you do not have the ability to restore excluded booking. If you want this you will need to contact us at [email protected] and we will help you with your request.
Important! As for now, this does not work with Google Calendar, but this might be something for the future.