Whether you are a Psychologist, a yoga instructor, or a music therapist, at one point in your career you must have heard the term "Practice management software". In this blog post, we briefly explain what practice management software actually is and how it (regardless of your profession) can help you manage the day-to-day operations of your practice.
At EasyPractice, we've spent a lot of time and energy customizing our system specifically to the needs of different professions. We know that different professions require specific features in a system. Our goal is to make your everyday life easier, so you can focus on the things that are much more fun (and rewarding) than administration.
What exactly is practice management software?
Practice management software (PMS) is a type of healthcare software that manages the day-to-day operations of a practice or clinic. It helps organize administrative tasks and appointment bookings, simplify billing, and manage patient journals.
Practice management software providers can offer a diverse range of features but a good practice management system should include a scheduling program to manage patient bookings. Additionally, client journals that store important patient details should be a core feature of any good practice management system.
Core features of a good practice management system:
EasyPractice has all of them! If you want to learn more about practice management systems I can recommend that you read our blog post about practice management software and how your clinic will benefit from getting one.
Which professions use practice management software?
A practice can be many things and can consist of many types of professions. What we have noticed at EasyPractice is that those who have benefited greatly from our services and system are equally large clinics that have many clients, busy workdays, and full schedules and smaller clinics that live off good customer service and experiences – both before and after treatments. At EasyPractice we work with a number of different professions that all benefit from having a clinic management system set up in their clinic. To make it as easy for you as possible, we have divided them into categories below:
Beauty and beauty enhancing treatments:
Sports, massages, and physical treatments:
Alternative treatments:
Mental health and medical help:
Did you not find your profession on the list? Don't you worry! We are open to any businesses who need a clinic management system, and these are just examples of the professions we work with.
How different professions benefit from practice management software
I hope you found your profession on the list. But even if that is not the case, I am convinced that practice management software can help you with your everyday tasks. To show you how practice management software can help you, I will introduce three case studies. They all have different professions and have been using practice management software for a long time and are very happy with it. And trust me, they couldn't be more different! 😉 If you are interested in reading more, we have more examples of how different practitioners use a practice management system.
How a beauty clinic uses a practice management system to handle its client flow: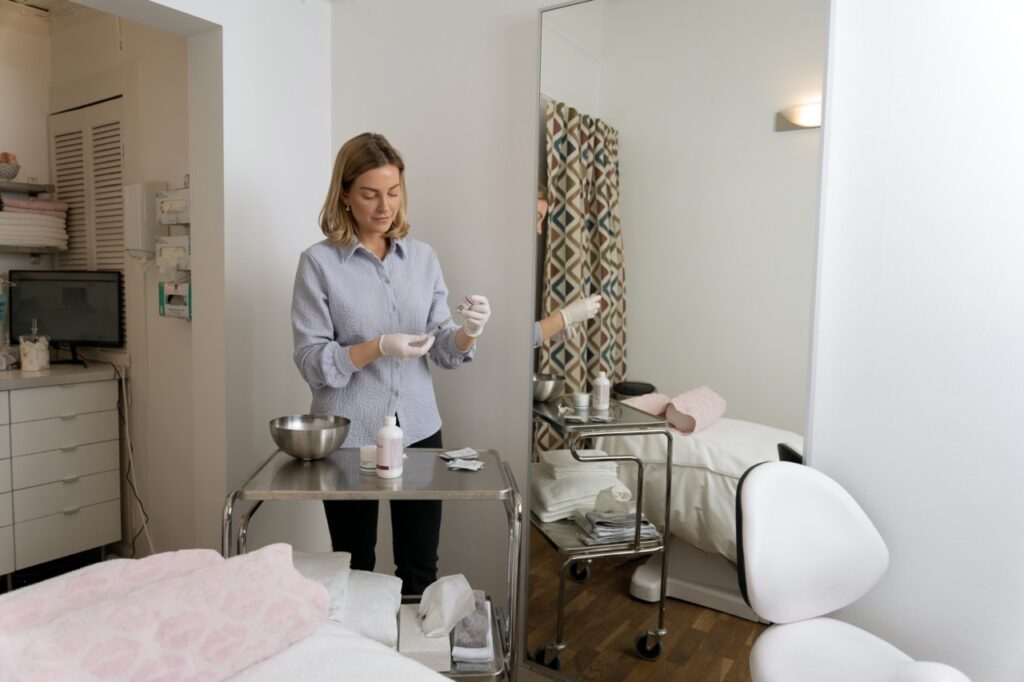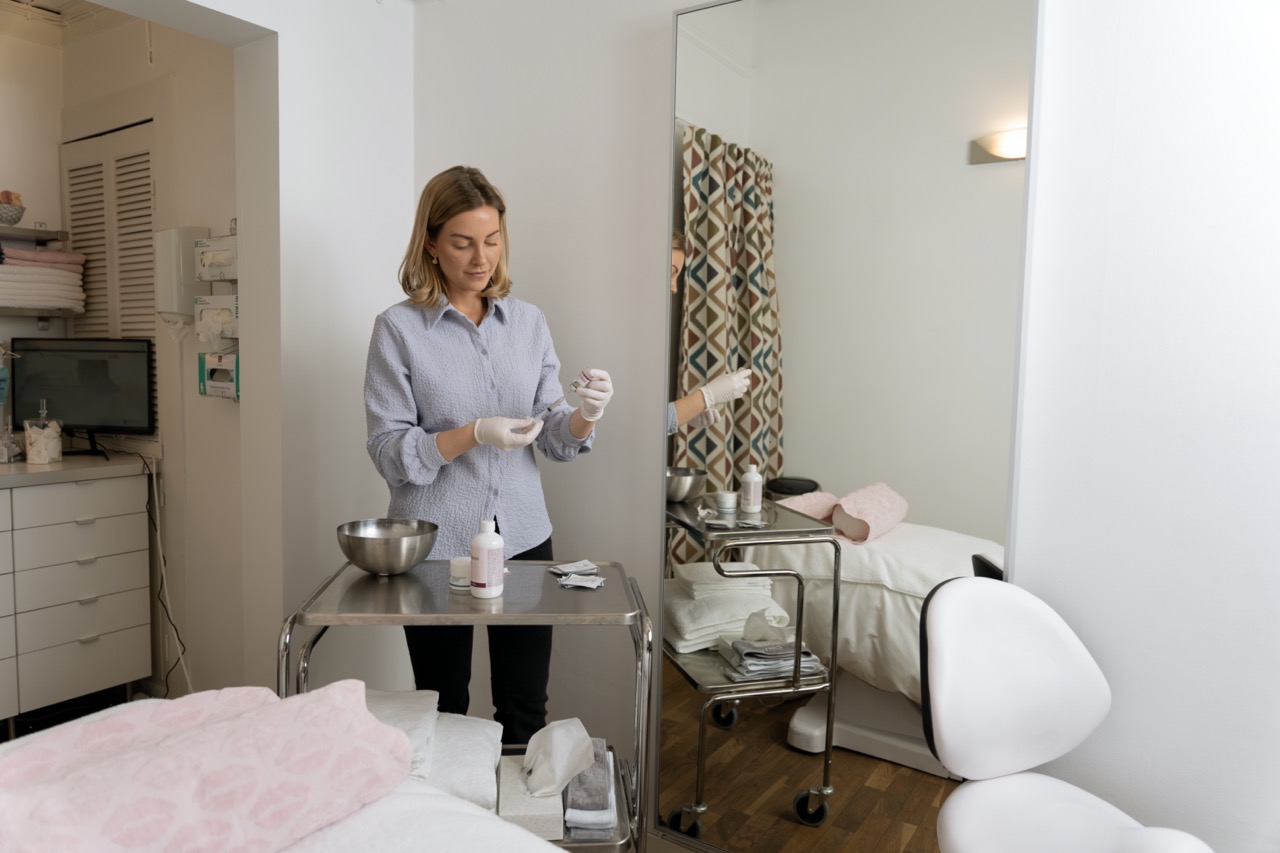 Humlegårdskliniken is a family business in Sweden with two clinics that offers consultations, injection treatments with Botulinum toxin and fillers, as well as fat reduction, hair removal, and so much more.
Practice management system for a better client flow
With the online booking system, clients have free access to the calendar and it has a positive effect on the customer flow at the clinic. Clients find an open slot, book an appointment, and receive a reminder of their treatment. Through this automation of the booking process, the clinic's therapists can specialize in customer care instead of administration. A practice management system currently handles most of the clinic's bookings and therefore the clinic and its employees can focus even more on the treatment of clients.
Keeping clients' records secure
When Humlegårdsklinikken started using practice management software, it suddenly became possible to integrate its medical record system with the online booking system. The clients' journals are secure, online, and simple to access on a mobile device, tablet, or desktop. It also allows image management so the clinic can store before and after images in the client's journal. Quite important for a beauty clinic, right? The clinic can store information in a simple and secure way while complying with the rules of GDPR, which is of the utmost importance to the clinic.
Several practitioners using the same system
Humlegårdsklinikken has two clinics and many employees. With the Employees app, multiple practitioners work together (or at the same location) and are able to have individual calendars. Each of the employees has individual availability times and services in their calendar. But, the owners can keep an overview of everything at their clinics, including calendars and permissions of their employees. With the overview, they can easily see which appointments are booked.
"EasyPractice is logical and easy to use for our customers but also for the staff" – Dr. Lennart Sandberg
For Humlegårdskliniken, its website and the opportunity to offer online booking to its clients are essential. In addition to online booking, the beauty clinic uses other apps such as Google Calendar, Gift Card, and Consent app. This means that much of the clinic's administrative work is gathered in its clinic management system. If you want to know more about Humlegårdskliniken and how it benefits from using practice management software, you can read the whole story in our case study about Humlegårdskliniken
Physiotherapists require an extra layer of security:
Gitte is a Danish physiotherapist and expert in sports medicine who offers a wide range of services She started "Health Partners w. Gitte Vestergaard" and is trained in traditional physiotherapy and further specialized in orthopedic surgery and sports medicine. The most important thing for her practice is ensuring that her data and processes are secure.
Two-Factor Authentication for sensitive data
As a practitioner, Gitte knows that being part of the digital world is unavoidable. Therefore, it's very important to make sure that all sensitive data is stored securely and that it cannot be accessed by unauthorized persons. That's why Gitte values the Authentication app the most. The Two-factor Authentication function adds an extra layer of security when logging in to the account of practitioners.
"I have recommended this Practice management software to three of the other therapists working in my joint clinic, and they now have the great pleasure of being users" – Gitte
Secure online booking system through data encryption
Gitte doesn't have to worry about safety. All sensitive personal data is encrypted and stored securely on Danish servers with regular backups. Having a secure booking and administration system ensures a level of professionalism (and security for both the clinic and clients) that was not possible with bookings through text, emails, and phone calls. If you want to know more about Gitte and how she benefits from using practice management software, you can read her whole story in our case study about Gitte.
Simple and easy invoicing for a psychotherapist in Copenhagen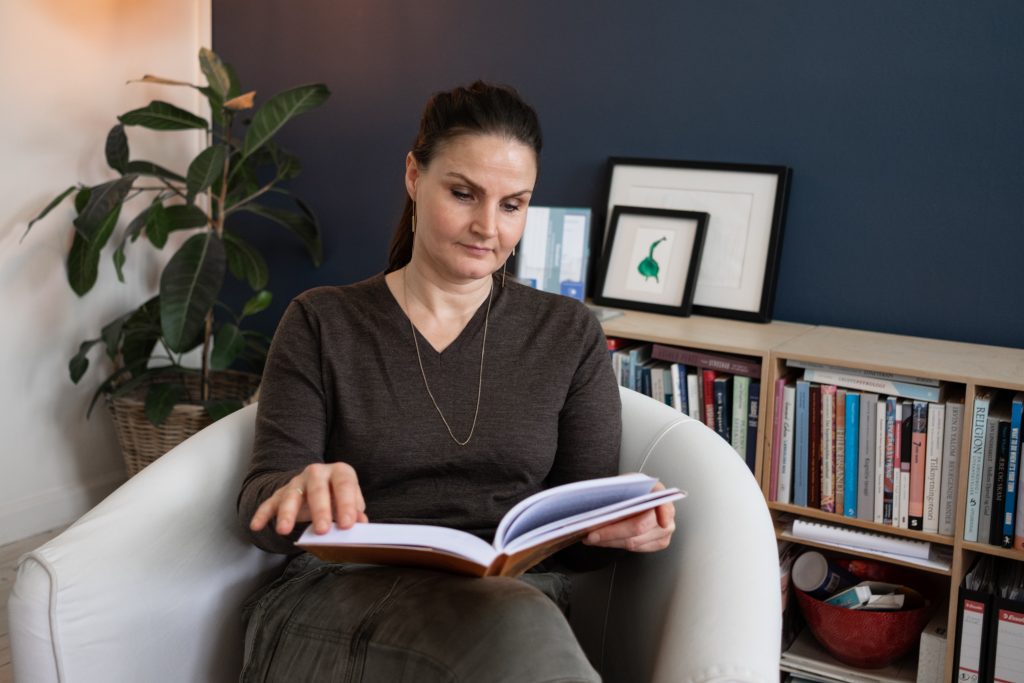 Lise is a psychotherapist who runs her own clinic. A clinic management software helps make this more simple and manageable. In her practice, Lise offers various forms of therapy such as individual, couple, and family therapy, with the possibility of family setups. Family setup therapy is a form of psychotherapy that focuses on the family as a whole unit.
Importance of keeping sensitive information in journals safe
Lisa deals with sensitive information and stories from her patients. It would be very, very bad for her if something happened to her notes. Therefore, a secure journal system keeps everything stored safely. Lise treats different types of patients with individual needs. This makes it important that her journaling system can facilitate the need for customization on a patient-level.
Declaration of consent made easy
It is required that Lise obtains a declaration of consent for the treatment of her patients. With the consent app, she has an overview of her customers and can see who has already given their consent to data processing and who has not yet given their consent. The entire process is automated, and therefore, saves Lise the hassle of a lot of paperwork and time-consuming collection. It all goes through her system automatically. This app is also entirely in accordance with the requirements of GDPR.
Avoiding tedious paperwork with the automated Invoicing functionality
There are many advantages to taking your bookings to an online system. Many things can be automated and simplify your day-to-day tasks. With automatic online billing, Lise ensures that everything runs smoothly and that her tasks take less time. She likes that the finances of her business are in control, and the invoicing function is designed to make accounting more manageable, making it easier for Lise to be her own accountant.
The billing system works great for me. It's simple and clear. I can send an invoice via email and people only pay when they get home." – Lise
This is where a clinic management system makes it easier to run her clinic. The system gives Lise a toolbox that automates the clinic's daily operations, especially in terms of flexibility, the system helps Lise plan her time in the best way possible. If you want to know more about Lise and how she benefits from using practice management software, you can read her whole story in our case study about Lise.
Core functions of a practice management software for a maternal house
Maternal House MAIA was founded with the purpose to create a safe and secure environment for new mothers during pregnancy. It does not only help pregnant women find their strength but also supports them to give their children the best start in life. This care of mother and child is the basis of therapy at the Maternal House MAIA in central Copenhagen.
Multiple calendars improve the daily workflow of a practice significantly
With multiple calendars, the Maternal House can distinguish between different types of treatments, and thus, simplify its daily workflow significantly. Clients book an appointment, pay online, and receive an invoice, while the practitioner at Maternal House MAIA receives a notification that includes in which calendar the booking took place and when the appointment is scheduled. Automating this task simplifies the practice's workflow and leaves the practitioners with more time to dedicate to their clients.
Custom invitations to video meetings
Values ​​are moving rapidly towards more digitalization, but there must be a good balance between presence and technology. Maternal House MAIA offers (besides sessions in person) the option to meet clients virtually. The practitioners are aware that human contact during treatment is still in high demand and should continue to be here. However, there are times when it is necessary to be able to have therapy sessions from home. Therefore, the practice is really happy to have an integrated Video Meetings app that allows it to send its own custom invitations to the client before a meeting. The link to the virtual "meeting room" is included in the invitation so this way, the client just needs to click on the link to join the meeting.
Monitor key activities in the practice
With the reports app, the practice can continuously stay up to date and make adjustments to its needs. The report contains key figures from a given period and is a perfect tool for staying up to date. More information gives more profit and the information is served on a silver platter in your own automatic clinic report. The report contains key figures, invoices, payment overviews, number of sales of services, and much more.
"I receive a weekly report where I can see how many invoices I've made and how many payments I've received. Whether they've paid using MobilePay, EasyPay, or cash. It makes my accounting so much easier to handle." – Pernille
When running a practice, it's especially important that the owner doesn't spend unnecessary energy trying to understand an overly complicated booking system. That's why it's been important to the owner of Maternal House MAIA, Dorthe and Marta, that the practice management system is user friendly and flexible when it comes to, for example, meeting clients (whether in person or online) and being able to easily keep track of the activities in the practice. If you want to know more about Maternal House MAIA and how it benefits from using practice management software, you can read the whole story in our case study about Maternal House MAIA.
Benefits of practice management software
There are a number of benefits to finding the right practice management software for your clinic. First of all, it simply makes managing a clinic more efficient. Second, It allows you to free up your front desk staff's time, generate reports with ease, and make better medical and business decisions.
Summary of the benefits of a practice management system
With the right practice management software, you can:
Spend less time on administrative tasks like patient bookings, patient history tracking, and more
Have a faster and easier billing process by creating invoices and tracking payments
Reduce no-shows by sending automated appointment reminders to your patients
Improve communication with patients
Centralize your data in a single software where you can access patient information, for example, review last month's earnings, or review the effectiveness of specific marketing channels.
Conduct online telemedicine consultations so the service you offer your patients is not limited to your practice
Manage your doctor's office remotely; most practice management software runs in the cloud and therapists can access them from multiple locations.
Running a small practice?
I hope that the insides from different practitioners have helped you get an idea of how practice management software can help you and your clients – regardless of your profession. We often hear that people think that practice management software is only useful for larger clinics or practices with many practitioners. But, that is not the case. Running a small practice, people tend to do everything themselves. But, now, many tasks such as invoicing, managing appointments, and many others can be more efficiently handled by software. This also makes it possible for you to focus fully on your clients.
Our largest client group is actually practitioners with a small practice and, regardless of the immediate need in your clinic, there is surely a function within our (or another) software that can help you optimize your workflow. There are also a number of benefits to having an online booking platform for small practices and it can help you grow your clinic.
Sum up
It doesn't matter whether you run a beauty clinic or if you're a physiotherapist or family therapist, with practice management software, every type of practice (small or large) is prepared for everyday tasks!
---
I hope this blog post about practice management software and professions is helpful for you at your practice!
In our Help Center, we have a lot of useful and interesting guides.
If you have any questions or comments, please get in touch at [email protected] and we'll get right back to you! 😊 If you wish to try out our booking system free of charge to see if it works for you, you are only one click away from it!