Starting up or running a small business is exciting but can also be a lot of hassle and administration. EasyPractice is here to make all the stress go away by automating the processes. We are proud to support small businesses and clinics and we offer lower prices for smaller businesses. This means that while you are growing, the price of EasyPractice will never be more than reasonable and more than you can afford.
No staff to answer phone calls for bookings in small businesses?
No need to worry. Online Booking with EasyPractice can handle all your bookings while you work so you don't need to be near a phone or your email at all hours of the day. No matter within which profession you work, paperwork will always be a big part of your business. With online booking, you will have all your important documents and appointments together in just one place, leaving you with as little administrative work as possible. All your documents are easily accessible and safely stored in your system. The ease of access and fast and secure sending of any files makes using an online booking system advantageous for keeping everything on paper!
Intimidated by accounting and invoicing in small businesses?
EasyPractice automatically makes invoices for you and EasyPay allows your clients to pay for your services when they book. You do not need to worry about miscalculations or sending payment reminders so you can relax about accounting and focus on your clients.
To set up EasyPay, just go to Apps -> EasyPay and click 'Activate'.
Need Google reviews?
One of our users has offered a top tip to those of you who are building up a new business. Reviews are important for your business' reputation and for gaining new clients.
"Make use of the automatic follow-up email at the end of appointments. Ask your clients to give their feedback in google reviews when they are contacted right after their appointment. Doing this has increased my number of reviews a huge amount and means that more people will find out about my business too!"

– A happy EasyPractice user
To edit your follow-up email, go to Settings -> Email and SMS, find 'Follow-up messages' and click 'Add new follow-up message'. You can then customise your message however you like and ask them to leave you a review.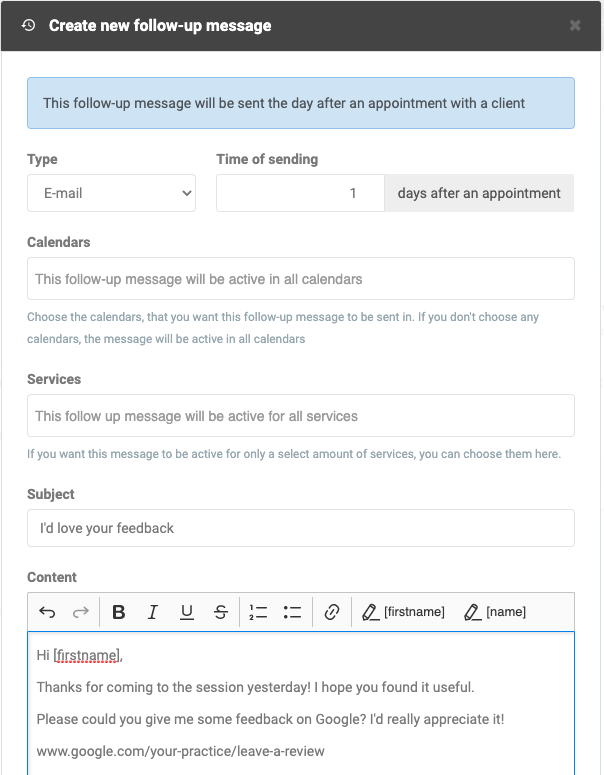 Want to track how well your website is doing?
Use Google Analytics, integrated with EasyPractice. You can track how many potential clients visit your website and see how many of them book an appointment. There is automatic synchronisation between your Online Booking and Google Analytics so you will be in a great position to ensure that your calendar is always fully booked.
---
Now you have some insight into using EasyPractice for your new, small business. Why not give it a go?
In our Help Centre we have a lot of other interesting and helpful guides.
I hope this article about small businesses has been a great help! If you have any questions, please get in touch at [email protected] as we would love to hear from you and tell you more about EasyPractice!