Do you know what appointment scheduling software is and how it can improve your business?
Let's say you are a chiropractor, you own a clinic where you have several sessions a day. You want to be updated on your next patient. What is their medical history? Is it their first appointment? Have they paid in advance or not? Then you have to check the invoice system. Bureaucracy is not something you particularly enjoy dealing with. Meanwhile, you're not just a practitioner.
You have all these other tasks that you would rather not do and keep trying to find an effortless way of doing so.
Can you relate? Then keep reading to know how an appointment scheduling software can simplify your day-to-day operations.
Key functions of an appointment scheduling software
Appointment scheduling software is a tool that helps businesses and professionals to improve their efficiency in managing their schedules of appointments and bookings. Let's break it down into the essential features of scheduling software:
Online booking
Your clients have free access to know when you're available and in 2 minutes they can easily book an appointment and find a time that suits their schedule. No need to call back and forth just to make an appointment.
Patient journal
In order to provide your clients with the best experience possible, it's important to know their individual needs. Keep track of the client's history, so you are always prepared for each and every session – in just a few minutes.
Invoicing
Rather than spending time with manual billing, most appointment scheduling software offers an incorporated billing system. Invoices are sent automatically to clients through email. As simple as that.
Integrations
Connect the scheduling software with other apps and programs such as Google Calendar, Facebook and so many others. This way you can have the appointments pretty organized on Google Calendar or allow clients to log in with Facebook instead of filling a form to create an account.
Automatic reminders
Do some clients miss the appointment because they forgot? Well, automatic email and SMS reminders might avoid this problem. Communication is never too much. An appointment scheduling software usually includes booking confirmation and automatic reminders for clients. This option can also be used to let clients know of sickness leave, send questionnaires, customer satisfaction surveys, you name it.
Staff scheduling
If you work with employees, then you probably know that managing their time and schedules can be confusing. By using scheduling software, you are able to provide individual access to every staff member and assign them specific rights to the information they need.
Video meetings
Digitalization is the way to go. Offering e-consultations is being even more accessible to clients who cannot reach your physical location so easily. So having a secure and user-friendly e-consultation system is a must, now more than ever.
Payment integration
No need for contracts with big companies. Our payment integration, called EasyPay, makes it so much smoother for your clients to either pay upfront online or to pay directly from the invoice after the appointment.
Vouchers
Whenever you want to attract more clients to your business you can create promotions and special offers. Send them to all clients or choose the ones you want to target. One more motive to keep your clients coming back.
Data security
Maybe the most important aspect: to be sure all the data regarding credit card information and clients' records are kept safe. Look for this feature to ensure the high confidentiality information is compliant with the legislation in place.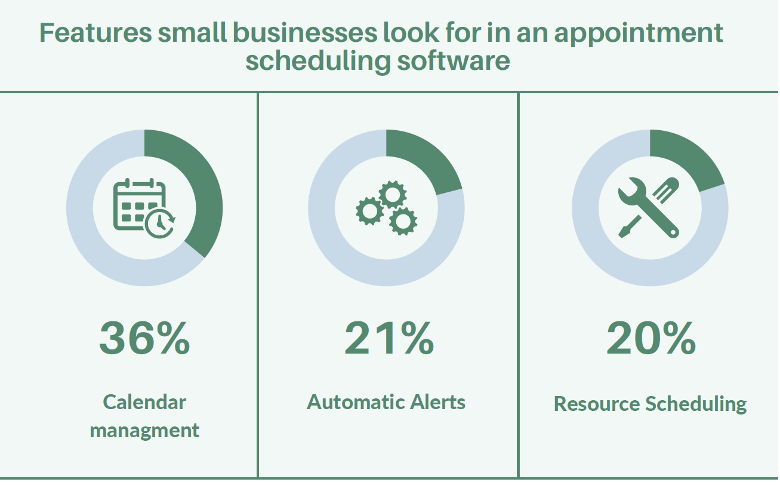 Benefits of an appointment scheduling software
Attract new clients and retain existing
Having easy access to your services both physically and online is a key component to increase the number of people who become and continue being clients.
Your products and services can be the best in town, but if people have a hard time reaching you, the probability of them coming back is low. Using an intuitive and practical system is one step ahead to capture those customers.
Improve staff efficiency with an appointment scheduling software
Your staff will thank you for having one single software that includes all the tools they need. Less time spent logging in to several platforms, checking the information in different documents, and sending unnecessary emails. Besides, since most administrative tasks are automatic, employees can use their time and energy on what really matters.
Minimize no-shows
An appointment scheduling solution tracks upcoming consultations and automatically notifies the client. It acts as a nudge to the ones who have a busy schedule or had booked the appointment a long time ago.
Your time is valuable. Several no-shows might make a difference in your productivity and in the business revenue at the end of the month.
Boost your revenue
Changing your methods and simplifying your administrative tasks leads to a more efficient business and consequently more profitable. With an appointment scheduling software new and current customers have no problem booking your services, the staff goes through fewer setbacks and the practitioners can center their attention on what brings money to the company.
Upgrade your customer experience with an appointment scheduling software
Offering a smooth customer journey in which every person feels valued is what turns one-time customers into loyal customers. It's part of building relationships with your clients, and continuously improving the business to meet their needs. This one software could be the next breakthrough your company is missing.
The impact of online appointment scheduling software
Recent research in booking software suggested that global online booking software continues to expand. Health and Wellness followed by the Sports and Gym industry and on the top of the services that most use online appointment scheduling software.
However, the variety of small businesses that use these tools is significant. Companies in the field of education, photography, coaching, and counseling also find it beneficial to have online scheduling as an option for their customers.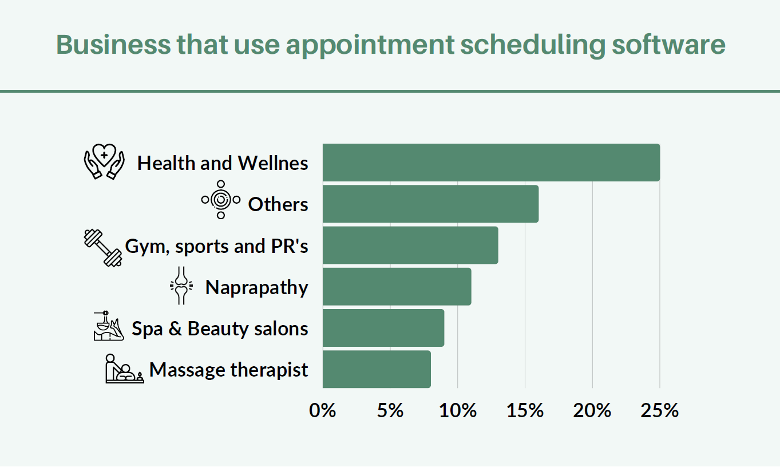 The majority of patients and healthcare professionals state that online appointment booking platforms lead patients to keep appointments. How does this turn into value for your business? Well, the projected savings a health care provider can incur from online appointments is about 40$ per patient.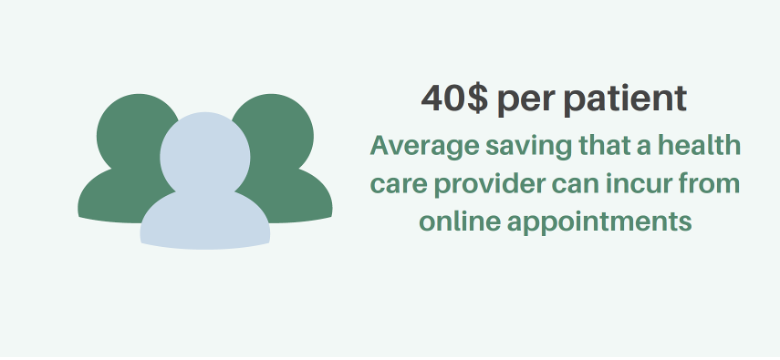 The Covid-19 pandemic influenced the way people interact with service providers. By the first quarter of 2020, the number of telehealth visits increased by 50%.
Considering that several other businesses such as airlines, hotels, and car rentals already use online booking platforms, consumers look out for the convenience of booking at their own good time. Likewise, they expect to have this option in other services as well.
How an appointment scheduling software reflects on clients behavior
According to a 2020 survey of over 200 million North Americans, 60% of the respondents affirm that usually, they book appointments online whereas 33% say they book over the phone. Yet, another question of the survey shows that of all the booking options, booking a service online is the preferred option of almost 70% of the respondents.
Therefore, not implementing an online appointment scheduling software could cost you 70% of your customers and you'd be giving them away to competitors who offer this option.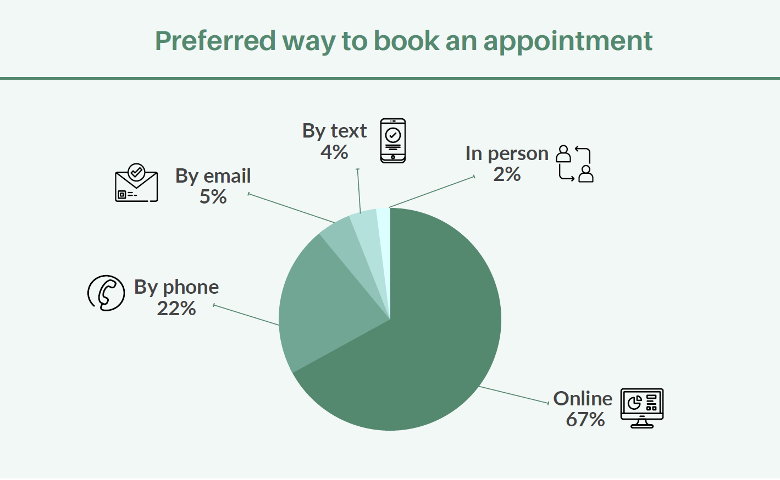 The fastest-growing consumer segment is undeniably the millennial generation, where digital technology has been a big part of their upbringing.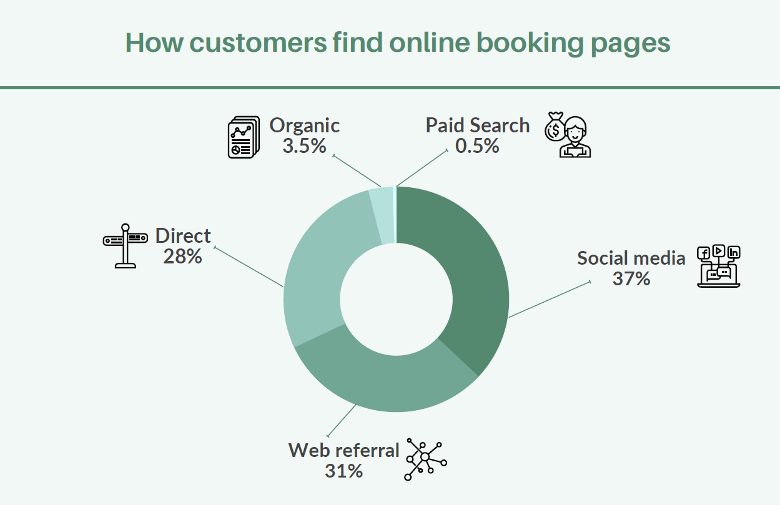 This group of people between the age of 20 and 35 will dominate the workforce and the consumption market in the near future. They are tech-savvy and if they can do it online they prefer it over traditional methods. So, having a convenient and user-friendly online booking platform will certainly attract more of these customers.
Half of Millennials and Gen Xers would change to suppliers who offer virtual care. Not only that, they use online reviews to choose a doctor. They don't stick to the doctor their parents had like previous generations used to do. This generation looks for services that are accessible, reliable, and uncomplicated.
Let's wrap it up
Managing a clinic, its clients, and staff could be time-consuming and draining if you haven't implemented a system that works efficiently.
In a nutshell, appointment scheduling software can boost your business and make it run effortlessly. Here are some key points why:
Eliminate manual tasks: This software is a platform for online booking, video meetings, in which you can keep up with clients history records and invoicing.
Reduce no-shows: It sends automatic reminders to decrease no-shows and it also allows you to create vouchers to increase customer loyalty.
An automatic customer flow: Allows integration with other programs or websites you might use that will lead your clients through a smooth customer journey – and will free up a lot of admin time.
Improve staff efficiency: It is a platform in which you can also manage staff schedules, their information access and make sure your clients data is protected.
Everything in one place! Watch your revenue grow by having more productive employees and happier clients.
If you need any more tips or would like some further guidance, don't hesitate to reach out to us at [email protected].
In our Help Centre we have a bunch of interesting and useful guides to all these Apps and functions.
Are you ready to make the leap into your appointment scheduling? Get access to all these tools and a lot more!