EasyPractice is j a great Alternative to MindBody Online, you can use our system for any industry: Yoga instructor, Personal Training, Fitness, Massage, Pilates, Psychologist ect.
EasyPractice, as the name says, makes managing your practice easy and improves treatment both for the practitioner and for the client.
The practitioner gets to spend time on treatment and those who receive the service rather than all the administrative tasks associated with running a clinic.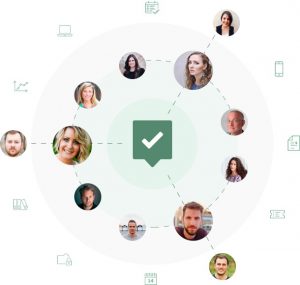 EasyPractice is a small online company located in the capital of the world's happiest country: Denmark.2
One of the reasons why Denmark ranks in the top of the World Happiness Index is that healthcare is considered a civil right. Additionally, Danes feel a strong responsibility towards one another.
Studies like this suggest that due to the successful welfare model that provides security and benefits, citizens share a collective responsibility towards each other, where everyone's goal is to make society work more efficiently for everyone.
Philosophy at EasyPractice
Our philosophy at EasyPractice is no different, and an important part of our goal is to improve healthcare in general.
We at EasyPractice also believe that a good working environment is all about efficiency. You need to be well organized and you shouldn't waste your precious time on worrying about routine tasks, administration and expensive software. This allows you to focus on what's most important for you and your clients.
At the moment we have 10.000+ clinics from all over the world using the EasyPractice online booking system.

And just looking at the graph below, you can see why choosing EasyPractice just makes sense.
MindBodyOnline
Starter
€80 /mo


MindBodyOnline
Ultimate
€290/mo


EasyPractice
Free access
2 clients


EasyPractice
Full Access
€42 /mo

Online Payment

✓
✓
✓
✓

Automated e-mail & messages

✓
✓
✓
✓

Reporting

✓
✓
✓

Advanced scheduling options

✓
✓
✓

Access from any devices

✓
✓
✓

Online Blogpost on how to manage your Booking account

✓
✓
✓

Facebook tracking

✓
✓
✓

Access to online Booking

✓
✓
✓

Book and Pay at the same time

✓
✓
✓
Apps and Functions
Amongst the other features, EasyPractice provides is easy editing tools such as simple creation of individual opening hours. Our journaling system is easy to use and enables you to edit, adjust, and add journal entries – including the possibility to add pictures or files​. ​​You can also create templates for specific types of records​. These customizations help to build a tailor-made system based on the needs of you and your clients. The therapist also can easily add new prices and services of their own choice, create multiple calendars, and both new and already existing clients can easily book an appointment directly from the therapist's own website.
Psst.. and not to brag this is just one of the glowing reviews that we got from a customer.
"Easypractice is brilliant, and I recommend it to everyone I know in the counselling business as well as to all of my course participants. Whether you're a psychologist, psychotherapist, healer, counselor, a sexual therapist or a couples counselor – anyone who is in the business of selling hours of knowledge and counselling, can save hours on administrative work every month by using Easypractice. This is definitely the best system out there. It's easy to use, it's manageble, and it's easy to get started"
Maj Wismann – CEO and owner of http://www.majwismann.com
In our Help Centre we have a lot of useful and interesting guides and tips .
If you have any questions, please get in touch at [email protected] as we would love to hear from you and tell you more about EasyPractice!
We are more than happy to help and answer any questions you might have.