Happy New Year from us all at EasyPractice! We hope that you have a healthy and happy 2022 and we are sure that you want to give yourself, your business and your clients the best opportunities this year! Find the easiest solutions to booking appointments, working online, communicating with clients and more!
Are you ready to improve the way you work and ensure you are giving yourself the best ways to schedule everything from classes to online appointments? We have 5 great tips for you to help you achieve just that when booking appointments! In this post, we will cover the following topics:
How to work online and in-person seamlessly
Planning ahead for the rest of the year
The best ways to communicate with clients
Working with international clients
Overcoming cancellations and other issues
1. How to work online and in-person seamlessly
If we have learnt anything from the uncertainly of the past couple of years, it is that being ready to switch from offline to online solutions with very little notice can help immensely! EasyPractice has always been focused on digitalising healthcare solutions for therapists and practitioners so it was no surprise that our users were grateful for the benefits of already using an online system.
Here are the best ways to ensure you can switch between online and in-person working seamlessly this year:
Enable Video Meetings
With the Video Meetings app, you can turn appointments in your calendar into online appointments with just the click of a button. Once you have created an appointment in your calendar, you can select it and click "Invite to Video Meeting" (as in the screenshot below). You can then check that the correct link is being sent by email and your client will have the link to your meeting room. They can click on the link at the time of their appointment and your meeting has become an online appointment from the comfort of your home or office!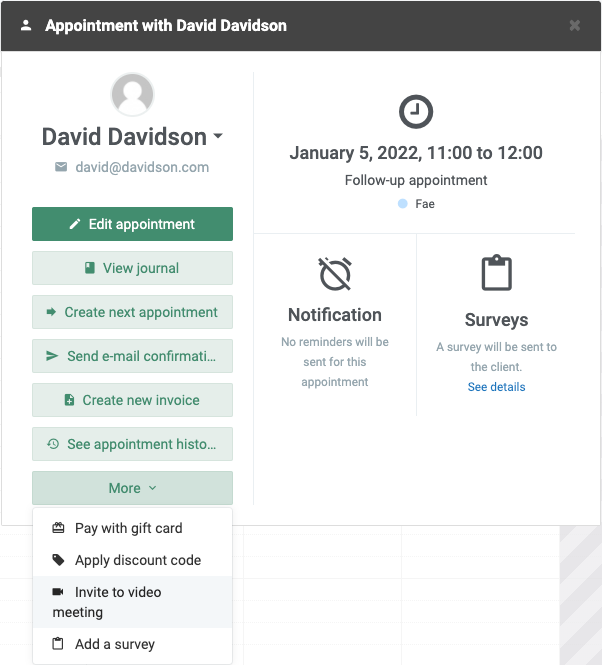 If you'd like any help to set up the Video Meetings app, you can take a look at this quick guide which takes you through the set up of the app. To get started, go to the Apps page in your account, and click "Activate" for Video Meetings.
Set up Online Courses
When you use the Online Courses app, your clients can purchase your courses and work through them online at their own pace from home or elsewhere. With Online Courses, you can set up categories and pages of content so you could split content to be viewed week by week. You are then able to publish your course and make it available all at once or make each week available at a different time from when it is purchased by your client. Of course, you also set the price and your clients will be able to purchase the course from your online booking form.
Whatever your knowledge that you want to share, from a yoga course with embedded videos to advice for clients in text and images, you can create a course using this app in your EasyPractice account.
Looking for a guide on how to set up Online Courses in EasyPractice? Take a look at this video guide:
Get feedback with Surveys
Make sure to ask your clients how they are finding your services and sessions. You could do this in person or through emails, of course, but why not take advantage of EasyPractice's dedicated app? Set up Surveys using the app in your account and set them to send automatically to clients before or after appointments.
You can set your own questions and choose the form that the answer will take such as a long or short answer or a date. Once you have created your surveys, they can be sent manually or automatically to your clients. They will receive the survey by email and when they answer it, you will be able to see their answers individually or as an overview. Make sure to take advantage of great feedback that you receive and act on it to ensure you provide the best services to your clients this year. This will ensure your clients remain happy and loyal to your business when they feel heard!
2. Planning ahead for the rest of the year
It's not always possible to plan far ahead with any business or practice but it's great to have the option to do so. Whether you have returning clients with recurring appointments, sessions or events which repeat every month or you want to offer seasonal discount codes for clients to encourage them to book more in quiet months, EasyPractice can help!
Recurring appointments
If you have an appointment with a client which repeats every week, month, or another period of time, you do not need to add each session to your calendar manually. With EasyPractice, you can be sure to find the quickest processes so you can use the handy "recurring appointments" button. To set up recurring appointments, create a new appointment. Then, to the right of the "end time" field, you will see a circular arrow. If you select this icon, you will be given the option to choose how often the appointment should be repeated and when it should end. This way, you can set up appointments quickly and easily.

Repeating events
As well as booking appointments, with EasyPractice, it is very simple to repeat events and sessions. We have made sure to have processes with very few clicks to save you time and effort when doing administrative tasks. Therefore, if you are creating an event or course in your calendar and you have created something similar before, we can help! Instead of adding all details of the event from scratch, use the dropdown arrow next to the button "Create a single event" or "Create a course". If you select this button, you will be presented with a dropdown selection of events or courses that you have created before. If you choose one, the previous details will already be filled in the fields when you are creating the new event. This means you can save time and only change the different details.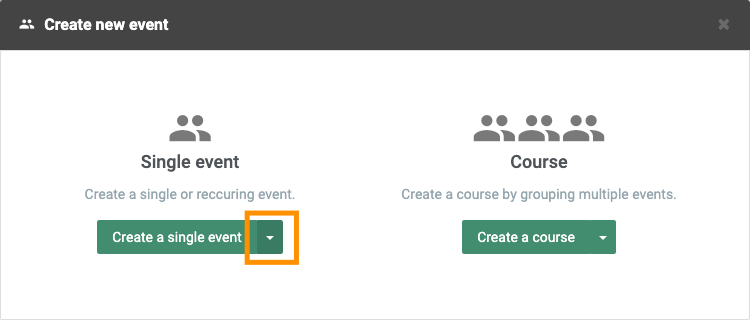 Discount Codes
There is no pressure to create discount codes ahead of time as you can use them as soon as you want to use them. However, it may be a great idea for your business to decide in advance the best times of year to offer discounts to your clients. For example, many businesses like to offer new year discounts to encourage additional bookings at the start of the year. If you have been using EasyPractice last year too, you can take a look at your statistical overview by selecting the "Statistics" tab to see which months had most or least activity in the last year.
If you already know when you want to offer discount codes, you can set them up in advance and only tell your clients the codes when you want them to use them. Don't forget that when you are creating a discount code, you can choose when it should expire and how many times it can be used.
To set up discount codes, go to "Apps" in your account and click "Activate" for Discount Codes. You will then be able to start creating them when you go to Settings -> Discount Codes.
3. The best ways to communicate with clients
It is vital to keep in touch with your clients. Firstly, to send confirmations and reminders of appointments or events but also to let them know what is going on at your clinic or practice. You can also send group messages through EasyPractice and communicate securely with encrypted messages. Make sure you communicate with your clients in the ways that suit you and them best this year!
Integrate your account with MailChimp
With EasyPractice's integration with MailChimp, you can send newsletters to your clients to keep them up to date with any changes you make in your practice. For example, perhaps you have some price changes or are offering new services in 2022. What better way than to let all of your clients know at once in a professional looking newsletter created with MailChimp?
To activate the integration and start sending newsletters to your client list in EasyPractice, go to the "Apps" tab in your account and click "Activate" for MailChimp. You will be guided through setting up your mailing list and you will be ready to get started.
Confirmation and reminder messages
Sending email and SMS confirmations and reminders to clients is easy! It can help to reduce missed appointments as your clients will not forget the details when they have received them in an email or text. Confirmations can be sent when the appointment is created if you have selected this option and reminders are sent the day before the appointment if you have selected this option. Remember that SMS reminders are free!
To set up the messages you want to send and all other reminders or notifications to clients and yourselves, go to the Settings tab and then select "E-mail and SMS". Turn on each option which you want with the appropriate toggle and change the text of the messages using the "Edit email" and "Edit SMS" buttons for each option.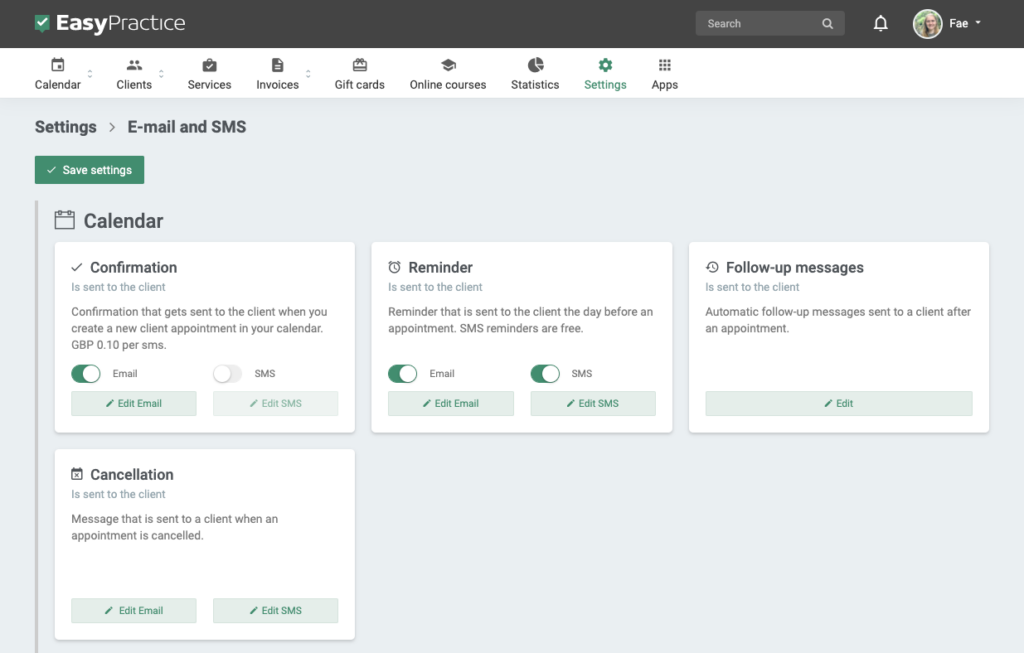 Sending group messages
You can also choose to send group messages to groups of clients. Perhaps you want to contact particular clients who had an appointment with you recently or a group of them with something else in common. In that case, this is a great option for you!
When on the "Clients" tab, select the button "New group message" as in the image below. You can then choose to select all or some clients and then choose the option which suits you best: either a group email or SMS, depending on your preference.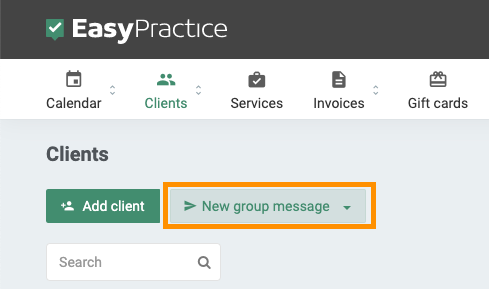 Secure Messages
When you and your clients value privacy, it makes sense to use encrypted messages to communicate. For this purpose, we have created the Secure Messages app which you can activate in your account. Send messages, files or even journal entries to your clients and they will receive a message to tell them that there is a message from you in their account.
Once they log in to your online booking, they will be able to view your message or file and reply! It is very easy to use and provides you and your clients an added level of safety and security.
4. Working with international clients
A great benefit of the changes that have been made to the way we work online is that you may now be able to reach more potential clients than if you were only working in person. At EasyPractice, we also work internationally so we know how important it is to accommodate others in different countries, working at different times and with different currencies, for example. Here are a few of the ways you can take advantage of EasyPractice's developments for international therapists and practitioners this year:
Multiple currencies
Are you wanting to invoice clients in different countries? If they use different currencies, then you'll love our new feature of the possibility to invoice in multiple currencies. Now, when you create a new invoice, in the "Currency" field, you can choose the appropriate currency for the client. Just as in the image below, make your selection from the dropdown box.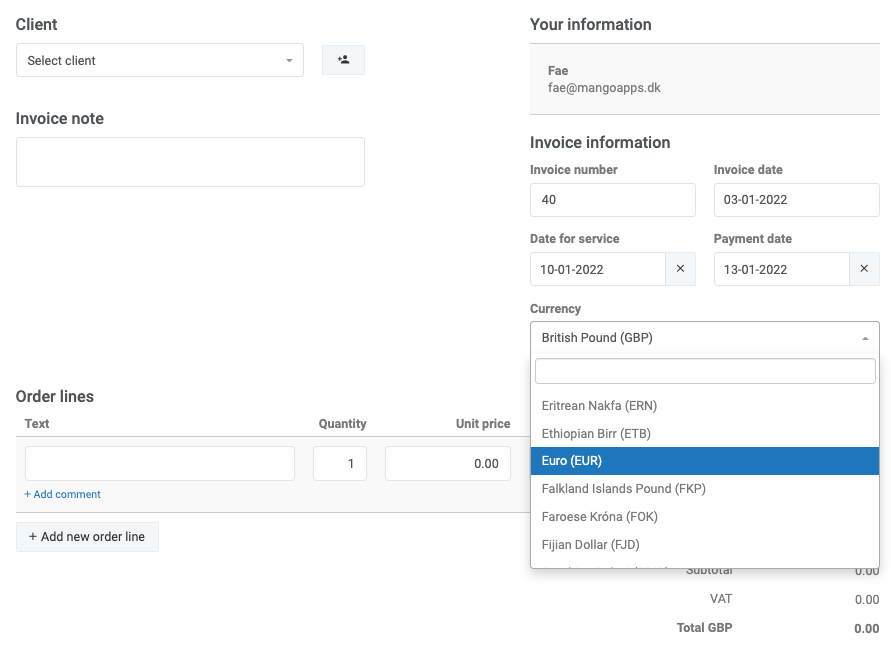 Time zones in online booking
Similarly, if your clients are booking appointments from a different country, they have the option to change the time zone when looking at your online booking. By default they will see the time zone which you have selected but they can click on the time zone shown at the top of their screen when viewing your online booking form and select their own time zone for ease of booking and organisation.
International addresses and phone numbers
To ensure you also have the correct contact information for international clients, you can select their country and phone number country code when setting up their information. Just choose the arrows next to these fields and you will be able to select the correct country. Take a look at the image below to see exactly where these fields are when you select "Add client" on the "Clients" tab.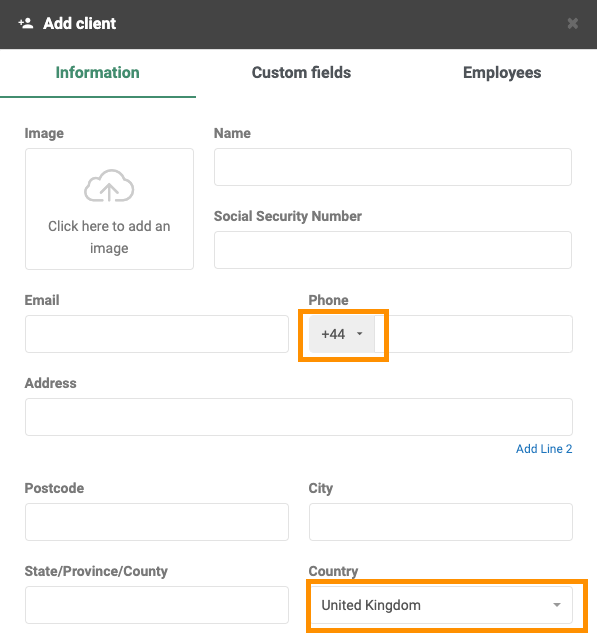 5. Overcoming cancellations and other issues
For whatever reason, cancellations are sometimes inevitable when you hold appointments, sessions and even online appointments for clients. However, this does not need to be a huge issue. When cancellations do occur, you can be ready to deal with them with helpful functions and apps in your EasyPractice account.
Offer great customer service
In general, it is important to offer good customer service to ensure your clients are happy and want to return. Whenever interacting with clients, you can keep in mind the 5 key customer service elements:
Respect
Patience
Personalisation
Empathy
Hospitality
You can read more on our tips on offering great customer service, even in the event of a cancellation or a difficult client.
Set up Waiting Lists
The Waiting Lists app is a great way to avoid empty slots in your calendar due to cancellations. With this app, you can allow clients to sign up for your waiting list for specific appointment times when they want to be booking appointments. This means that if a client cancels an existing appointment with you, you can send an invitation to that slot to another client. Your sessions will remain full, your clients will be happy to get a last minute appointment when possible and you won't lose out on any business!
To activate Waiting Lists, go to "Apps" and click "Activate" for the specific app.
---
We hope that you find these tips helpful as you are getting into the new year! Fancy a free trial of all of these features mentioned? You can sign up to EasyPractice for free and get started right away. See how quickly many of your administrative tasks seem smaller and easier when you use an online system to help!
Have a great new year and let us know if you need anything!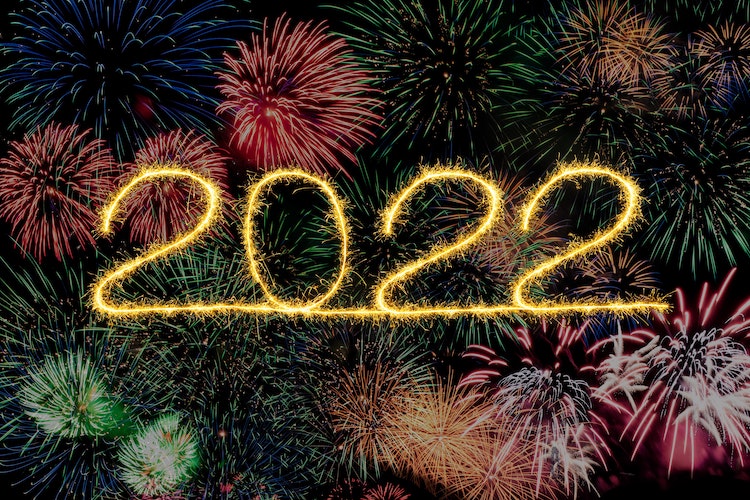 If you have any comments or questions, we'd love to hear from you! Just send us a message at [email protected] and we'll get right back to you.