As everyday life becomes more and more digital, more opportunities also open up for engaging your customers both offline and online. With a hectic everyday life, it can be difficult for some to attend courses at specific times of the day. Therefore, it might be a great option for your customers to have the opportunity to take your courses from their computer at home and learn from you at whatever time of day suits them best. This is possible with our app, Online Courses.
With the Online Courses app you will have:
A user-friendly system that makes it easy for you to create your own courses online
The opportunity to tailor your online course to suit you and your customers
The ability for your customers to pay for your online courses directly with EasyPay
Be creative with your online courses content
With the Online Courses app, only your imagination sets the limit. Add text, images and videos. With this app you can upload your own images and videos, but Online Courses also supports videos from websites such as YouTube, Twitter, Loom and much more! You can also add files if you want to share a file that you have created so your clients can download it directly from within the online course.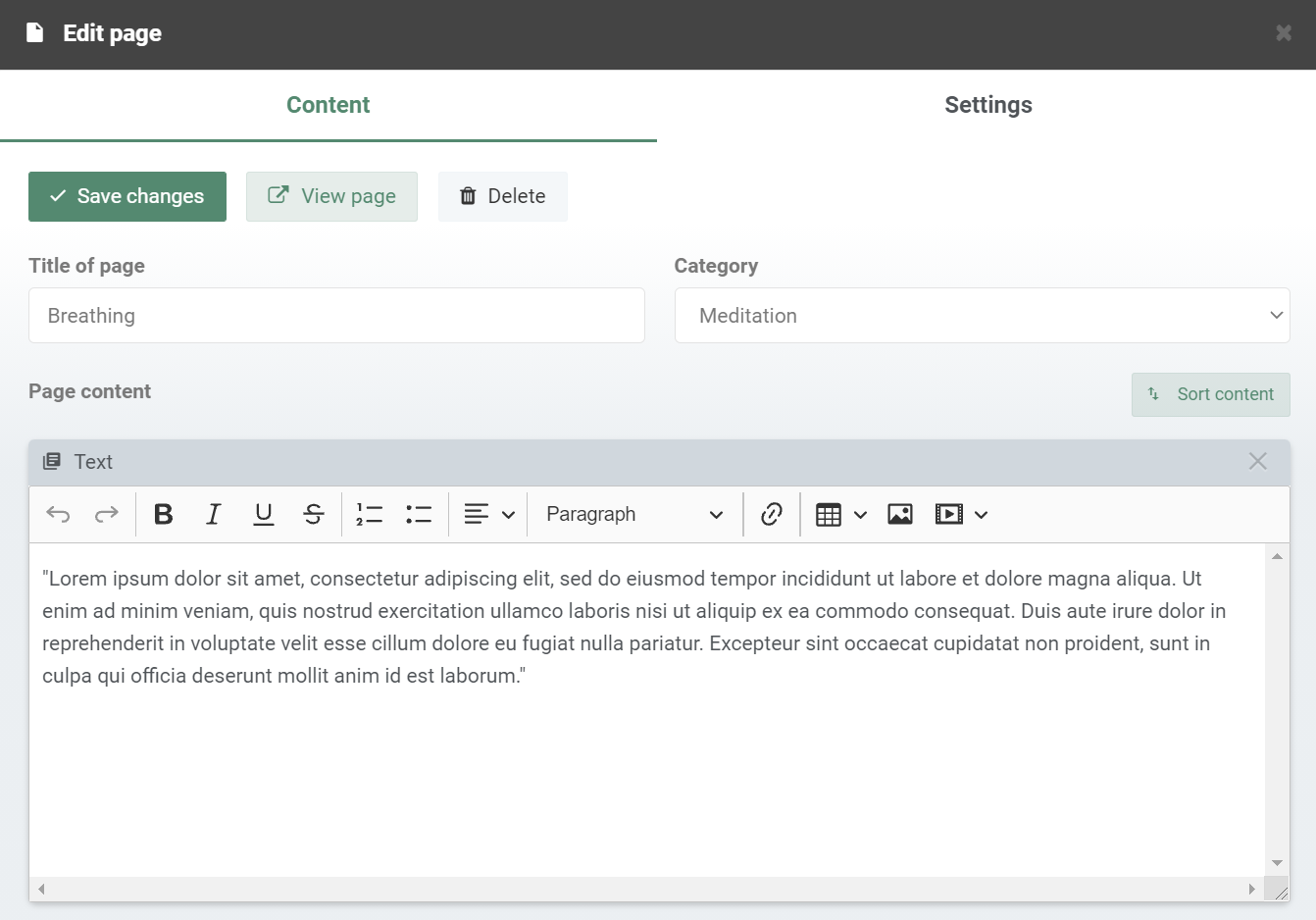 A user-friendly platform for you and your customers
When your customers purchase access to your online course, they have the opportunity to navigate around it themselves and take part in the course content at their own pace. However, you also have the opportunity to choose when different course elements should be available to the course participants. Maybe you want a new course element to be made available on a particular date or a certain number of days after they have purchased the course. It's entirely up to you! You also have the option of adding a description of your course so that your customers can read about the online course before they buy it. This way they can make sure it is the right course for them.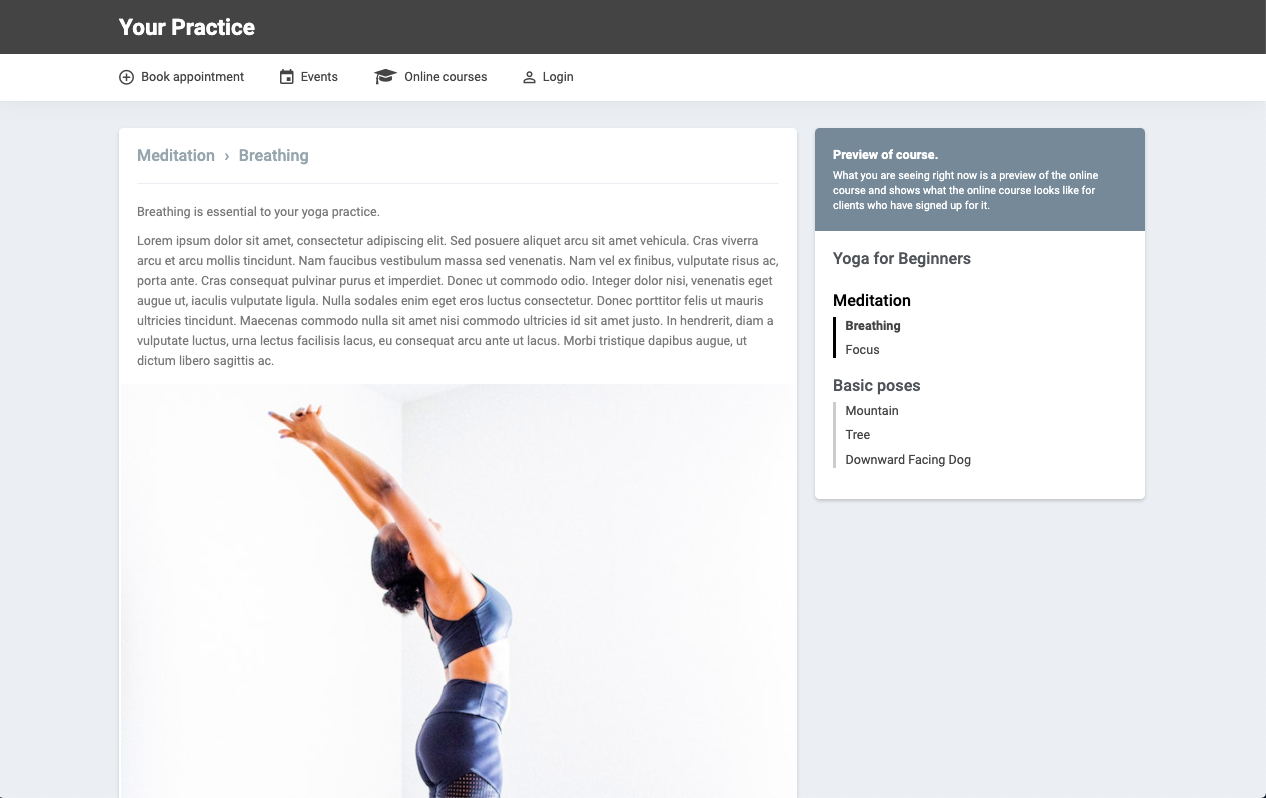 Receive payment directly through EasyPay
For access to the courses, you can set the prices yourself in the settings of the online course. When it comes to the actual payment of your self-produced online courses, we recommend using our app EasyPay. With EasyPay, it is possible for your customers to pay and access your online course directly. You can also choose to give your customers access to your online courses and send an invoice later. When you decide the pricing yourself, you also have the option to add or deduct VAT.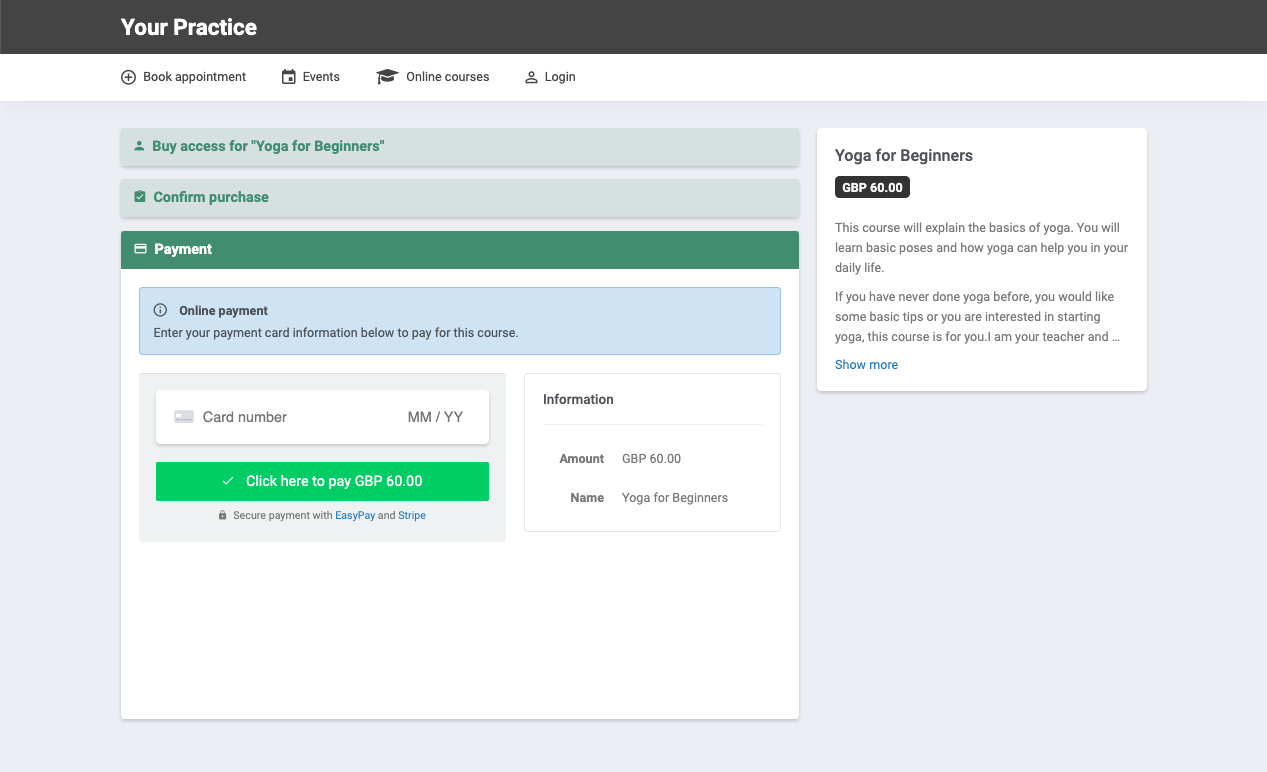 Get started with Online Courses today!
If you have not already created an account with EasyPractice, you can easily do so by clicking here. Try out our booking system app free of charge, and start creating your online courses! We recommend reading this blogpost with a guide to Online Courses before you start , so that you can get to know the functions of the app and get started more easily. Our blog in general has a lot of information and is worth checking out! Otherwise, you are always welcome to contact us at [email protected]
Ready to make your workday easier?
Back to top