Nobody likes appointment cancellations but when they do happen, it is important to have great customer service to keep both sides of the cancellation happy. Of course, you want your clients to rebook with you.
In this time of COVID-19, there is no doubt that more people are experiencing an increase in the number of cancellations. We all know the situation: A client has to cancel an hour before the appointment which can be a bit awkward as you have planned your working day around that, but you should not let it ruin your whole day. There can be many reasons for a cancellation, and instead of letting it bother you, here are some ideas on how you can still get the best out of it. It's all about good customer service!
What is good customer service?
Customer service covers an incredible number of things and I would like to emphasize that customer service is absolutely essential, especially in a case where a customer cancels an hour in advance. No matter what type of business or treatments you provide, it would not exist without your clients! In other words, no customers = no business!
---
Five key customer service elements
The following are five extremely important elements, which are necesary to keep in mind when you experience tiring moments with clients, where you have to remember to step back and breathe:
Respect
EasyPractice has an incredible number of different types of industries, but one thing is common. Everyone has clients and therefore the therapist-client relationship is built on respect. You should actually see the treatment of your customers as if they were your own colleagues. Show respect, no matter where and when you are in contact with the client.
Patience
Have patience. In a therapist-client relationship, it takes time to build trust. In relation to cancellations, it can be difficult to have patience – especially if the client is difficult to get hold of.
Personalisation
Make sure that conversations with clients are personal. Create a safe atmosphere with your client. If you experience a cancellation of an appointment, write a nice message where you thank them for letting you know and search for a new appointment with them – then you show that you are invested in your client. 😀
Empathy
As I mentioned, EasyPractice covers many industries, and with therapists, an element like empathy is absolutely essential. No matter what situation you are dealing with, be sure to show empathy and engage with your client.
Hospitality
Last but not least, hospitality. Be accommodating and here I mean primarily when the client enters your clinic with a certain nervousness.
All 5 points go hand in hand with each other, and are important to keep in mind no matter what means of communication you have with your clients. Whether via "Secure messages", "SMS reminders" or "Online Booking", these 5 elements are worth keeping in mind.
---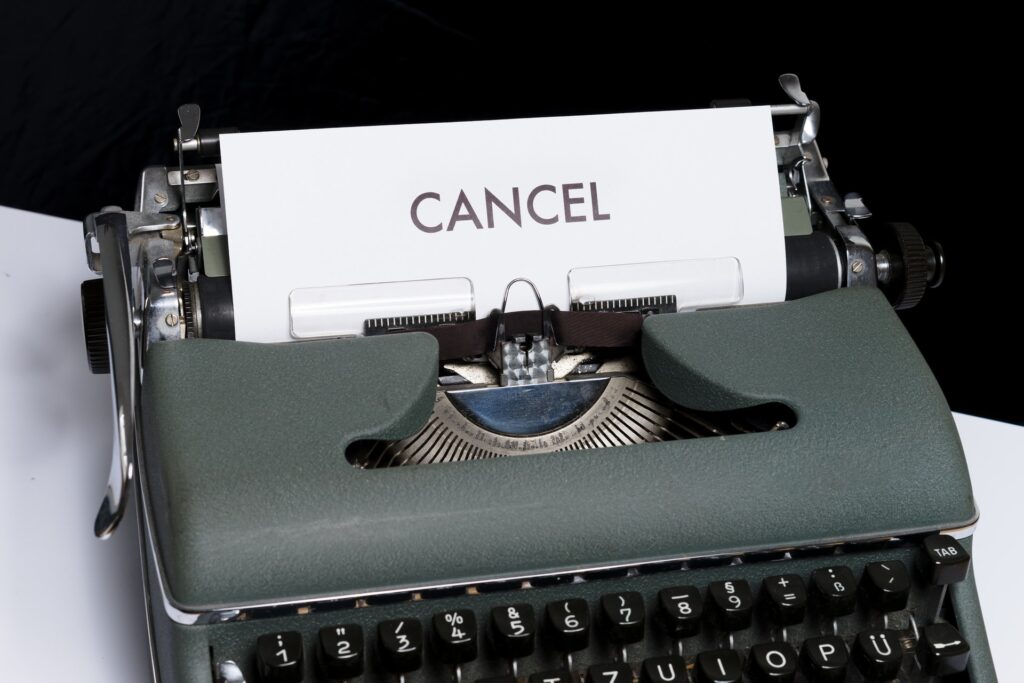 Cancellation of an appointment
Some good advice if a client cancels an appointment an hour before:
Help your client book a new appointment
Use our app "Waiting lists", and give the opportunity for another client to fill the cancelled time slot.
Activating the Waiting Lists app
Activate the Waiting lists app under the menu "Apps" -> "Waiting lists" -> "Activate"
Then when you go to your "Calendar" menu, you will see that there is a button called "Waiting list"
Here you can manually add other clients to the waiting list for a slot in your calendar.
---
I hope this blog post made you a little wiser on how to deal with one hour cancellations, but most importantly: how to handle it in a good way 🤗
In our Help Centre or Blog, we have many other useful guides and tips for example one dealing with Waiting Lists.
If you have any questions or comments, please get in touch at [email protected] and we'll get right back to you! 😊 If you wish to try out our booking system free of charge to see if it works for you!