We are all striving to make our workflows simpler and more efficient. Good organization and workflow are key to making your workday a bit easier and saving you from unnecessary headaches. One way to help yourself is by using online appointment scheduling software. Everyone, and especially professionals and business owners use one or more different scheduling softwares, but what if you, as a practitioner could use one that has integrated client booking? There are many different appointment booking sites, that are specialized for different purposes. Medical scheduling software, such as EasyPractice, allows you to have your calendar open for online appointment booking that can be integrated into your own website or have a separate link that your clients can reach and book their appointments. And each of your patients has their own page in the system where you can keep patient records and files.
How can your clients book the appointments?
Your clients can reach your booking page and book an appointment in your available calendar, or calendars. You can require them to log in for booking an appointment or you can let them book without needing to log in. If a client has booked an appointment with you before, they can log in and see their previous appointments. EasyPractice also allows them to log in with Facebook if you activate that function. Once they are in, they will be able to see the available times they can schedule. You choose these times in your settings. We offer a possibility of the client paying right away when they are booking. To be more exact, the payment will be reserved on their card until the appointment. This way, you do not need to worry about clients not showing up to appointments. Once your client has booked their appointment, they will then receive a confirmation which you can set up and edit in Settings -> Email and SMS.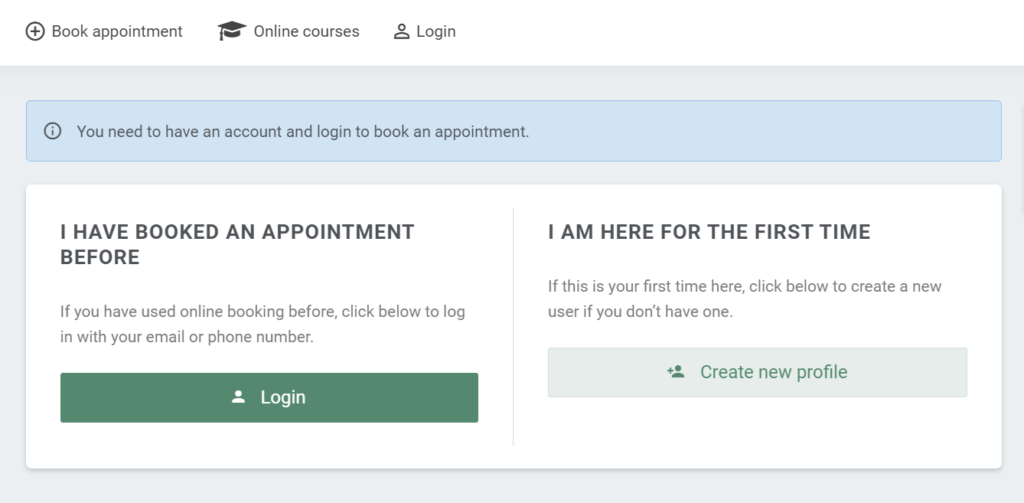 Calendar
The calendar is your central function here. It gives you a good overview of current and previous bookings. You can choose, as mentioned before, to let your clients book their appointments on their own, or you can still do that manually. You can have multiple calendars for whatever reasons you might have. Whether it is multiple locations, multiple employees, and so on, you can create as many calendars as needed! You can help yourself navigate through the calendars and appointments with color-coding. You can customize the opening times, breaks and you can block certain times in your calendars as well.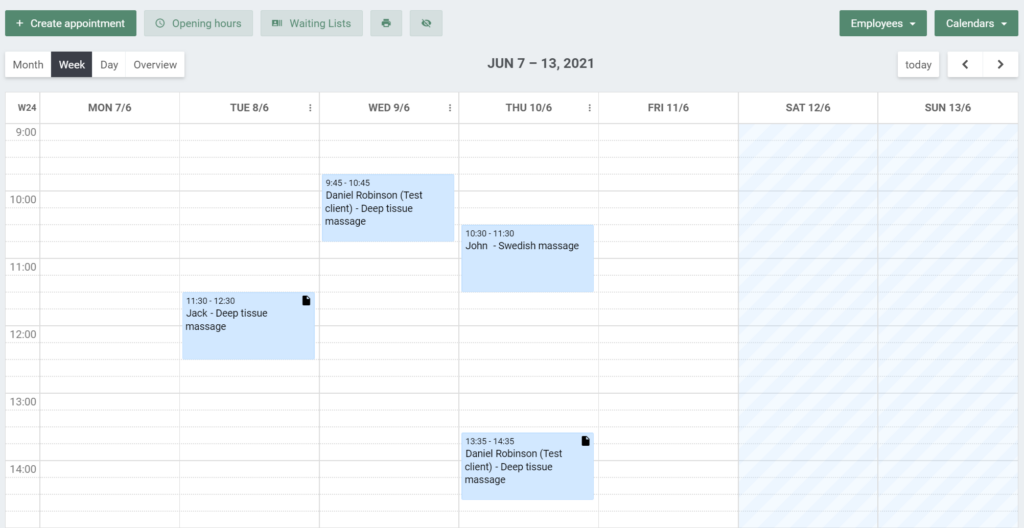 Other helpful calendar features and apps
You can also sync your Google Calendar or iCal, among others. This will allow you to have an even deeper overview of your appointments and your workdays. We also offer a waiting list function that will make it easier for you to deal with cancellations. Appointment status and client tag features will give you another layer of organization and a calendar overview of your appointments. Automated confirmations and reminders are useful in making sure that your clients have all the right information in one place. Email and text message reminder service is free in the reminder is sent a day before the appointment.
Would you like to try our scheduling system?
At EasyPractice we provide a secure user-friendly patient scheduling software and plenty of other functions that can make your workday a bit easier!

If you have security concerns, we are happy to tell you that we are GDPR and HIPAA compliant.

We are happy to help you with any further questions you might have. Don't hesitate to reach out to us at [email protected]!