Do you already use Google Calendar and Dropbox and want to connect them to EasyPractice? You can do just that. Expand your possibilities with external apps and integrations.
One of the main advantages of EasyPractice is the ability to integrate the system into external applications and apps. This includes a number of ready-made integrations such as with Google Analytics , MailChimp and Facebook. You also have the possibility of creating your own integrations and connecting the system with other applications. This applies to any calendar system that you want to be able to synchronise with the bookings you receive via your Online Booking, or an email newsletter system that you already use to send out emails to your clients.

The following is a review the options available for the integration of external applications, so that you can get the most out of EasyPractice.
Our API
EasyPractice is constantly working to find new ways to improve the system also through external apps and integrations. , including continuing to develop ready-made integrations that will help our users in the best way.

But for our most tech-savvy users who do not want to wait for us to complete a specific integration, we have also opened up our API . For those of you who are not developers, here is a quick explanation of what this API means for our users.

In short, the "API" stands for Application Programming Interface, and is a tool that makes it possible to integrate various software components. It can be seen as the "umbilical cord" that enables two systems to understand each other. Among other things, we have relatively large clinic chains and highly professional healthcare companies that use our API daily to integrate EasyPractice into their own specially developed or internal systems.

By creating your own integration with our API, you can save a lot of money, as you can quickly and easily build our professional Online Booking system into your own product, without having to recreate an online booking from scratch.

Our API app is completely free and can be easily activated:

1. Go to the menu "Apps"
2. Scroll down to "Advanced"
3. Activate the "API" app.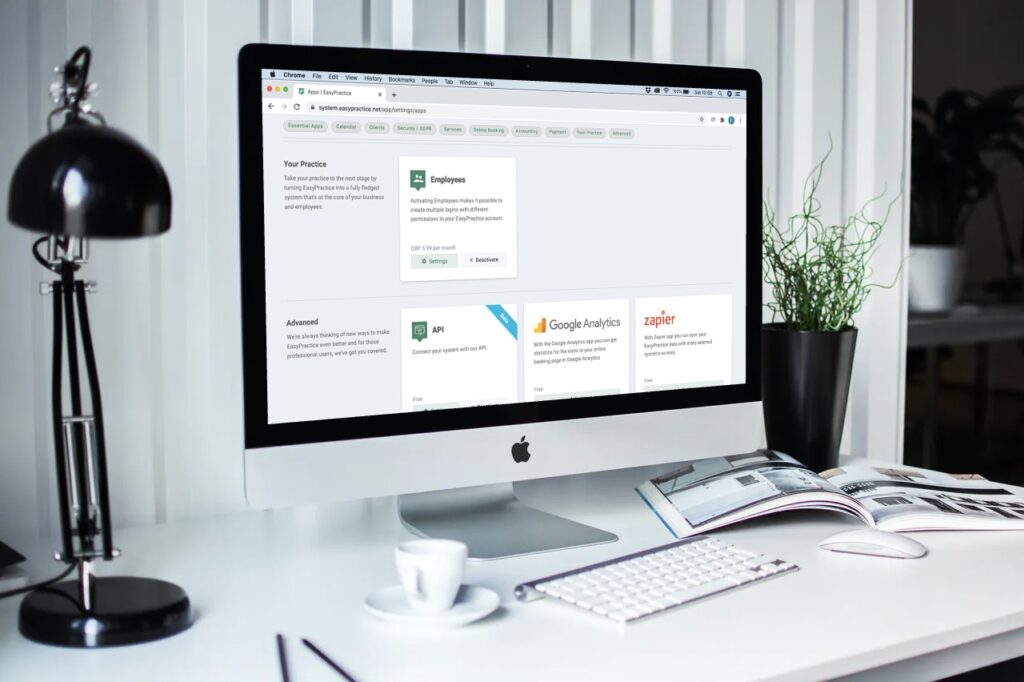 Publish your own app
If your company develops an integration with EasyPractice, you can apply to have it published in our "App-Store". So other companies can also have the opportunity to use it. You can decide for yourself if you are interested in doing this, and we will then develop a pricing model together if it may become relevant. We have high standards when it comes to quality and safety. So if you want to be able to sell your app to our clinics, it must of course comply with our quality requirements. Feel free to contact us if this sounds interesting, and we'll tell you more!
Hire a third party to build a new extension.
Another possibility is that you hire a freelancer or agency that can build the integration for you. This is an extensive job that requires a lot of prior knowledge. So if you want a professional solution, we recommend hiring a company that can handle issues related to patient data security and the like.
Use the Zapier app
Zapier is a tool that simplifies integration with thousands of other platforms. There is an incredible number of possibilities with Zapier. It makes it possible to automate the work process between some of the most used external apps and integrations on the market.

Basically, this means, for example, that your Dropbox, Mac calendar or Google Sheets can suddenly "talk" to EasyPractice. It requires no special prior knowledge, but only three simple steps. Really smart!
Example : each time you create a new invoice, you can automatically add it to a Google Sheets document using the Google Sheet Zaps.
I hope that this blog post has been able to provide some inspiration on how to expand EasyPractice. Now you know what opportunities we offer in the form of our API. If you want to know more about this, you are more than welcome to contact us at [email protected]. We and our API support team are ready to help you with it all! In our Help Centre you can find many other useful tips.