We are delighted to let you know about another handy feature we have been working on at EasyPractice! If you are already using the Employees app, you will know how useful it is for multiple practitioners working together or at the same location to be able to have individual calendars. Now, when an appointment or event is scheduled in your Online Booking, you can change your settings so that the relevant employee receives a notification of the booking directly to their email!
If you've been wondering how to send reminders to someone, you may have already tried the many ways to send reminders and notifications to yourself and to clients through EasyPractice. However, now you can also send notifications automatically to your employees.
Take a look at this video guide and following post to see how to use this new feature!
Video Guide
This quick video guide will show you how to use this new feature and set up notifications for individual employees in your main account:
How to use the feature
Introduction
The purpose of the new feature is to allow you to enable certain employees to receive Online Booking, Event and Waiting List notifications directly to their email. Previously, you (as the account owner) would receive all notifications about bookings which are made through your Online Booking form. Now, individual employees can receive email notifications and you can choose which employees should receive them. You are also in control of whether you want to keep receiving them.
Setting up the Employees app
First, you will need to activate the employees app if you haven't already. To do so, log in to your EasyPractice account, click on the "Apps" tab in the top menu bar. Then navigate to the "essential apps" section. You will see "Employees", and then, click "Activate", which you'll see at the bottom of the box under the short description of the app.
Employees Settings
Once you've activated the Employees app, you can go to the settings for employees. Either click on "Settings" in the box where you activated the app or click on "Settings" in the top menu bar on your screen and then click on "Employees." Next, if you are getting started, you can then create an employee using the button, "Create employee." You will see all your created employees on the Settings page.
Setting up notifications for employees
To use the new feature, click on an employee to open the "Edit" panel, as seen in the image below. Next, all you need to do is to switch on the toggle that says "Receive Online Booking Notifications." As described on the page and in the image below, this allows you to "Choose whether this employee should receive email notifications from events signups or bookings made in Online Booking."
Remember to click "Save changes" once you have made any changes to the Settings for this employee.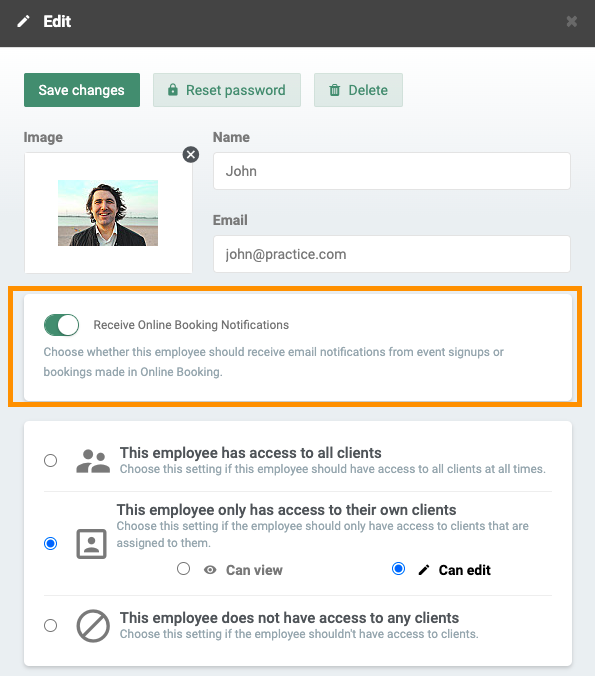 That's not all! You can also choose for yourself if you want to receive notifications when this employee receives a booking through Online Booking, too.
Go to "Settings" from the Settings -> Employees page (as seen to the right in the image below). Under "Other Settings," you can choose from two options when an employee receives an online booking notification. You can either choose to "Also receive employee Online Booking notifications" or if you want to turn this off, click "Do nothing."
Again, remember to click "Save settings" on this page.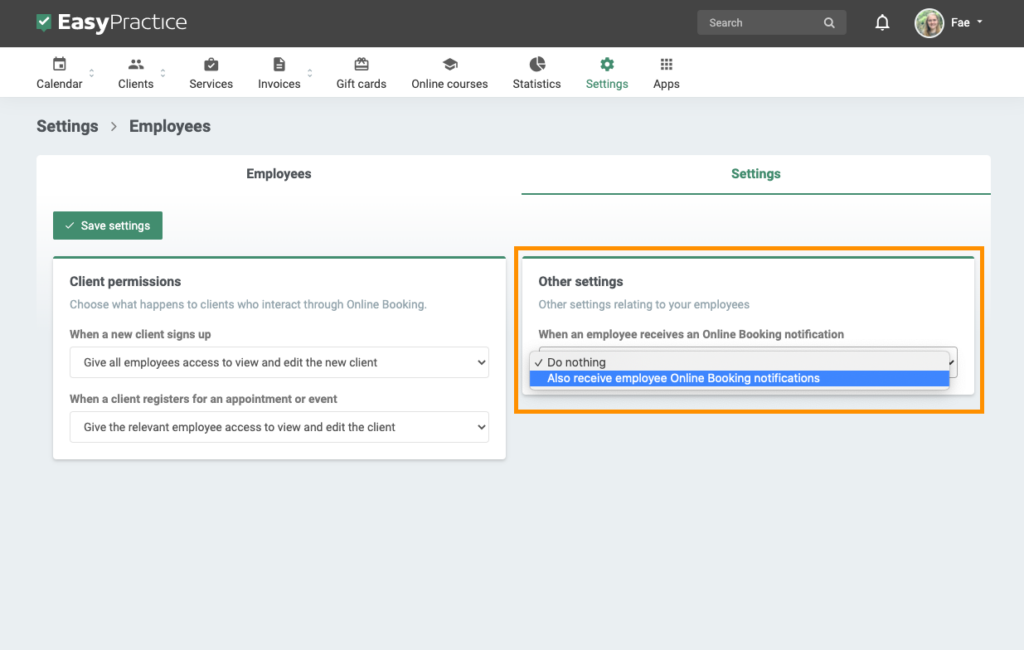 What benefits are there from using the Employees app?
Your practice or clinic may consist of multiple practitioners. Therefore it can be very useful to have individual logins for each user of your EasyPractice account. This way, you do not each need to set up a separate account when you are sharing services, locations or even clients.
What does the Employees app give you as an EasyPractice account owner?
With the Employees app, you can:
Create individual calendars for each user:
Each of your employees can have different availability times and services in their calendar.
Have an overview of all calendars at once:
Keep an overview of everything at your practice, including calendars for your employees. With the overview, you can easily see which appointments are booked at a glance.
Connect employees to appointments:
Your employees and your clients can be sure who their appointment is with when you connect an employee to the appointment at the time of booking. This will lead to less confusion when working in a group with other practitioners.
Choose for services to belong to particular employee calendars:
When a client books an appointment using your Online Booking form, they will see the service they want to book only in the calendars in which it is available. You can change these settings yourself in the "Services" tab.
See statistics for each employee:
Keep an overview of individual employees and all practitioners together when you use the Statistical overview in your account. You can compare employee turnover, appointment hours and distribution of services booked. You can also compare different time periods to see when your services are more popular, for example.
Change accesses for each employee:
Choose whether each employee can only see certain calendars or only their own clients. You can have different accesses for each employee and user, including, for example, if you have a user set up for an accountant. In this case, you may want them not to have access to any client data.
And now, send notifications to employees for online bookings:
As described in this post, you can now enable each employee to receive email notifications when an online booking appointment is made in their calendar.
Take a look at our guide to the Employees app if you'd like more guidance.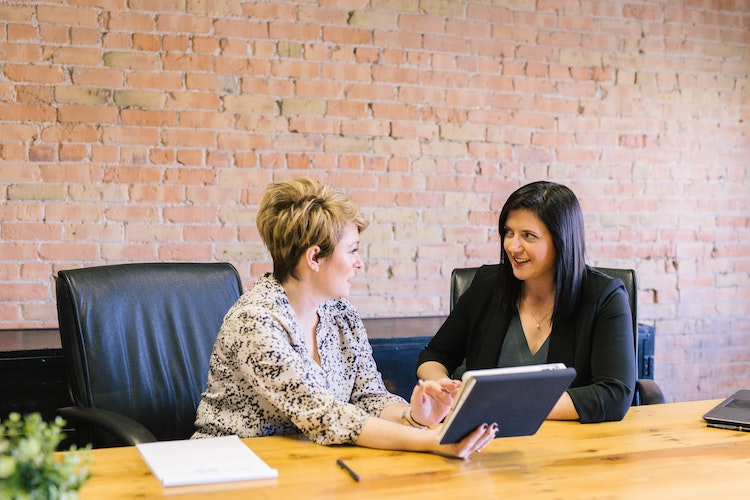 ---
If you have any questions about using this feature or about the Employees app, please just let us know! We are available every single day at [email protected] and we'll be happy to help!
At EasyPractice, we also work as a team so we know what it's like to have multiple people working together. If you have any suggestions for other features, we're always looking for feedback so please do let us know.