Are you looking for a simple guide to your Online Booking? Here, in this checklist for online bookings, you will find the answers. Use it to make an inviting and easy-to-handle online booking form for your clients!
You might be wondering why this is so important. Your clients quickly notice how easy to use your online booking is and what it feels like to book an appointment with you for the first time. Regardless of what type of therapist you are, you should, of course, get as much as possible from EasyPractice, and be offered all the opportunities which are available in the system.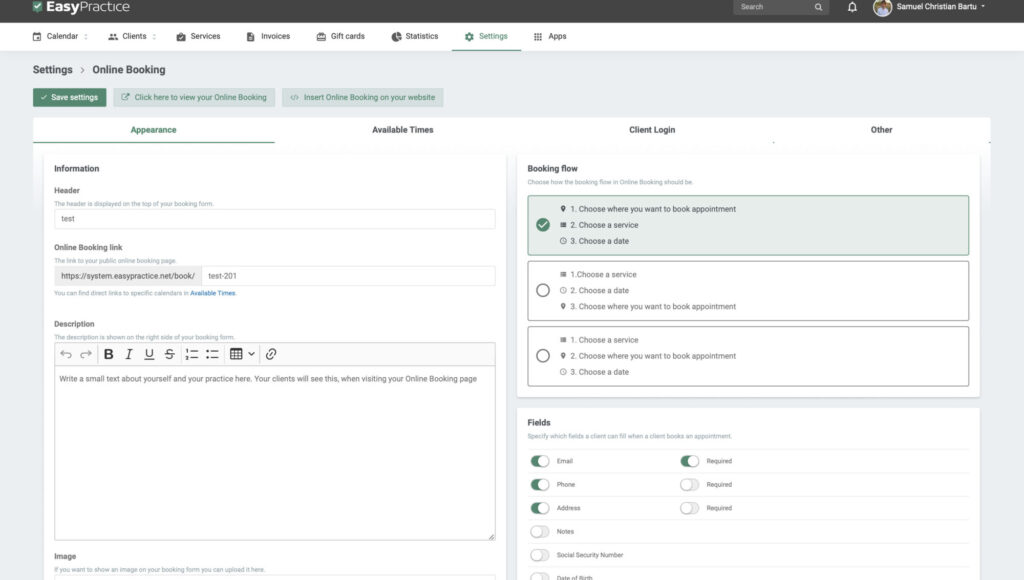 So, here are some pointers to help make your Online Booking a little better:
Header
This is the very first thing your clients will see when they book an appointment with you and differs the most when it comes to your online booking. Make it simple, short, and clear.
You can change this under Settings -> Online Booking -> Appearance.
Description
Feel free to write a detailed and personal description of your business, with an element of professionalism. Make the customer feel special and show that you appreciate that they are about to book an appointment with you. You might want to end with something like, "I look forward to your visit with us". Personality is important!
Picture
Upload a picture, either of yourself, the clinic or something related to your profession. A good tip: a picture of yourself creates credibility and a form of trust!
Fields
If you want your clients to fill in any particular information to be able to complete the booking, you can activate the Custom Fields app and then create your own field for the specific requirements in question. Then just activate the field under Settings -> Online Booking -> Field. Here you can also choose whether the field should be voluntary or mandatory.
To set up their online booking
It is important that the online booking is right from the start – both in relation to calendar, services and times.
1. Activate a calendar in your online booking.
To activate a calendar in your online booking, go to the menu "Settings" -> "Online Booking" -> "Available times" -> and activate the calendar in question.
2. Get your services in order
It is important that you make sure that your services are linked to the calendar that you have activated for the online booking. If you have several calendars, you can also link your services to specific calendars, so that a specific service can only be booked in a certain calendar. You can do both of these under the menu "Services". Click on a service that you have created (or create a new service) and then select which calendar it should be available in. Remember to save the settings!
3. Remember to update your opening hours
Another important thing to remember is to change the opening hours in the calendar, so that customers do not happen to book an appointment in the calendar that is not available. It often happens that you forget to change your opening hours, and then suddenly you are left with a booking that you cannot accept… Update the opening hours under the menu "Calendar" and click on "Opening hours". Here you can select the opening hours for all calendars.
---
I hope this short post could help you verify that your online booking meets the above key points. It is, of course, very important that the online booking works as it should for the sake of the clients – but also for you!
Your Online Booking can actually be seen as the client's first meeting with you. Give a good impression right from the start, be personal and keep in mind that everything works as it should. With our checklist for online bookings, you have it all under control.
In our Help Centre we have a whole section dealing with Online Booking and Opening hours.
If you have any questions about this, you are always welcome to send us an email at [email protected] 😀