Some of our users require really a simple-looking booking form for various reasons. This post is inspired by an email conversation from a great EasyPractice user who needs their online booking to look as simple as possible for their clients.
"My clients need my online booking form to be as easy to use as possible. How can I make it more simple?"
– An EasyPractice User
Thanks for a great question! I thought the answer should be shared on our blog too. 😀
Here are some different ways you can set up your online booking form to make it super easy for your clients to book with you:
Simplify your booking form
If you go to Settings -> Online Booking, there are a couple of things you can do to make your booking form easier for your clients to fill in quickly.
Reduce the number of fields for your clients to fill in. If you do not need to have a lot of information from your clients at the time of booking you can choose only to have a small number of questions on your booking form.
Choose the right booking flow for you. If it does not matter which calendar your clients book into and your practice is not across multiple locations, you can choose the second option for 'booking flow' where your clients "Choose Service -> Choose Date -> Choose Where". You can read more about the best booking flow for you.
When you have a simple booking form, your clients can confirm their appointment in only a few clicks: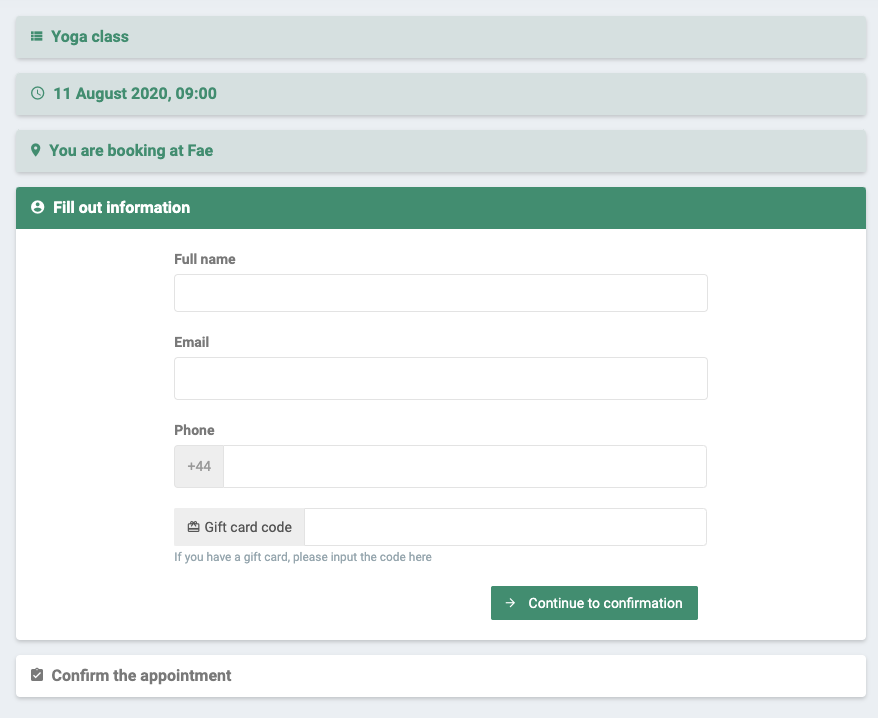 Make Events
Alternatively, it may be much simpler for your clients if they only need to select appointments which are already available instead of choosing their own time slot. This is especially useful if you are having group classes for something.
Create events for your sessions. This can make the available appointments or sessions and events very simply visible for your clients so at one glance. They can see which ones they can attend, the price and how many spots are available.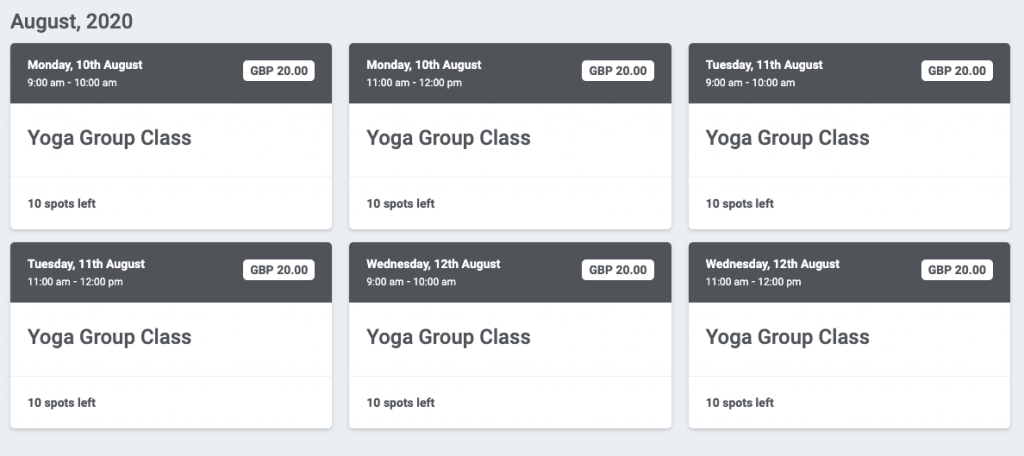 When your event is ready to set sail and go into the world, you can go back to your daily duties and let everything handle itself. The participants will sign up for the event themselves. If you have a ticket sale, payment is done smoothly with EasyPay, EasyPractice's very own payment system. This will allow your participants to pay for their tickets. With their credit cards, they can pay safely and easily when they're booking the ticket. All you have to do is look forward to greeting them all.
---
Now you can make your online booking appropriate for your clients, whatever their needs.
In our Help Centre we have a whole section dealing with Online Booking.
If you have any questions or comments, please get in touch at [email protected] and we'll get right back to you! 😊 If you wish to try out our booking system free of charge to see if it works for you!