All of our users are concerned about safety and we are too but our users from the UK may be in some doubt about changing regulations and safety measures since leaving the EU. This post should explain all you need to know about safety and security with EasyPractice.
Your data
EasyPractice is GDPR compliant which means we follow all EU guidelines. This is also good news for you in the UK because it means that we ensure security comes first. We process your client data on your behalf and in your interest but only you have control over how we process your data. Your data is stored on Danish servers and nowhere else. This includes all client data, user data, and uploaded files. Even when we use Google Analytics or other US based external companies to collect system performance data, no client or user data is ever sent to these services.
For more on data processing, you can read our data processing agreement (also available on our GDPR page)
Encrypted communication
To ensure security, data in transit is always encrypted and we have absolutely no pages in our system that are non-HTTPS. If you know the technicalities of website security, the website, including client-facing pages are encrypted with SHA-256 certificate which is 256-bit. This essentially means that data is safe so it won't be in the wrong hands.
Our Secure Messages app provides you with encrypted communication, even for sending files, invoices and journal entries. When you communicate with clients, you do not want to worry about other people intercepting your messages, especially if they contain sensitive or private information. With Secure Messages, you can be sure this won't happen.
Putting your security first
Of course, we have other apps which focus on security and safety for you and your clients.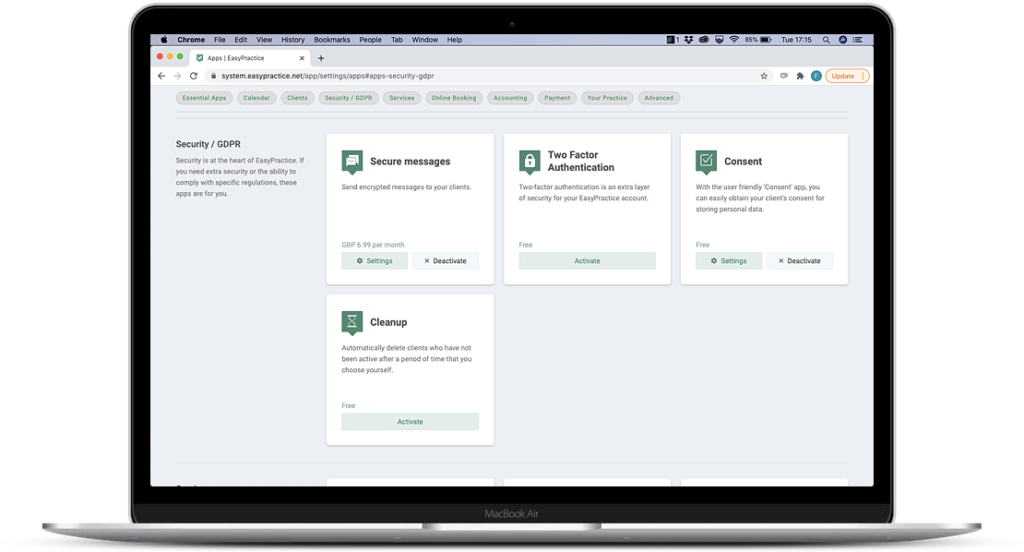 Clean Up
If your clients leave you or no longer require your services and become inactive. Then you can set up in the EasyPractice system to 'Cleanup' for you automatically. By downloading the Cleanup app, you can be sure not to keep any unnecessary data on your inactive clients and the system will automatically delete this for you.
Two-Factor Authentication
As a practitioner or specialist, of course you have to be sure that your clients' data is safe and can't get into anyone else's hands without your permission. This is why we have the Two-Factor Authentication app to allow you to add an extra layer of security to your login process. It is very simple to set up. Just go to Apps in your top toolbar and click 'Activate' for Two-Factor Authentication. You go through the setup process and receive a code straight to your phone to log in. It's quick, easy and worth it.
Secure Invoices
When you send an invoice by email to a client with another system, there is a chance that if unwelcome eyes get hold of the link, they could see private information. This won't happen with EasyPractice! We have an added layer of security meaning that in order to access the invoice, the client needs a unique PIN code. It is very simple to use and understand but ensures security and extra trust between you and your clients.
Consent
You need to ensure that you have consent from your clients to process their data. You have to inform them what data you have from them, how long you store their data and how they can contact you to ask you to delete it. With the Consent app in EasyPractice, you can expressly ask them for this permission and keep track of whether your clients have given it to you.
---
In our Help Centre we have a lot of other useful and interesting guides.
If you have any questions or comments, please get in touch at [email protected] and we'll get right back to you! 😊 If you wish to try out our booking system free of charge to see if it works for you!