We've included a simple invoicing functionality in our online booking system, to ensure that anyone can figure it out. There has been an update in the invoice function so that there is an added layer of security. Now, a PIN code will be sent to your client along with their invoice so that nobody else can guess the URL and open the invoice without you or your client knowing. Here is a quick post to show you how this new change will affect your invoices.
What's changed?
Now there is a PIN code which needs to be used to access the invoice when it is sent as a link to your client. It can be found in the email you send when you click 'Send Invoice' and you can see it in your account when you are in the 'Invoices' tab, click on a particular invoice you have created and look to the right of the screen, under 'Link to invoice' as in this screenshot below: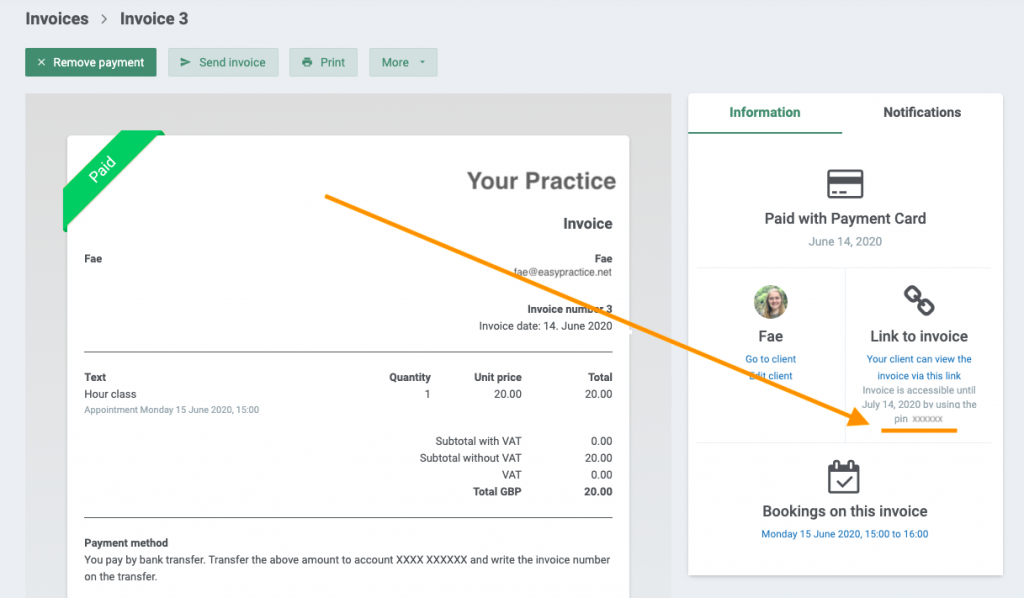 What do I need to do differently?
Absolutely nothing! The invoices which you send are exactly the same as before except now there is a PIN code attached to the email. The PIN code will expire after a month but if you want it to be accessed again, you can just reset the PIN.
How do my clients access the invoices?
When you send your client their invoice by email, they will receive the link and the PIN code. All they need to do is copy and paste the PIN into the box when asked for it once they have clicked the link. Then they can see the invoice just as before. 😀 If you prefer to send invoices as a PDF attached to an email, you can still do this instead.
---
And if you still aren't quite sure about invoices, here is a video explaining how to use the whole tab!
---
In our Help Centre, we have a whole section dealing with Invoices.
If you have any questions or comments, please get in touch at [email protected] and we'll get right back to you! 😊 If you wish to try out our booking system free of charge to see if it works for you!