Do you own a business chain? Or are you part of a shared clinic business? We at EasyPractice have introduced a new user level in the system that makes it possible for you to administer all EasyPractice accounts from one place as a business manager. In this post, we go through our partner solution and how the system works, and what functions are included.
Video guide
We have made a video guide where we go through how the system works. Watch our video which will show you around a partner account here:
What's new?
Previously, as a business manager for a corporate chain, you had to have different logins to all clinic accounts within that chain. To have access to important information about the business, it would have been necessary for you to log in and out of each account. This is both inflexible and inefficient and as a result, a new user-level has been introduced in the EasyPractice system! With EasyPractice's partnership solution, you can create a comprehensive manager account where you can be the administrator for your business. From this account, you can manage all other accounts from one place. In addition to this, you will find statistics on the entire chain of operations' overall performance under the "Dashboard" section. You can read more about this below.
How to become a partner:
To make it as easy as possible for our customers to become partners with EasyPractice, we have made the process short and simple. Through just 4 steps, you can become a partner with us:
Send us an email at

[email protected]

.
Receive an email giving you access to your own manager account.
Enter important information about the company chain, such as name, company logo and support email.
Connect new users to your manager account and start facilitating your joint work immediately!
In the next paragraph, there is a little more detail on how to get started with the EasyPractice partnership solution.
How do I get started?
1. After you have received an e-mail with your login information to your partner solution, you can get started with your manager account. The first thing to do is enter important information about the business chain. This can always be changed under profile settings. Here you can change passwords, languages, support emails, logins and more!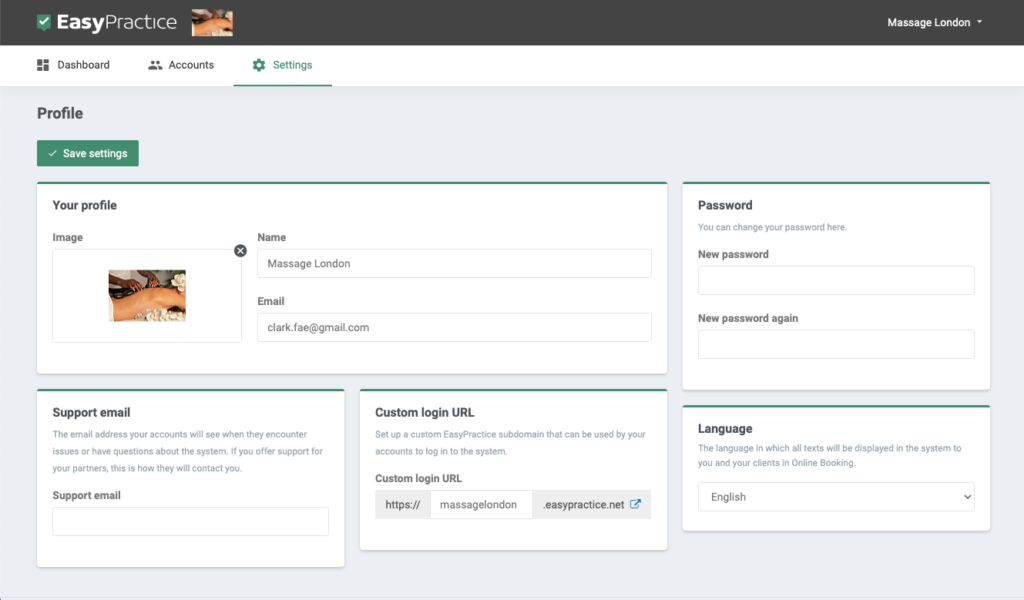 2. The next step is to start creating users. Here, you can add as many users as you want. As soon as you have created an account, the user will receive an email with login details for their new EasyPractice account. Here you can set up online booking, manage calendars, write journals and much more! From the overview of users, you can also see who uses the free version of EasyPractice and who has unlimited access.

After determining the profile settings and creating users, you're done! Now you can administer all accounts from one and the same login and keep track of statistics on the entire company's overall operations. You do this under "Dashboard".
Dashboard: gather all information in one place
When you log in, you first come to your custom dashboard. Here you see a small welcome message and information on how to contact us if you have any questions. You can always reach us at [email protected] – and we are happy to help!
We at EasyPractice have gathered information from each clinic in one place so that you get an overview of the overall business. Here you can see statistics on:
How many accounts you have created
Which account you last created
The number of booked hours with customers
The total total turnover for all your users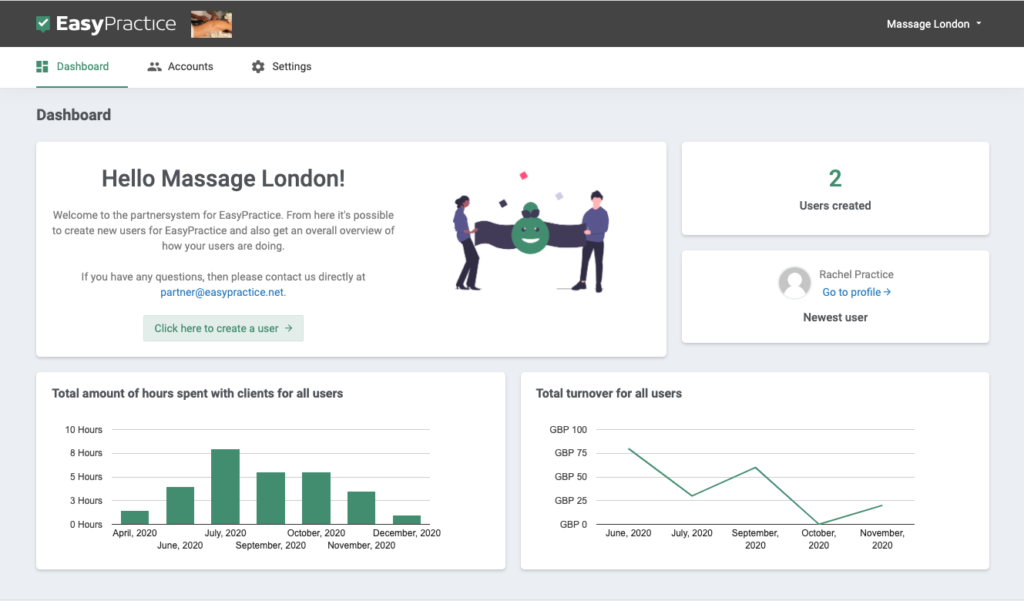 If you hover your cursor over one of the months, you will see the exact number of hours that users have spent with their clients. This makes it even easier to get an overview!
Accounts
If you click on "Accounts", you can see an overview of those who use the system. Here you can also add new users. By adding a new email address, login information is sent directly to the new user. That information can then be used to log in to the new user account.
Your users will first have access to the free version of EasyPractice . With the free version, you can only have a total of 2 clients saved in the system. To gain unlimited access, each user must go to "Settings" -> "Subscription". Then they can quickly and easily start a paid subscription with EasyPractice. A subscription with unlimited access begins with up to 500 client bookings per year. This applies individually to each clinic.
From your manager account, you can log in to whichever user account you want with a few clicks. Go to the user you want to take a closer look at and click on "Visit the system". Then you go directly to the user's EasyPractice account and can see calendar, invoices, statistics and much more.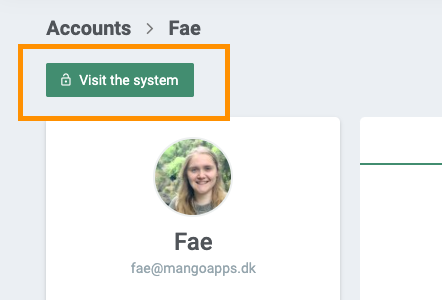 It is also easy to navigate between each user account. By clicking on the icon in the top right corner, you can easily jump from account to account. This makes it easy and convenient for you as a business manager to perform administrative tasks.

What types of partner schemes are there?
Company chains – are you a company with several branches under the same purchasing organisation? As a business leader or administrator, you can easily keep track of your overall business. From your own manager account, you have access to statistics on the company's overall operations. In addition to this, you can easily log in to all employees' accounts, to gain insight into each sub-activity. In this way, you can keep track of the entire company chain from one and the same "main account".
Shared clinic operations – are you several independent clinics that want to administer your accounts from one place? Then a partnership solution can be something for you too. With this solution, you can still send invoices, personal notifications and booking confirmations separately from each account, while managing the joint administration from your manager account. Here you have the opportunity to easily click on each user's account, so that you can easily help with the administration of individual accounts.
What is the difference between a partnership solution and the "Employees" app?
In a shared clinic operation , it can often happen that you share the same premises. Then it can be important that booked times automatically block times in the other employees' calendars. This is currently not possible from the manager account, but all calendars are managed here individually. If you are looking for a solution that makes it possible to collaborate between different calendars, we therefore recommend using the app 'Employees' instead. Read more about our "Employees" app.
Partner with EasyPractice to reach thousands of customers
EasyPractice helps thousands of therapists and clinics to digitize their businesses in order to make their workday more effective. Join our Partner Program and launch your own app to already existing users, support other businesses by distributing our platform and becoming a reseller, or simplify your work at a larger clinic.
Whether you want to develop custom software for your clinic or create an extension to EasyPractice that others can benefit from, we look forward to hearing from you.
We have made it easy to resell EasyPractice to independent therapists and branches, allowing you to tailor the price and earn a monthly revenue. Simply introduce our services to potential clients who look for an Online booking platform and become a partner of EasyPractice.
With our new partner setup, we can help you simplify the administrative work between several self-employed therapists working under the same roof but with some level of independence. One of the most powerful features of EasyPractice is the possibility to simply extend the functionality with thousands of integrations and therefore we continuously look for new possibilities to grow our portfolio.
---
So what's the next step?
We hope this post gave you some insight into how EasyPractice's partnership solution works. We believe that this solution can be valuable many different types of businesses. Do you feel that this can be something for you and your business? Feel free to send an email to [email protected] , and we will work together to develop a plan that suits you.
Do you have questions?
We have a bunch of information to help you across our website and social media channels. If you'd rather reach out to us directly, send us an email. We are available by email in the support team every single day. Contact our support team