Every client expects to receive an email and SMS confirmation of a booked appointment. It will help them to make sure they know when to attend your clinic or practice. This has become a given when booking. Setting up automatic confirmation emails and SMS is very simple. This is a free feature of EasyPractice and will benefit you by saving you time. It will also benefit your clients by ensuring they have the right information about any of their booked appointments.
Why set up confirmation messages?
Your clients will thank you for confirmation of their appointment. Of course, you do not want to spend time writing an email or SMS to each client who books an appointment. Although that would be a great personal way to stay in touch with your clients, it is very time-consuming. There is also room for errors if you are copying the time for each individual appointment. With automatic messages, any appointment booked in your calendar will show the correct time, calendar and service (or whatever you select to be included) in the email or SMS so you can be sure your clients get the right information. This function will run automatically without you needing to keep an eye on it. You can relax knowing you have informed your clients correctly. Read more about confirmations.
When you choose to activate automatic confirmation messages, the system will send them at the time of booking. When you add an appointment to your calendar, the message is sent right away. You can also choose to send automatic confirmation messages for clients who make appointments in your online booking and when they sign up to an event. You can find all of these options in the Settings section of your account.
How to set up confirmation emails and SMS
To create and activate confirmation emails and SMS, go to Settings in your EasyPractice account and select "E-mail and SMS". For the confirmations, you can then activate the email and SMS options and edit the text to send to your clients for each one. You can edit the text to suit your own practice and also add the client name to make it more personal for each client that receives the messages automatically.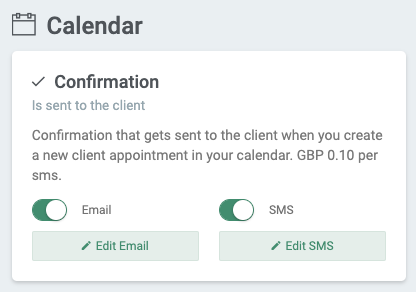 Don't forget to click "edit email" and "edit SMS" to make sure you have the right information that you want to include in the messages!
When you click "Edit Email" you will see the options that you can change. You can edit the subject of the email and the content. You choose yourself what you want your clients to see depending on your practice and whatever you prefer.
In the image below, you can see the options for what to include in these settings. By clicking on the eye icon, you can choose whether the relevant information is visible or not to the client. You can also add more text in the boxes to make the email more in line with your practice and the way you usually communicate.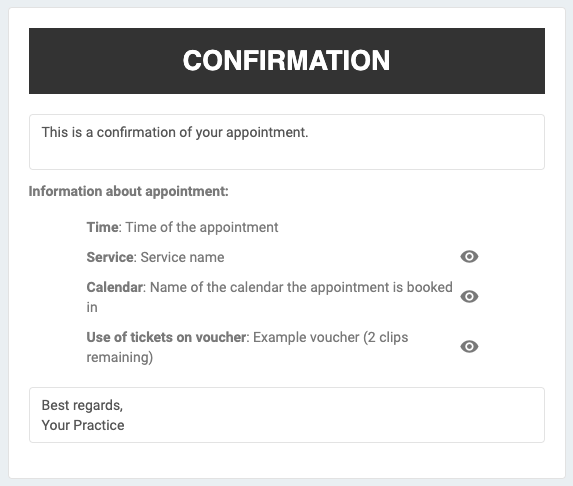 When you edit the SMS option by selecting "Edit SMS", you can choose to add the client name, start and end time of the appointment. Of course, this will change according to each SMS that is sent.
Other automatic messaging
You may also want to consider other automatic email and SMS possibilities in the system. For example, you can have free SMS and email reminders sent to your clients the day before every appointment.
In our Help Centre we have a whole section dealing with our E-mail & SMS Functions.
I hope this post has been helpful in showing you how to set up automatic confirmation messages for your clients. Do you need any further help to set this up or have any questions about EasyPractice? Just get in touch at [email protected] where we're ready to help!