As more and more people are starting to seek help, while more and more therapists are participating in the field, it is important to stand out from the crowd. One way to get noticed as a therapist involves creating a brand for your practice. Branding is the process of giving meaning to you and your services by creating and shaping a brand in your clients' minds. It is a strategy to help people quickly identify and experience a brand, in the case of therapists, doctors, clinics, and other professionals it is rather about the services you offer, the reputation you gained, and your specializations which give them a reason to choose you over other therapists, by clarifying what you as a professional stand for.
How can you use EasyPractice for branding?
With EasyPractice, your clinic or practice can be more efficient and digitized within just a few minutes. User-friendly apps like video meetings, secure messaging, and journaling help you set up a proper environment for handling clients and patients remotely. A modern and easily understandable environment leads to new and satisfied clients. We can help you to create such an environment. We think an excellent practitioner requires an excellent online presence and management tool to get the best out of branding.
Keep easily track of your client's history with journals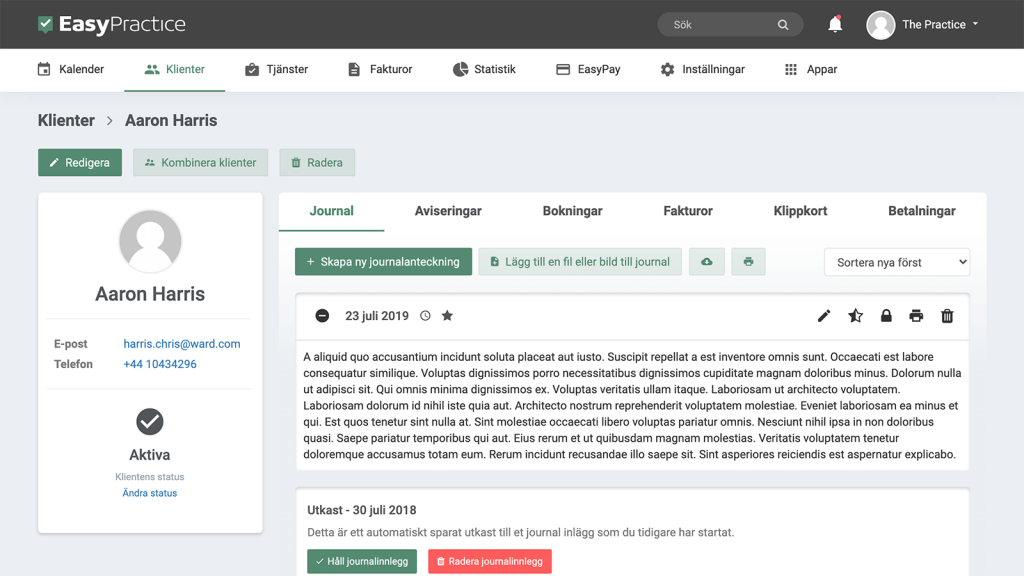 All clients are different and have individual needs, and if you want to give each of them the very best possible experience, they should be treated individually. With our journal, you keep track of your client's history and therefore you have an excellent overview of all your clients which in return leads to increased satisfaction of your clients. This way you will always be well prepared to meet your clients and it will be reflected in your customer satisfaction and thus in your branding.
Send automatic group Emails and SMS messages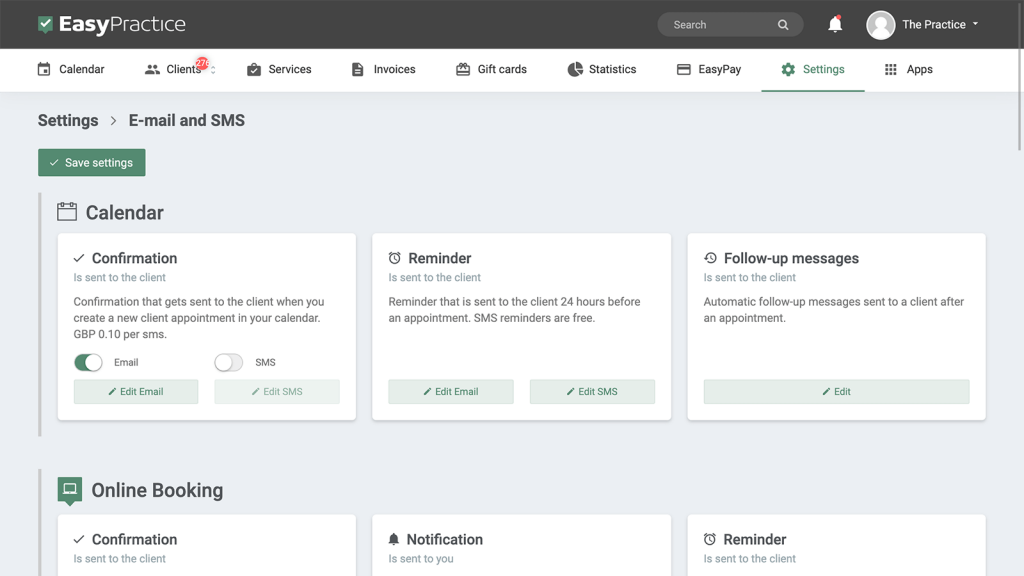 Many clients need a reminder before a meeting or a follow-up message. Sometimes questionnaires and surveys can be useful to expand your knowledge of your clients. In return, your clients will value this effort and attention. You care about your clients and your close customer relationship gets even stronger. In case you have a review page, you can post a link to it in a follow-up message and ask for a review. This can also build a strong reputation. This is clearly not your main business but will definitely strengthen your branding. With EasyPractice it takes only minutes to set up and send messages and questionnaires.
Online booking – for you and your clients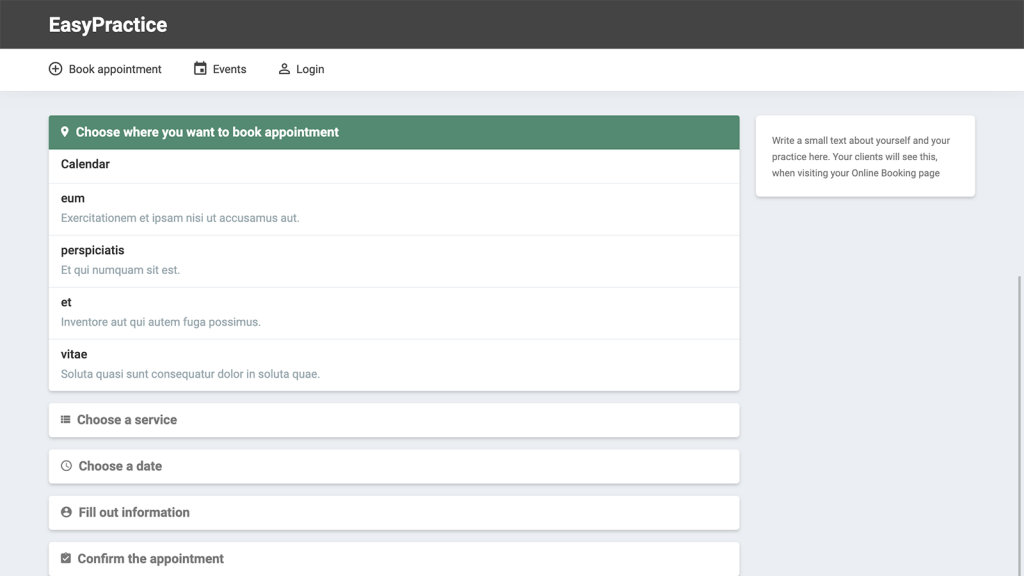 With our online booking system, your potential and existing clients have free access to see when you are available. No hassle anymore with email communication or waiting in line. They find an open slot, book an appointment, and receive a reminder of their treatment the day before their appointment. You have a modern and easy usable booking experience, which your clients appreciate.
Give treatment remotely with e‑consultations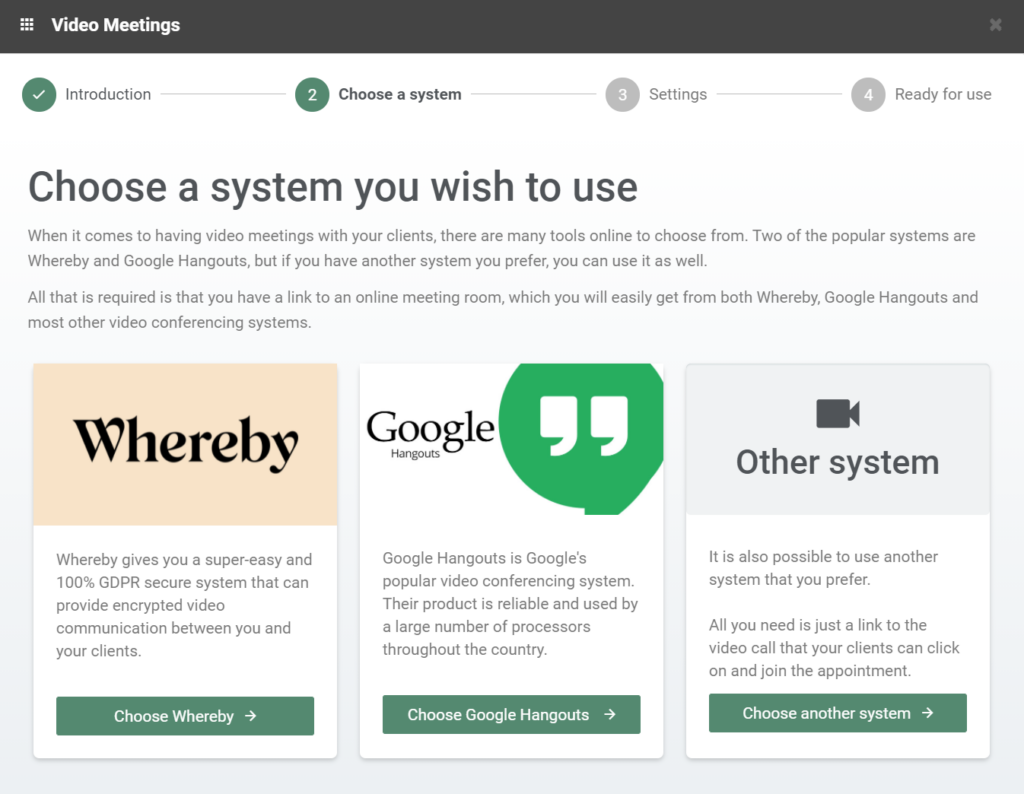 Video meetings specifically enable you to connect to your patient without them being in the same room as you. This telemedicine approach is an emerging trend in health care and is more and more demanded by patients. With EasyPractice, your clinic will be more E-health based. Your clients who are unable to meet you face to face still have the opportunity to see you. Especially the Covid-19 pandemic strengthened this trend. Your clients will value the possibility of meeting you even it will be not physically.
Conclusion
With EasyPractice the branding of your practice will be simplified. Our many tools and apps improve the relationship between you and your clients. With your modern online appearance, your clients have the opportunity to book and meet you online. Your clients will value it, and recommend you and your practice, thus leading to excellent branding.
Are you in need of the mentioned functionalities?
If you are interested in strengthening your branding and simplifying your business you can easily create an account. Receive free access to EasyPractice here to try out all mentioned functionalities without any commitment.
Our recently released Help centre will guide you through our system and support familiarizing yourself with all functions. Our EasyPractice Support is available to support you and whether you're a beginner or an expert. They've created a bunch of articles to guide you on your way. If you can't find what you're looking for, contact our support team.