If you work with other therapists in a group practice or have employees of your own, it is essential to have a great team dynamic. With apps from EasyPractice and tips to help you make sure you are on top of admin in your practice, this is a simple and worthwhile topic to pay attention to!
1. Give your employees autonomy
With their own logins and direct links to their specific online booking forms, your team can be in charge of their own calendars.
To start using the Employees App, go to Apps and click "Activate". Then you can set up an account for each of your employees. They can change their own opening hours and update appointments in their calendar. This option is especially useful for remote teams who do not always have the chance to discuss their working hours in the practice each morning, for example.
To find the link to online booking forms for individual calendars, to go Settings -> Online Booking -> Available times and use the icons to find individual calendar links as indicated in the image below: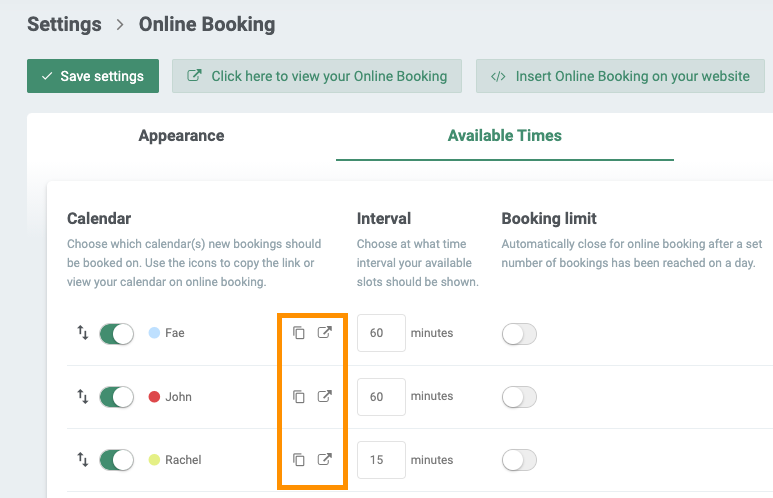 2. Split clients among employees
It may not be necessary for your employees to be able to view all clients at your practice, especially if they will not have appointments with them.
Below, you can see the settings for the employee, John, at this practice. By going to Settings -> Employees, you can adjust these settings for each employee. You can also edit the default settings for when a client signs up or books an appointment, whether the system should automatically allow individual employees or all employees to have access to this client information.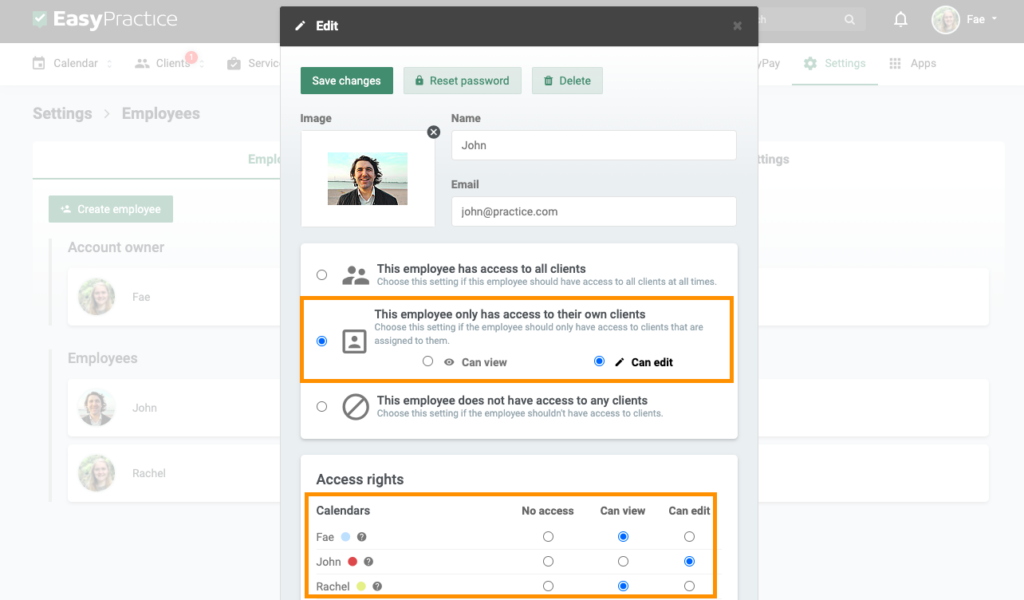 Also, ensuring that you are GDPR compliant, it may be necessary for you to restrict client data to a limited number of employees. Make sure you comply by taking a look at our checklist.
3. Keep track of employee statistics
Your team might work well together but it is important to keep track of individual employees too. To do this in the administrative account, you can go to "Statistics", select the relevant calendars, and the specific employee as well as the dates in which you want to see the hours, payments, calendar distributions and more. This can also be a great way to encourage your employees to seek more bookings or to allow them to compare to the previous month, for example.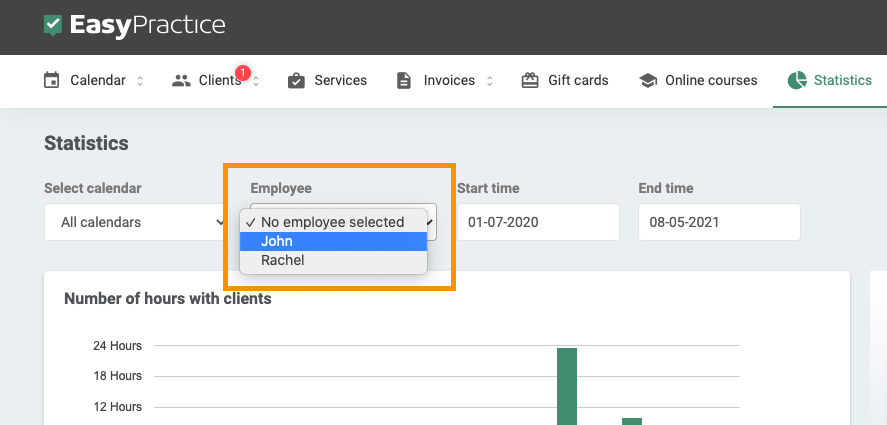 4. Use an EasyPractice Manager account
If you have a large practice with therapists or practitioners who need their own administrative system, you can still keep an eye on all aspects of their work. If they have separate EasyPractice accounts, you can contact us to gain a Manager account as part of our Partner solution. This is incredibly useful for managers who run many branches of a business or many employees who work mainly independently and need their own account.
5. Keep your team happy!
There are many ways to be a good manager and some of the most important qualities employees look for are trust, openness, enthusiasm and great communication. The best advice is to listen to your employees. Make sure you check in with them regularly, especially when you are all working remotely as it is important to remember you are a team and can look out for each other. At EasyPractice, we too work remotely so we know how important it is to stay in touch as a team. We love to support you too when you are doing the same!
---
In our Help Centre we have a bunch of interesting and useful guides to all these Apps and functions.
If you have any questions or comments, please get in touch at [email protected] and we'll get right back to you! 😊