With EasyPractice you can create your own events directly in the system. Several of our users arrange events such as workshops, yoga, coaching, training and much more. You can create both digital and physical events, but during the pandemic it has been particularly beneficial to run events digitally. This works exactly as usual, and your customers book and pay for your digital events directly through your online booking form. You can create events for whatever you need at your practice.
With our function for events, you can easily arrange and manage gatherings with up to 600 participants. In this post, we have gathered everything you need to know about our function for events.
How do I create events?
It is easy to create an event, which you can do directly in your calendar by clicking anywhere on the calendar or "Create appointment." Then select "Create event" and you will have the opportunity to choose between creating a single or a recurring event.

Create the event
If you want to create an event that only takes place once, you can click on "single event". However, if you offer a fixed schedule of group workouts or events, you can easily repeat the event in your calendar. Then create a "Recurring Event" and choose how often the event should be repeated and how far in the future the repetition should apply.
No matter what type of event you want to create, you must fill in information about:
Name
Time and date
Which calendar is it (this only applies when you have several employees)
Address (if the event is not digital)
We also recommend adding a shorter description of the event and a suitable image for a more pleasant customer experience. After you feel satisfied with the event, click on the next page. If you have chosen to create a "recurring event", you get the opportunity to add the same event several times on any date and time. You must create at least 2 events, however, there are no limits on how many you can create. For recurring events, all sessions you add will have the same price, description and image.
Important settings
Before you complete the event, the price must be determined, as well as other important settings. Do you want your customers to be able to pay for the event by paying in installments? And how do you want to send reminders to your customers before the event?
Here it is also important to decide how many spaces there are at the event. It is possible to have up to 600 people at events. After the number of places at the event has been filled, it will no longer be possible to book a place at the event in your online booking.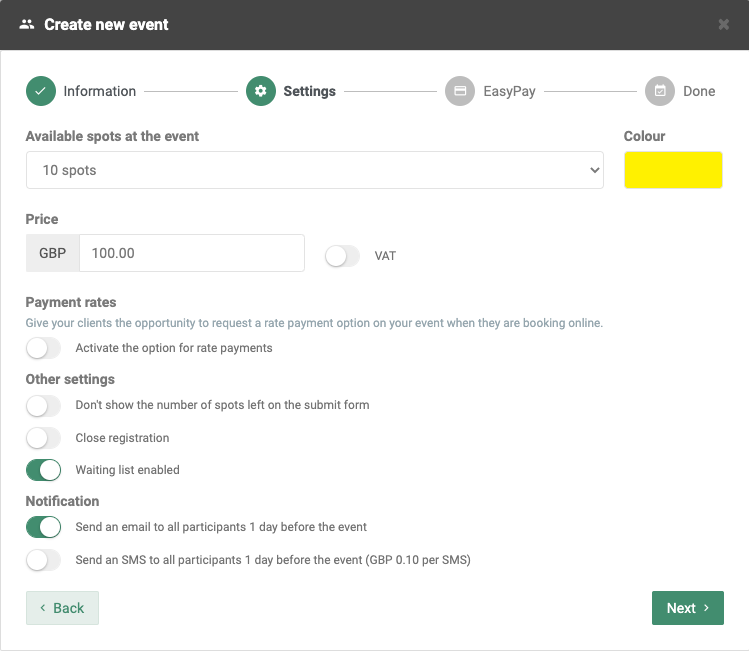 How do customers book an event?
Once an event has been created in the system, you can let the administration take care of itself. Participants can register easily via your online booking, and if participation costs, they can pay for the session directly at the time of registration – via EasyPractice's own payment system EasyPay. If you have created a recurring event, your customers can register for all events at the same time. In connection with the booking, they see an overview of time, date and price for the event.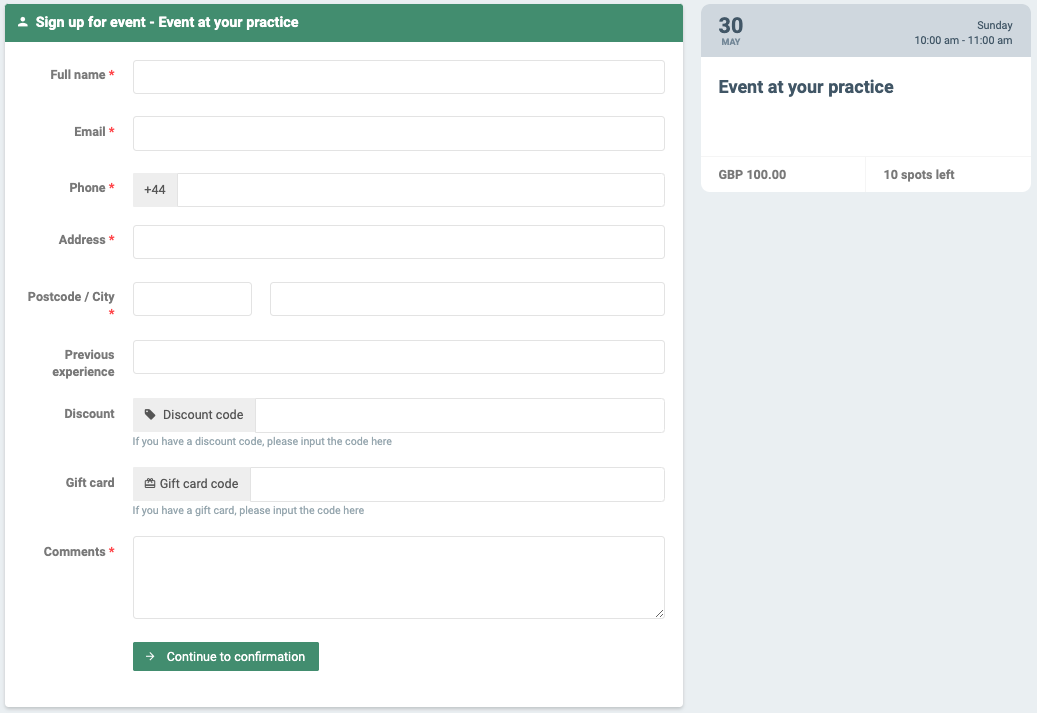 Change event
If you want to change your event, this is easy to do. Click on the event in your EasyPractice calendar and select "edit event". Then you can change the time, date, description, picture and more! Here it is also possible to change the price for the event, and close the registration form under "Settings".
Overview of events
In the same way that you can have an overview of your other online appointments bookings, you can have all your events in one place. When you click on the event in your calendar, you will also get an overview. Here you see how many participants have signed up, available spots, participants who have been invoiced and participants who have paid. From this tab you have several options. Here you can:
Send an email to all participants at once. Should the program change, or if the session is cancelled, you can quickly send out an email to all registered participants.
Invoice participants and it will appear directly under "Invoices" in your EasyPractice account.
Send an invitation to a video meeting. If the event is digital, you can send an invitation from this tab.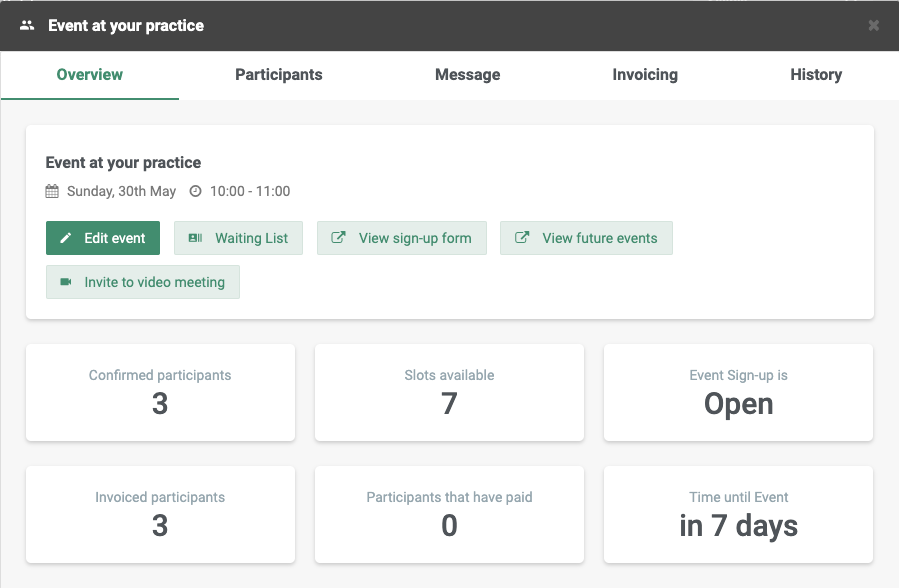 ---
You will find the Events app under 'Apps' in the main menu. Then click on 'Activate' under the Events app and follow the instructions – and you'll be up and running quickly!
In this post, we have gone through everything you need to know about the EasyPractice function for events. We hope this has been helpful for learning about the app, otherwise, you are welcome to contact support with any questions in general about our patient appointment scheduling system at [email protected].
In our Help Centre we have a whole section dealing with our Event Function.
If you have any questions or comments, please get in touch at [email protected] and we'll get right back to you! 😊 If you wish to try out our booking system free of charge to see if it works for you!