You know your clients probably check their emails pretty often and so this is a great way to keep in touch with them, let them know about offers and news at your clinic and just to remind them that you're there for them. Sending one newsletter or email campaign to all of your clients at once is easy with MailChimp, integrated with EasyPractice. Don't worry about adding each email address to your contact list every time but just activate the app and it is done for you, allowing you to send professional and attractive emails with MailChimp templates.
You can activate the integration to MailChimp in your EasyPractice account and easily send emails to all of your clients at once.With the automatic synchronisation, MailChimp will quickly import all of your clients from EasyPractice so you can get started on communicating with your clients like a true marketing specialist. Simplify your Online Booking experience for you and your clients!
Activate the MailChimp integration
To start using MailChimp with EasyPractice, you will first need to create an account. To do this, go to "Apps" and click "Activate" for MailChimp. You will then be guided through creating an account and setting up your email list of contacts. You can choose the plan that suits you best. The free plan allows you to contact 2000 clients and includes all of the basics. The other options are shown in the image below.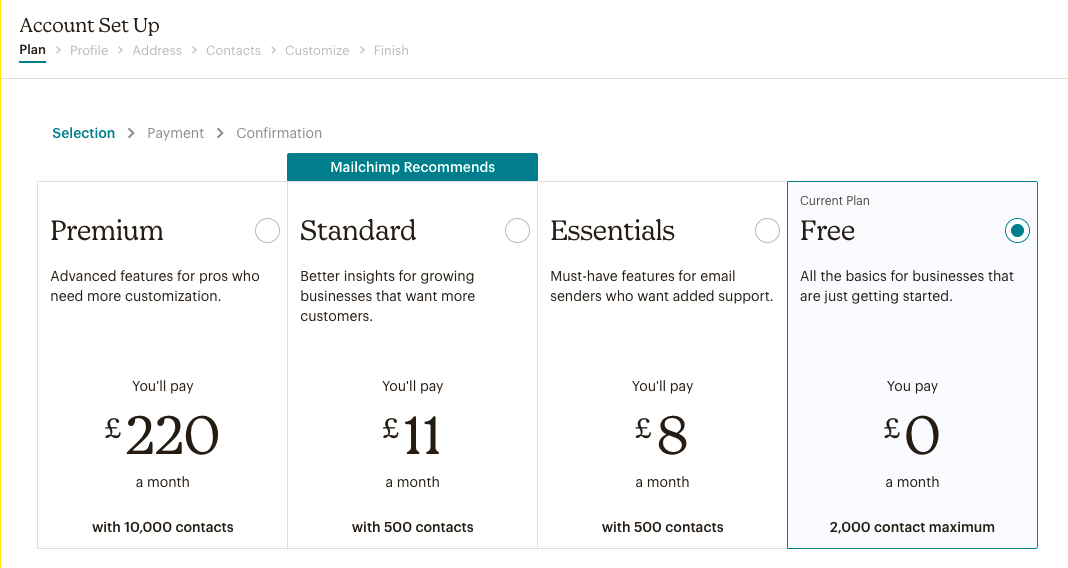 While you are setting up your account and integrating with EasyPractice, you will need to authorise EasyPractice to access your MailChimp account. The details are shown in the image below and once you click "allow," you are ready to go!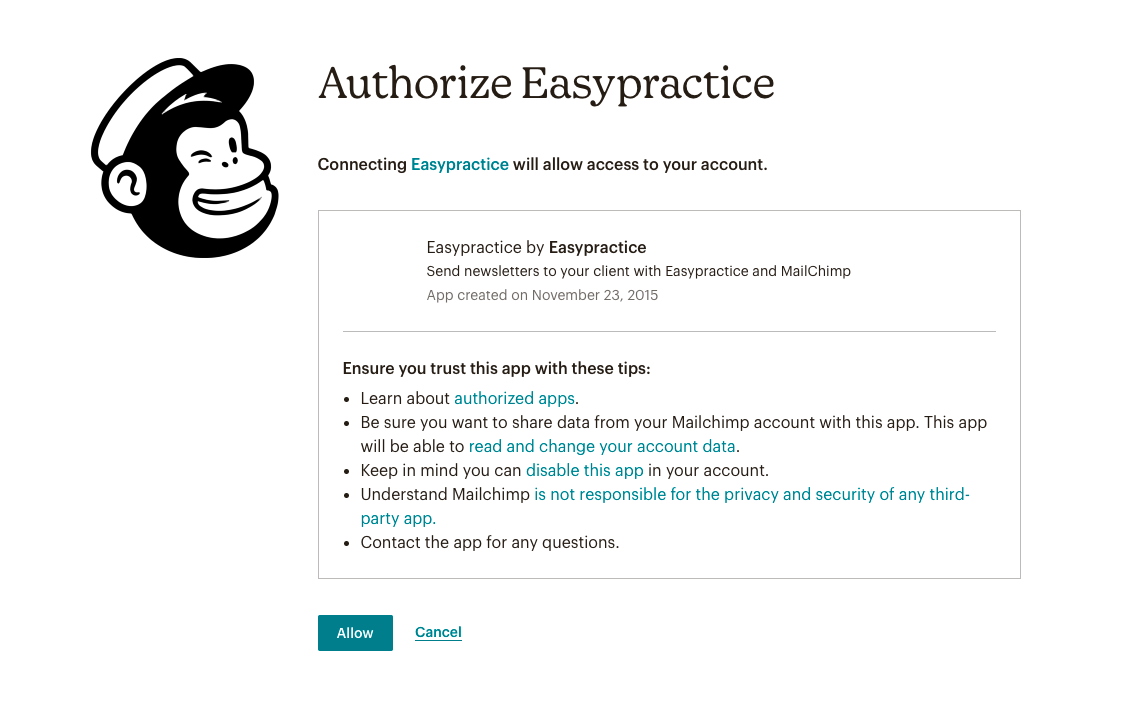 Next you should set up the list of contacts in your EasyPractice account. You will see the following options, to "create a new list" or to "use an existing list":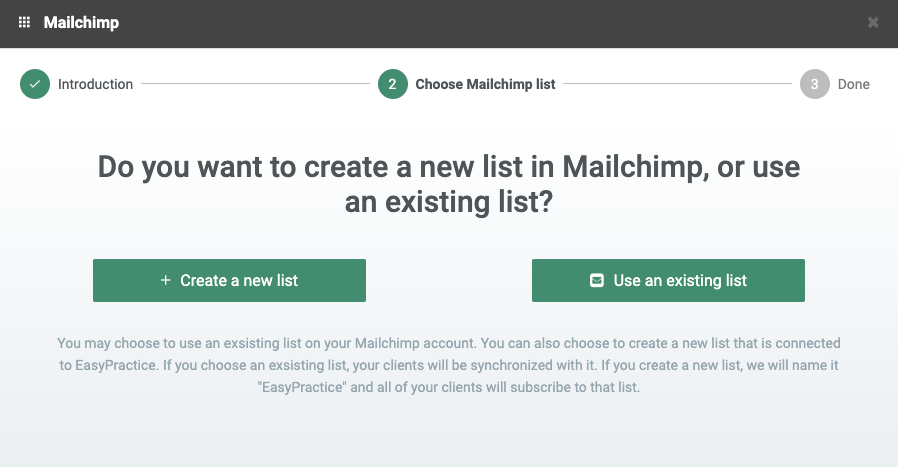 Choose whether you want to use an existing list that you already have MailChimp, or to create a new list. If you select an existing list, we synchronise your clients with that list. If you create a new list, we name it with "EasyPractice" and all your clients end up in the list.
You can control who is subscribed to your newsletter or you can allow your clients to subscribe themselves. If you go to Settings -> MailChimp, you can subscribe all clients to your mailing list. Of course, they can unsubscribe by selecting the "unsubscribe" button which will be at the bottom of the emails. You can also edit each individual client's settings by going to their client profile and subscribing or unsubscribing them.
Create an email campaign
When you are all set, you can start creating and sending your emails. In MailChimp, click on the edit icon and you will be able to create a new campaign. Then, select from a number of templates and add your own content. You can add your logo, images and text.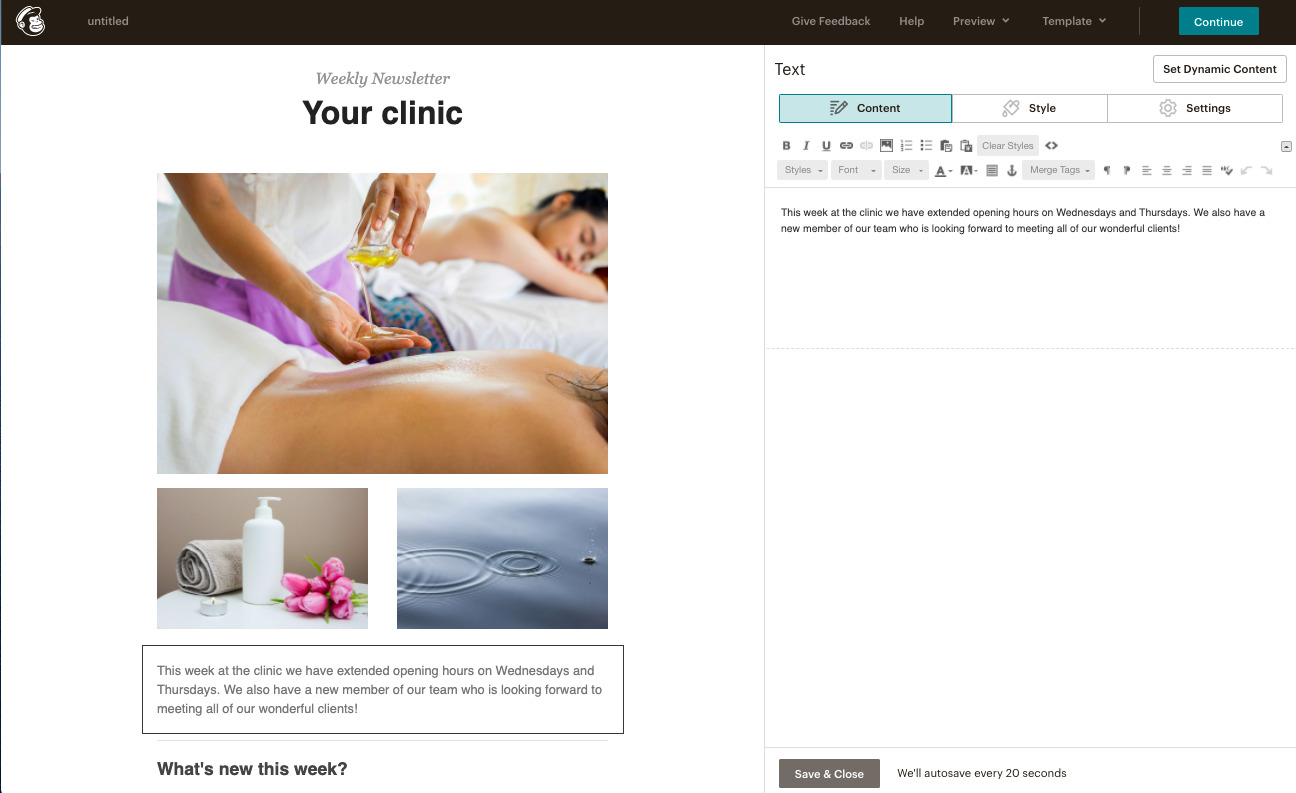 Tips for creating a great newsletter for your clients:
Use images: people respond positively to images in emails as they can be eye-catching.
Include offers: If you include offers in your email and especially in the subject heading, your clients will be encouraged to read the email more!
Do not write too much text: By keeping it short, your clients can skim an email more easily if they are busy. They do not want to spend too much time reading through the email to find what is most relevant to them.
Send your campaign
You will be shown in MailChimp all of the steps that you need to complete in the easy-to-use system. Make sure to include your contacts, who you are, the subject and, of course, the content.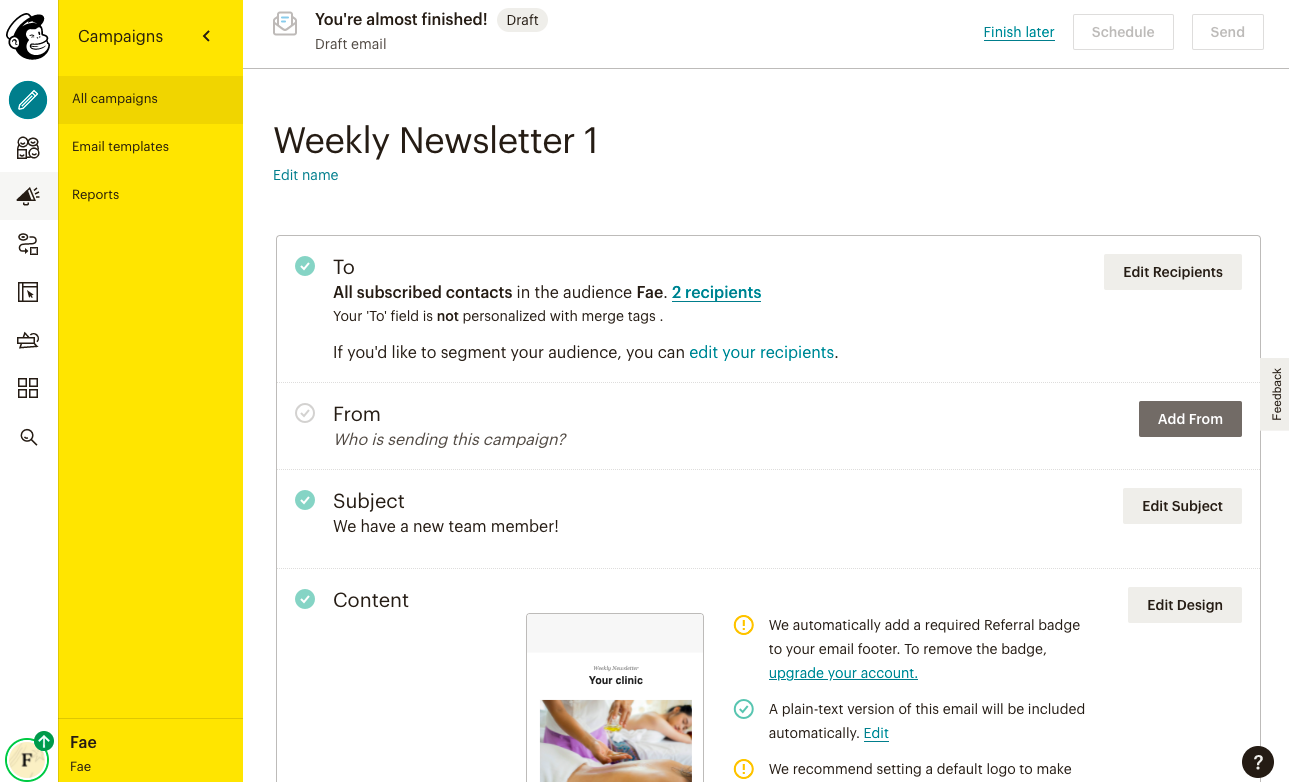 Once you have completed all of the necessary steps, you will be able to select "send" or "schedule" at the top right corner of the screen. Go ahead and send your newsletter to your clients and then sit back and watch your calendar fill up from your online booking.
We can recommend you to read also our blog post dealing with tips on getting feedback from clients.
---
In our Help Centre we have a whole section dealing with our Newsletter Function (Mailchimp).
If you have any questions or comments, please get in touch at [email protected] and we'll get right back to you! 😊 If you wish to try out the Mailchimp feature, try out our booking system free of charge to see if it works for you!