Feedback from your clients is always welcome whether good or bad. If you know what your clients love about your clinic, you can tell others about these services or areas to encourage more clients to come. If you know what clients want you to improve on, you can do that too! Here are some top tips from us on how to make sure you get valuable feedback from your clients as well as how to make the most of it.
1. Ask for feedback
In order to get feedback from clients, you'll have to ask them for it. You can do this by sending messages or emails, of course, but we have another solution, especially for EasyPractice users! A great way to ask for feedback from your clients is to use the Surveys app. It's easy to set up. Just go to "Apps" in your account and click "Activate." Then, in your Settings, click on Surveys and choose "New Survey". Once you have entered the information and the questions you want to ask your clients, you can set up a sending schedule. You could choose to send the survey one day after every appointment or after only the client's first appointment and choose which calendar and services the survey is relevant for too. In our Help Centre you can find a detailed guide for our Surveys app.
You can also see your clients' answers in an easy-to-read way so that you can make the most out of the information you learn from your clients' responses!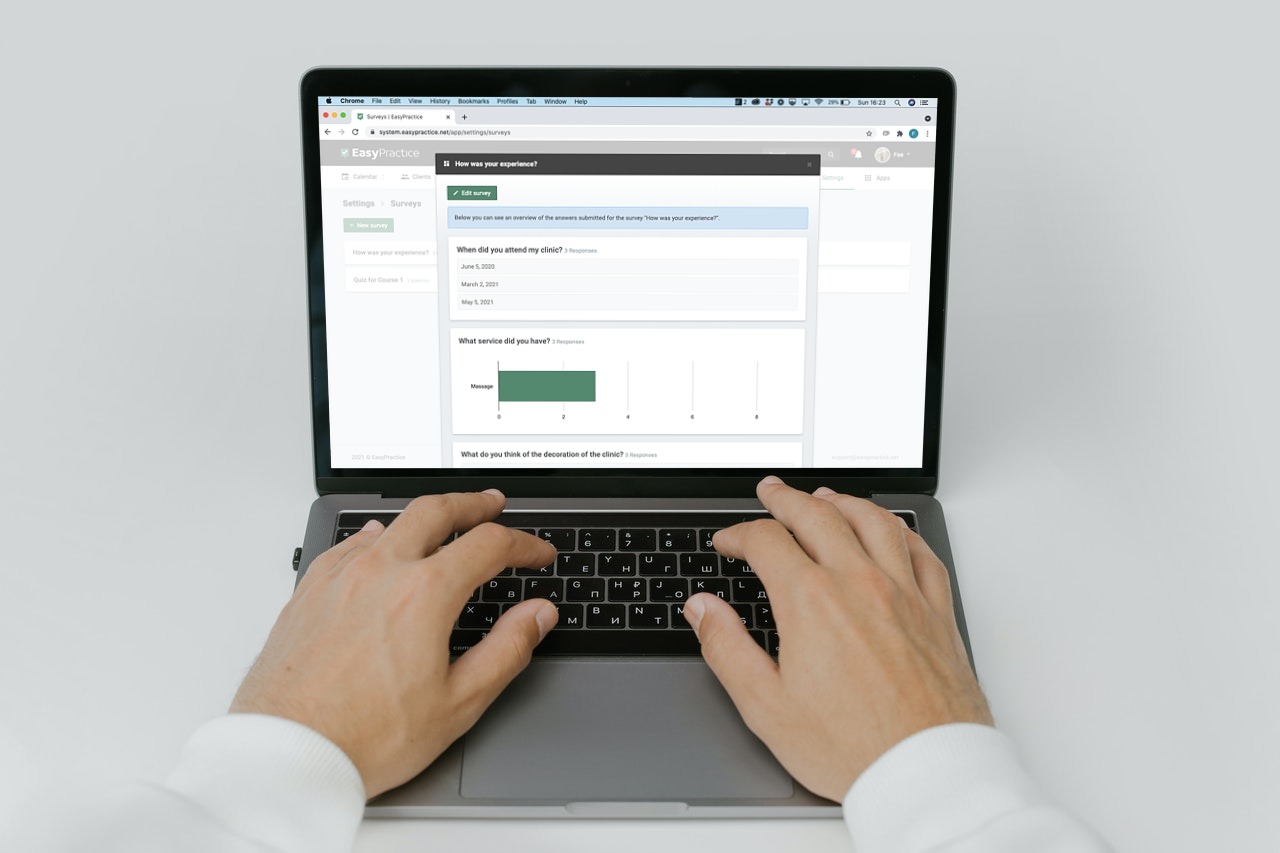 2. Ask for feedback again
Not everyone replies to their messages right away so you can leave some time for your clients to decide if they want to give you feedback but there is also no harm in sending them a gentle reminder.
Another great way to ask for feedback is to send follow-up messages to appointments. When you go to "Settings" in your EasyPractice account and select "Email and SMS", you can create follow-up messages to send to clients after appointments. You can choose if they are email or SMS messages and again, choose how long after the appointment the message should automatically be sent. Select the calendar and services for which you want to receive feedback and then you can write any message you like. Many of our users take this opportunity to ask for feedback. You can write something personal but in the screenshot below is an example of what you could ask your clients: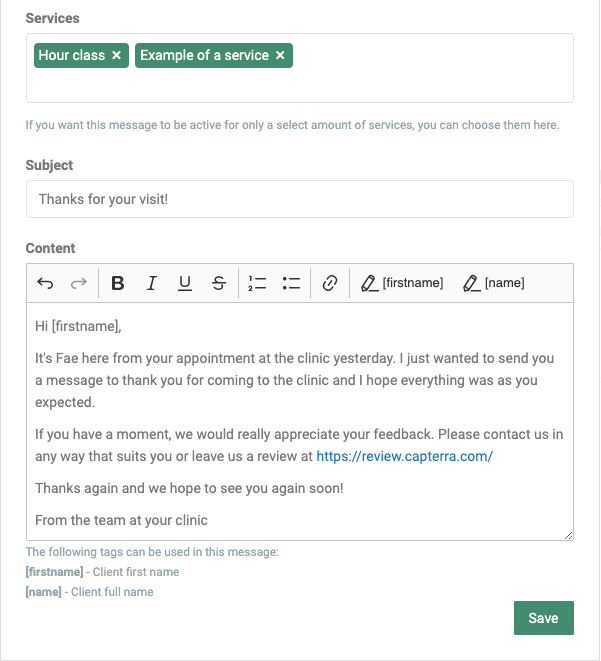 3. Use the feedback
One of the most important things to remember with asking for feedback is that it is a valuable way to improve your practice. Make use of the feedback offered to you. This will turn negatives into positives as it shows you take on board what clients have said and can encourage them to keep coming back!
Once you have changed or improved something that a client has requested, send them a quick message to let them know. You can send a group message to all or selected clients if you want to update them on news at your practice directly from the "Clients" tab in your account. Alternatively, you can use our integration with MailChimp to send newsletters to all of your clients at once.
4. Ask happy clients too
Don't just ask for feedback so that you can improve how you work and hold appointments. There are definitely things which you are already doing really well! You will want to hear the good things about your clinic too so that you can encourage others to book with you. For example, if a client gives you feedback about how they felt very welcome when they arrived at your clinic, you can tell others that they will be greeted with a warm welcome which you know clients value.
5. Make your reviews public
When was the last time you used a new service without searching for reviews first? With great feedback presented well and in an easy way to process, new clients will be lining up at your door (or logging in to your online booking!)
---
Alternatively, if you can't find what you're looking for in our Help Centre, you can just send us an email at [email protected] and we'll get right back to you! If you would like any more advice or have any comments or questions, please get in touch! We would love your feedback as much as you would like feedback from your clients.
We can recommend you to read also our blog post dealing with group emails and what to consider when sending them to clients.
We would also absolutely love it if you could leave us a Capterra review if you have the time!