Automated messages can result in a more efficient and pleasant customer experience. Clients often feel much more trusting towards your practice if you ensure to keep thorough and frequent contact with them. This includes reminders about their appointments, follow-up messages, reminders to book another appointment and many more.
With EasyPractice, there are a number of automated messages that you can send to your clients. You can use an appointment text template, for instance, an appointment reminder template, and others. To see the options and set them up, first go to Settings -> E-mail and SMS.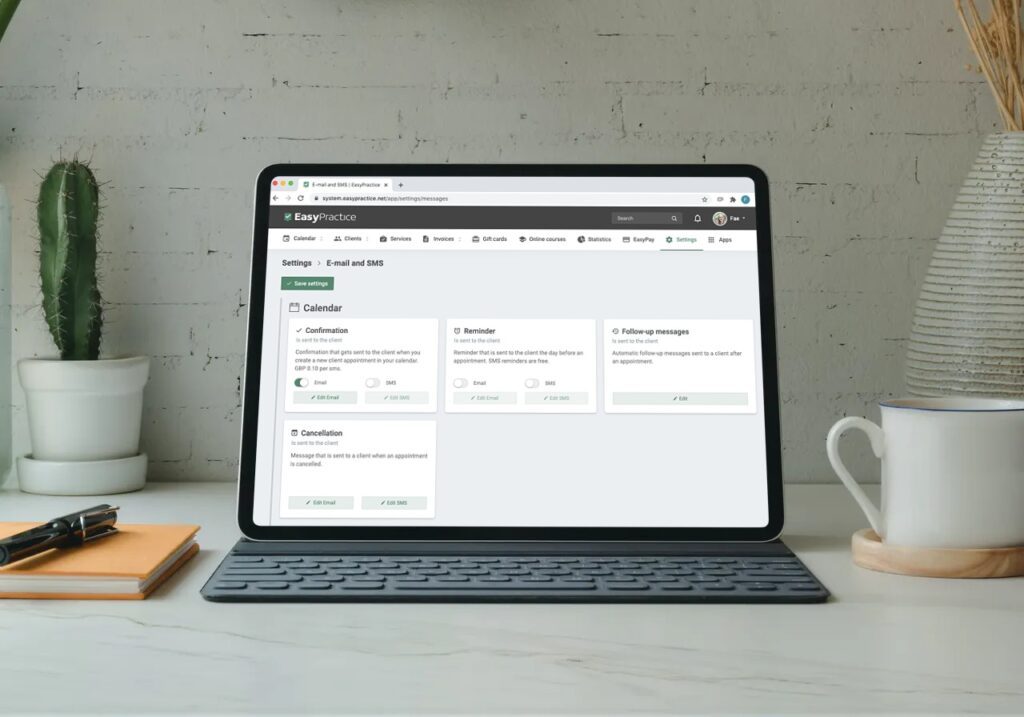 Then you can set up the following options:
Confirmation messages
You can choose to send a confirmation of an appointment to the client when you create an appointment in your calendar and when they book using your online booking. These emails can be edited separately and you can find them under the relevant headings in the settings ("Calendar" and "Online Booking" respectively). If you have activated the "Events" app, you can add confirmation emails on this setting page too.
It is very useful to set up confirmation messages as this ensures that your clients have the correct information about the appointment they have booked.
You can add text at the beginning and the end of the email to make it more personal and, in the email under Online Booking, for example, you can choose whether to include the following information:
Name
Time
Duration of appointment
Service
Price
Calendar
Phone
Email
Comments
You can remove any of these by selecting the eye icon next to each part. They will be filled in automatically when the email is sent to each client.
SMS confirmation messages are 0.10 GBP per message and you can choose to activate them if you wish.
Reminders
Appointment reminders can be sent as email or SMS and in this case, SMS reminders are free.
If you set up automatic reminders, they will be sent the day before the appointment to remind your client in good time. Sending text reminders to clients is very valuable as it prevents appointments from being missed.
You can add whatever text you like to these reminders and we have some handy tags for you to add so that the reminders are personal to the client:
[client] – Client's first name
[date] – Date of the appointment
[start] – Appointment start time
[end] – Appointment end time
[yourname] – Your full name
[calendar] – The name of your calendar
If you insert these into your text, the right information will come up. For example, you can write an email such as this:
Hi [client],
You have an appointment on [date], from [start] to [end] with [calendar]. Please arrive 10 minutes before the appointment.
Best regards,
[yourname]
Then, the client will receive the correct information for their appointment. Sending your patient an appointment reminder can ultimately reduce the amount of cancellations you are experiencing.
Follow-up Messages
You can create different follow-up messages for different calendars and services. This means that each follow-up message can be relevant for the clients who receive it. Also, take advantage of the option to choose when the messages will be sent. For example, you can send one message the day after the appointment and another a week later.
Why send automated messages to follow-up an appointment?
Follow-up messages can be very beneficial to use if you make the most of them. Firstly, you can thank the client for attending an appointment with you and this will make them feel valued. Alternatively, you can ask your clients to leave you a review by providing them with a link to your page on Google, for example. Another great reason to use follow-up messages is to encourage them to book another appointment with you as the more they are reminded, the more they might book!
Cancellation messages
It is important to inform your clients about a cancelled appointment whether they have cancelled it or you have. Therefore, why not set up automated cancellation messages?
You can use tags just as in reminders, above. You can also include other information such as directing them to rebook their appointment for another time.
Other automated messages
Don't forget that on this same page of settings for email and SMS, you can choose whether you will receive notifications and reminders yourself. Why not, make your own life easier by having emails and SMS messages sent to you if a client sends you a secure message for example. This way, you can keep on top of communication with your clients in a two-way street.
---
In our Help Centre we have a whole section dealing with messages.
If you have any questions or comments, please get in touch at [email protected] and we'll get right back to you! 😊 If you wish to try out the automated messaging feature, try out our booking system free of charge to see if it works for you!