The EasyPractice support team often gets questions about how to customise the online booking intervals and breaks to suit your individual needs. To clear up any confusion between these two terms, here is a handy blog post to guide you through. 😉
Breaks are added when you create a new service and intervals are in your Online Booking settings.
---
Intervals
How to find the "Interval" function:
Put simply, your interval is the gap between different times available in your online booking. In the Online Booking settings, you will find this under 'Available times', where you can choose the interval which fits your calendar best.

For example, if you want your available times to be displayed at 60-minute intervals, ie. at 9:00, 10:00, 11:00, etc., you should choose an interval of 60 minutes. If you want your times to be shown at 9:00, 9:30, etc., choose an interval of 30 minutes.

This is a pretty intuitive and very useful feature that many easily miss, so I really recommend checking it out!
Go to the "Settings" menu
Scroll down to and click on "Online Booking"
Select "Available times"
Select the desired "Interval"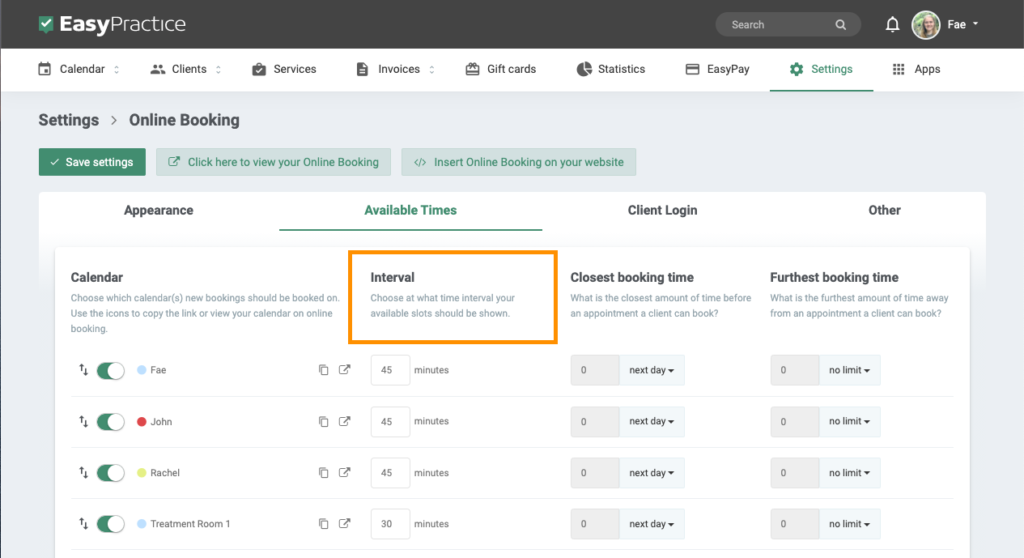 ---
Breaks
In addition, we also have a function called "Breaks", which literally is a break after an offered service. In other words, when you choose a break after a service, you add a gap between the treatments – and so you block new bookings for a specific time. Then you can easily get room to use 10-15 minutes for journaling, cleaning the treatment room, 1 hour for a meeting or just a short break to have time for a coffee.
Here you will find the function for 'Breaks'
Go to "Services" in the menu
Click on a specific service
Click on "Break after service"
Choose how long the period should apply (up to 60 minutes)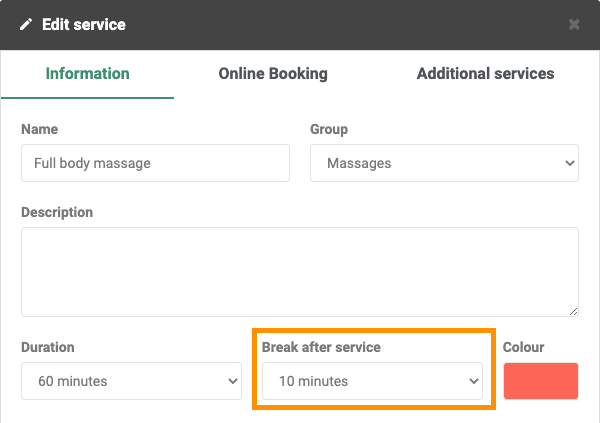 On your calendar it will look like this, with the break time crossed out below the service: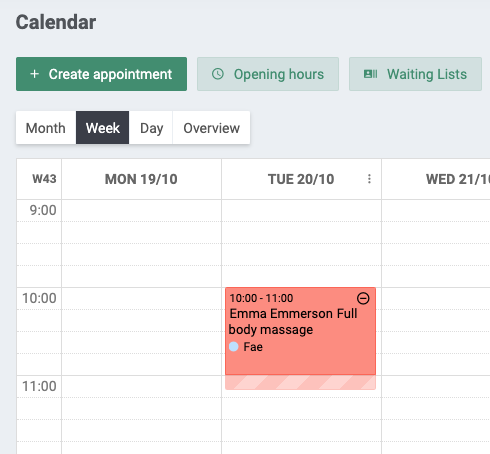 If you do not want a break between the treatments, it is of course also possible to choose "No break".
I hope this blog post could make you a little wiser on the difference between the interval and break functions. Both are really useful for customizing the schedule for your business, so I hope they can be used even more now!
---
If you can't find what you're looking for in our Help Centre dealing with intervals and breaks, you can just send us an email at [email protected] and we'll get right back to you! If you would like any more advice or have any comments or questions, please get in touch! We would love your feedback as much as you would like feedback from your clients. 😄
We can recommend you to read also our blog post dealing with the interval and pause function and how to customize your online booking form.