If I say GDPR, there are probably a lot of you out there, who would answer heightened security. But what does GDPR really mean with regards to EasyPractice, and how can you make sure that your account is completely up to date with the new rules? So I've gathered all of our GDPR features in this blog post, so you can make sure that your and your clients' data is kept safe in the best way possible.
Firstly, GDPR is about personal information. This means that the requirements for the collection of consent have become greater. Because of this, we have made it much easier for you to process your clients' data with our Consent app, which helps you take care of consent forms as well as gathering consent from your clients.
In the same way that there are now greater requirements to how you store your data, there are now also requirements for how long you store your data.
With the 'Cleanup' app you make sure that you are not storing unnecessary data by automatically programming the system to delete data after a period of your own choosing. The requirement to how long you should keep data differs between fields of work, and because of this, we've made it possible for you to decide for yourself, how long the data should be kept for before being deleted.
With the Two-Factor Authentication app, you can add an extra layer of security to your EasyPractice account – for free, I might add! All you have to do is download Google Authenticator on your smartphone. Next time you log in, you will have to scan a QR-code on the screen, after which you'll be sent a six-digit password (which is renewed every ten seconds), which you can use to log on to your Easy Practice account.
Do you need some help getting started? You can click here to watch a video guide that'll help you set it up.
When you've obtained your clients' consent to store their data, it is extremely important that all data is kept technologically and organisationally safe. This means that you are responsible for the protection of personal information again illegal treatment. By using EasyPractice for filing journal entries you ensure that the processing of client data is handled correctly and according to data rules. Our servers are tightly protected against attacks and all communication between your internet browser and EasyPractice is encrypted, and therefore can't be tracked for unauthorised treatment.
Download your Data Processing agreement by going to 'Settings' -> 'Profile' -> Data Processing Agreement and receive a written guarantee that we, as your data processor, will store your personal data in accordance with the data legislation.
If you communicate with your clients online eg. by e-mail, you can't be certain that the connection is encrypted. This means that the risk of an unauthorised person accessing your and your clients' conversations is increased. In short, encrypted communication means that a message is locked with a virtual padlock, that only the intended recipient of the message has the key to open. Because it is more or less inherent that you as a practitioner or therapist almost always communicate with your clients about sensitive information, we've made it easier for you and your clients to communicate through our 'Secure messages' app. In this way, you and your clients can feel safe communicating without worrying that a middleman intercepts your conversation.
Hide client data from calendar appointments 
Do you often book new appointments in your clinic, while your client is standing next to you? Then it can create problems if the client can see which other people have appointments booked in your calendar. But don't worry, we've created a nifty feature, which also helps you to adhere to the GDPR rules here. ???? At the top of the calendar front page, you'll find an icon with an eye, which is crossed over. If you click here, the information in every calendar appointment will become blurred. In this you, you can calmly show your calendar and available appointments to your clients without risking breaking the law.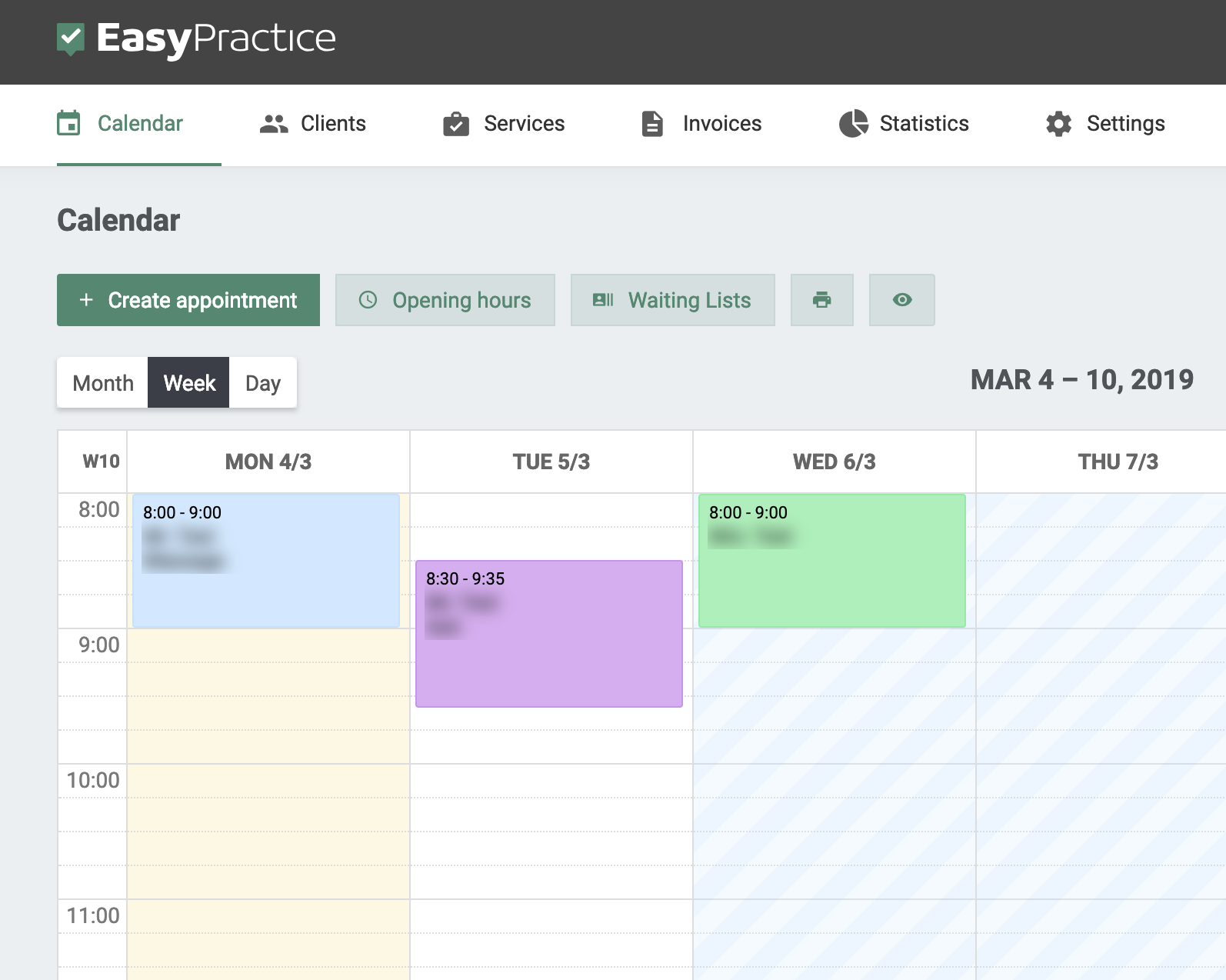 I hope that this little guide has given you a better overview of all of the GDPR features of EasyPractice and how you can benefit from the different functions. Otherwise, you are of course welcome to send us an email with your questions! You can always catch our support team at [email protected]