It can be a faff to cross-check different calendars on all of your devices so here is a handy guide to make sure you know how to integrate your EasyPractice calendar into Google Calendar and iCal, among others. We've had a lot of questions about how to sync calendars so hopefully this will help many of our users!
As a therapist, practitioner, or anyone keeping on top of appointments, it is incredibly important that all bookings that come in via your online booking are automatically synchronised with Google or iCal calendar. When these are synchronised, the times will be visible on both your phone and your computer, making it easier for you to stay organised.
The synchronisation can take place either in both directions (two-way synchronisation) or only in one direction (one-way synchronisation). Below I will go through in a little more detail what this means.
---
One-way synchronisation
By choosing one-way synchronisation, you can view all your EasyPractice bookings directly in your Google Calendar.
How do I do this?
1. Go to the "Settings" menu and click on "Calendar".
2. Click on the calendar to be synchronised (here you can select a specific calendar or all calendars at once). It is enough to click on one of the links and it will be copied to the clipboard.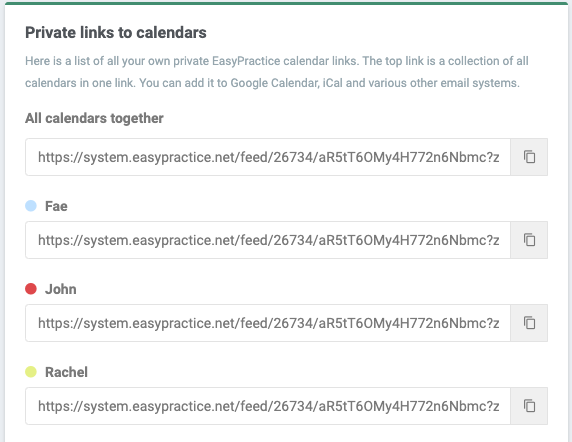 3. Log in to Google Calendar on your PC.
4. Click on the "+" icon next to "Other calendars".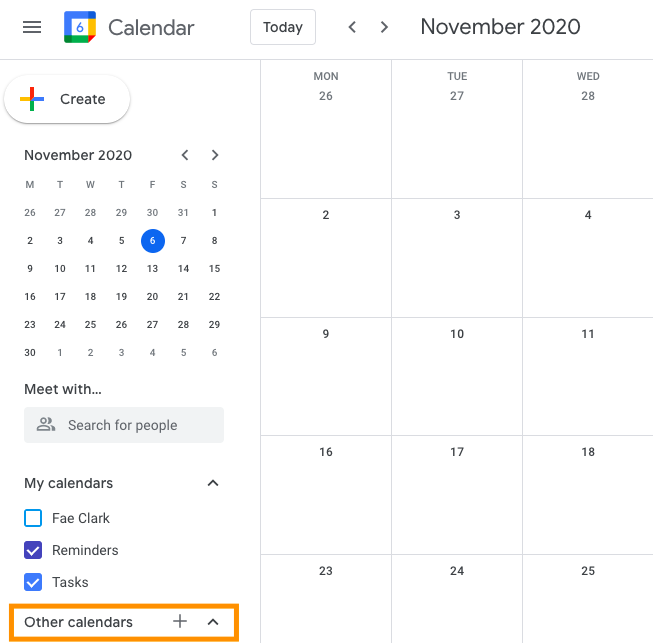 5. Select the "From URL" option and insert the link you copied from EasyPractice.
Two-way synchronization
This is done via the Google Calendar app that you find in EasyPractice's App menu, and means that you can also view bookings from your Google Calendar in your EasyPractice calendar.
How does it work?
1. Go to the "Apps" menu and activate the "Google Calendar" app.
2. Follow the instructions and select which account to sync with EasyPractice.
3. Done! Now the integration applies in "both directions".
---
iCal (Default Calendar for Mac)
If you want to view your bookings from EasyPractice in iCal, just copy the calendar link in the same way as mentioned above, and paste the link into your iCal calendar:
Click on "File"
Select "New calendar subscription" and paste the link.

---
View bookings from EasyPractice directly on your iPhone
This is one of the most useful syncs for you who always want your calendar close at hand. If you have an iPhone and want to view bookings from EasyPractice on your iPhone, you can do the following:
Open "Settings" on your iPhone and click on "Passwords and accounts"
Go to "Add account"
Click on "Other"
Click "Add Subscribed Calendar"
Here you can finally insert the link to your EasyPractice calendar.
You will find the link in exactly the same place as for other one-way synchronizations: under Settings -> Calendar and by clicking on the calendar link you want to use.
Once the link has been pasted, you will automatically get all your bookings from EasyPractice in your iPhone calendar, so you can easily keep track of new bookings and the week's schedule.
---
In our Help Centre we have a whole section dealing with the Synchronisation of external Calendars.
If you have any questions or comments, please get in touch at [email protected] and we'll get right back to you! 😊 If you wish to try out our booking system free of charge to see if it works for you!