Hi everyone☺️
This blog post will focus on how you can get the most out of your modern booking system as physiotherapist, so you can minimise administration and manual work, and put your efforts and attention with your clients.
I hope that you will also read along, even if you are a different type of therapist than a physiotherapist! But in this post we have chosen to focus on the physiotherapists use of EasyPractice, including the apps we have in the system which are more specific to the physiotherapist.
We will review these three topics:
Where can your booking system make a difference in your treatment?
The options to tailor the system to best suit your workflow
The most important and useful apps for you in your work as a physiotherapist.
Let's get started!
Where can your booking system make a difference?
Your booking system can above all make a difference by being reliable and intuitive for your clients. By making the booking experience inviting and straightforward, you will increase the chance that your clients will return and book with you again.
The most important thing is of course your treatment and you interacting with the client. But the impression your booking system gives in connection with booking is also part of the whole in relation to the client's experience of being treated by you.

At EasyPractice, it is possible to personalise the booking page to suit your company. You can e.g. change the colour of your booking page and add a picture (of yourself, the company logo, or something else). You can decide your services into several calendars, or into service groups, to create a better overview for your clients: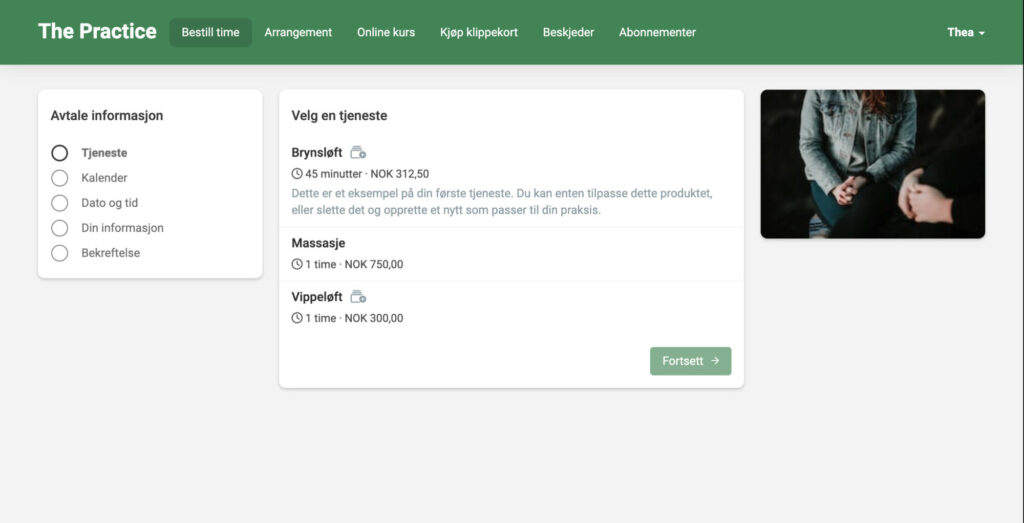 Physiotherapy is a competitive sector, and in order for your clinic to thrive as best as possible, you must ensure that the client experience is top class. It's not just about the services you provide, but also about the efficiency and reliability of your service from the moment your clients want to book appointments with you until long after they leave your clinic.
Your booking pages can be the first impression your clients get of your clinic, so it's important to make sure the look fits your clinic.
Fast, convenient and easy
A general trait of therapists is that they can struggle with having lots of responsibility on their hands and limited time. If you rely on phone time to schedule your client appointments, you could lose a significant number of potential clients in your clinic. That's because every time they call and find your phone lines busy, the risk of them giving up and looking elsewhere increases.
When you think about this, a self-service software is the ideal solution. Your clients don't have to worry about calling during office hours, as an online platform allows them to schedule their appointments exactly when they want, at any time of the day.
The option to tailor the system to best suit your physiotherapist booking system
It is just as important that your booking system is intuitive for your clients, it is just as important that the system works optimally for you as a physiotherapist.
What this means in practice is very individual. As you probably know, it is possible to select the functions you want to use in your working day.
In the same way, you can deselect the functions you do not use, so that they do not fill your feed and create unnecessary confusion and "noise" in your workflow. You will always be able to deactivate (and reactivate) functions, integrations and apps in EasyPractice`s Apps menu.
Although it is entirely up to you which apps and functions you want to use, there are some good tips for functions that can be useful in your work as a physiotherapist:
Reduce the number of lost appointments by setting up Cancellation-rules.
We all have busy schedules. This means that it can be easy for people to lose track of time or forget their appointments- As a result, your patients may miss appointments or have to cancel at the last minute. This means you risk losing billable hours.
In EasyPractice under Settings → Online Booking → Client Login, you can choose when your clients can cancel an appointment with you at the latest. You can also choose whether you, as the practitioner, must approve the cancellation first. If you choose that the client should be able to cancel without your approval, the cancelled time will immediately become available again for booking: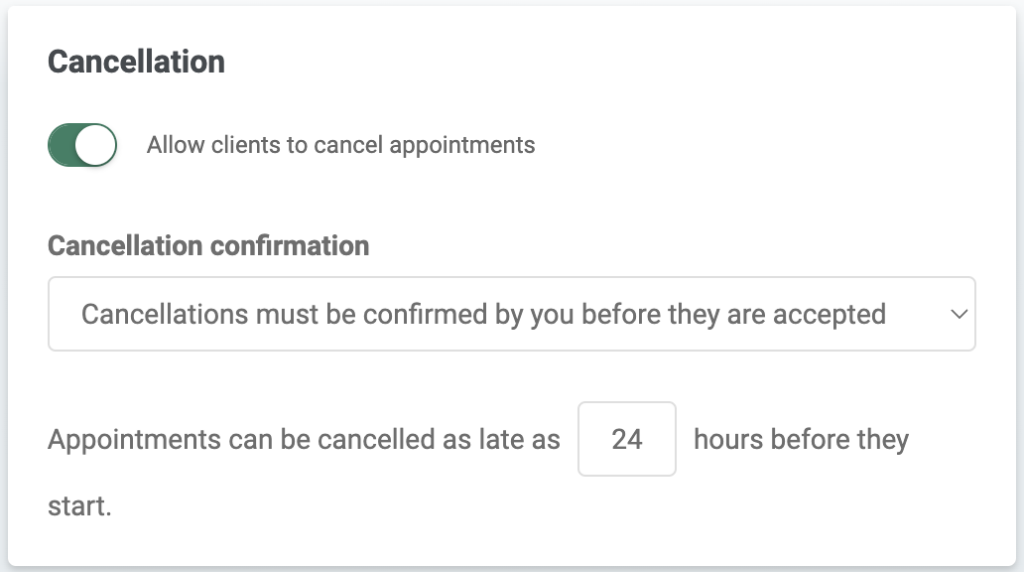 Increase productivity with automated emails and SMS.
In this regard, it makes really good sense to set up some automated messages. If you remind your clients about their appointments in good time, you can set up reminder messages.
You can determine and set up the content of your reminder message yourself. You can then arrange for it to be sent at exactly the time you want. It can be 48 hours before or 24 hours before. This can also be a specific time 3 days before the appointment. It is entirely up to you: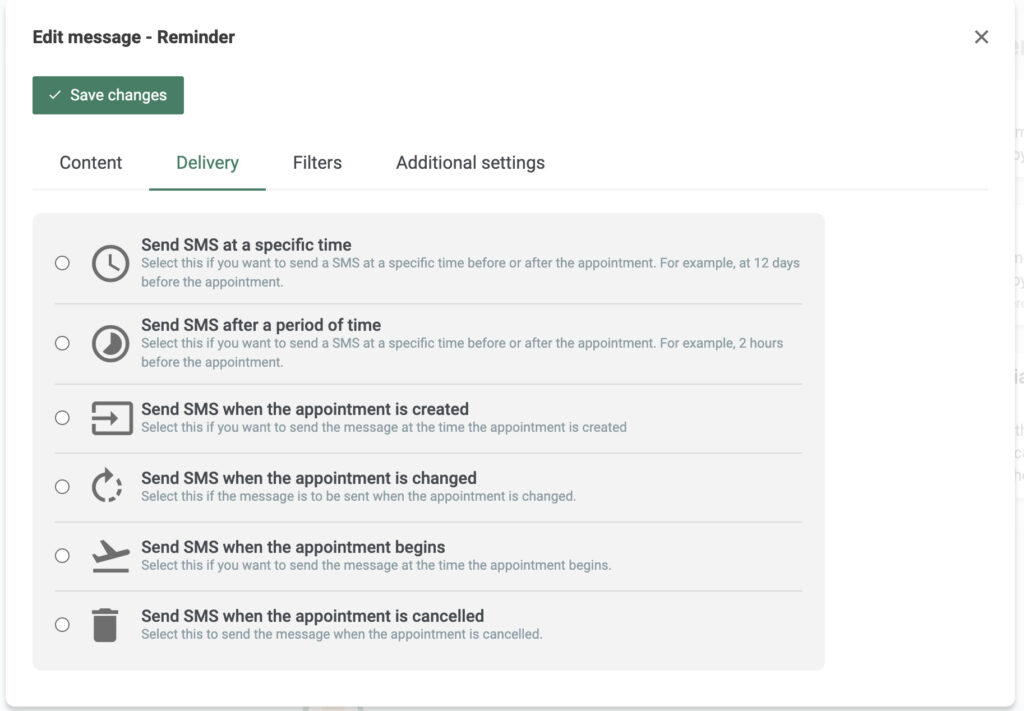 Physiotherapy environments are dynamic. There are many moving parts to focus on invoicing, operations and logistics. These activities are of course crucial for you clinic. But they also require a significant amount of time and energy – which can end up affecting your team's productivity.
These messages can therefore help, among other things, to automate the confirmation of agreements, the rescheduling of agreements, and the sending of reminders and cancellations. They can be a really useful tool that can help reduce your and your employee workload. In the clinic, you can therefore focus on serving the clients and thus increase your productivity.
The most important and useful apps for you in your work as a physiotherapist
First of all, of course, we have our core functions, which I also touched on in the section above. This means our calendar, journal, invoice functions and much, much more. The full overview of both free and paid features can be found in our price list.
The external integrations
Custom fields
With custom fields, you can create your own fields in EasyPractice to add or collect extra information about your clients. This gives you the opportunity to collect more information about your clients, and know them better.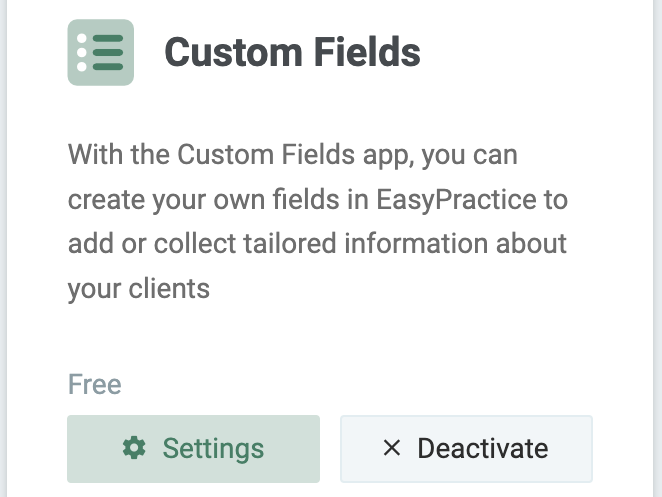 Gathering more information will give you a better insight into the client's situation. Furthermore, it can make you more prepared for the appointment and spend more time early on the actual treatment instead of gathering information. This will give the client a better
Before you use the application, you need to activate it in the EasyPractice App menu. Afterwards, you can go to Settings → Custom Fields → "Add a new field". Here you can add on a name and what kind of type the answer shall be. E.g. a number, a long text or a date.
If you want this to appear in your Online Booking you need to ensure that this field is ticked off. You can also choose whether or not this should be required to fill in the field when clients book an appointment with your. Always remember to save your new settings.
Resource management
Effective management of clinic resources is critical for physiotherapists to provide high-quality care to their patients. Physiotherapists must ensure that their clinic is well-equipped with the necessary resources, including treatment rooms, exercise equipment, and other tools needed for specific treatments. They must also maintain these resources and manage their usage to ensure their longevity and optimal functioning. Effective management also involves proper scheduling and organisation of appointments to optimise patient flow and minimise waiting times.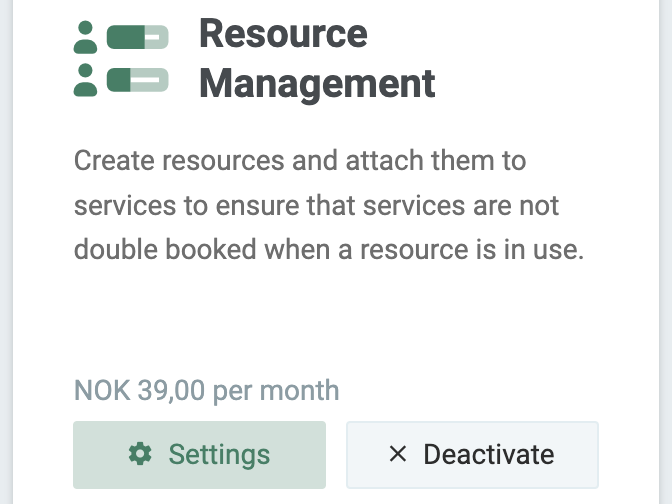 In addition, physiotherapists must ensure that their clinic adheres to all relevant health and safety regulations and standards. By managing clinic resources effectively, physiotherapists can provide efficient and effective care to their patients while maintaining a safe and comfortable environment for everyone.
Therefore, we have developed an application called Resource Management. Here you can connect the clinic's resources to treatments. This will function in a way that when a treatment that you have linked to a particular resource is booked, the resource will also become unavailable. This reduces the possibility of duplicate appointments at the clinic. This implies that you can always access your resources when you need them.
Employees
If you run a physiotherapy clinic, you probably have several emplyoees who serve various clients and perform different jobs. Various employees require access to various resources. With EasyPractic´s Employees application, you can establish employee profiles for and specify the amount of access each employee shall have. Each employee will have access to the information that matters to them and won't have access to other client files in this way. You can create as many users as you like and decide what access each one has and doesn't.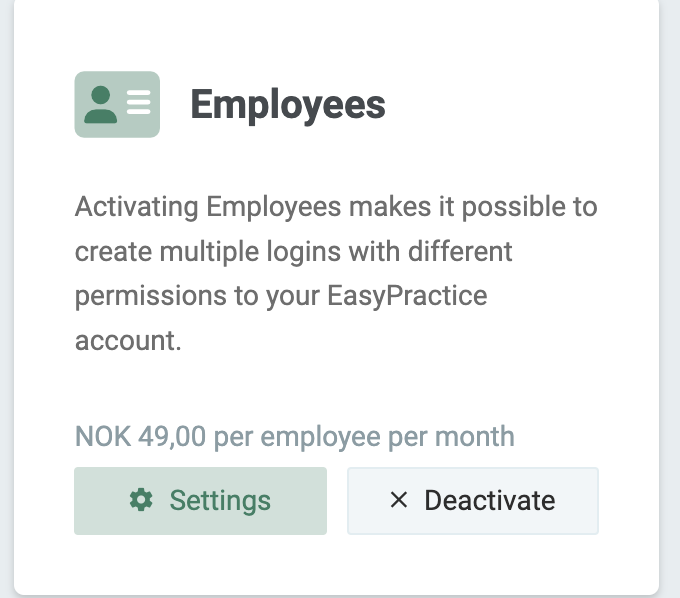 You can also create calendars or services and connect them to specific employees. This is a great feature if you have employees that only offer specific services at your clinic.
Like the rest, you can find this application in our app-store in your system.
Conclusion on physiotherapist booking system
In conclusion, streamlining your physiotherapy practice with a modern booking system is a smart move that can benefit both your patients and your clinic. A modern booking system can simplify the appointment scheduling process, reduce errors and double bookings, and allow patients to book appointments online at their convenience. This can lead to improved client satisfaction, increased productivity and better overall clinic management. Additionally, a modern physiotherapist booking system can provide valuable insights and information that can help you make decisions and optimise your practice. By taking advantage of this technology, physiotherapists can create a more efficient, effective, and client-centric practice that sets them apart from the competition.
—————————————————————————————–
Please do not hesitate to email us at [email protected] if you have any questions or require assistance with anything. We anticipate hearing from you.
Visit our Help Center for thorough explanations if you already have an account here. Check out our other Blog Posts for intriguing tips and articles if you´re not sure how something functions.