Security is very important to us at EasyPractice so we have introduced a new dedicated page for security in your settings. This post will take you through the different parts of the page and highlight why security is so important.
What's on the Security page?
To take a look at the page, just log in to your account and go to "Settings" in the top menu bar. Then you will see the option "Security" and go straight to the page. If you do not yet have an account with EasyPractice, you can register for free right now.
Once you're on the Security page, this is what you will see: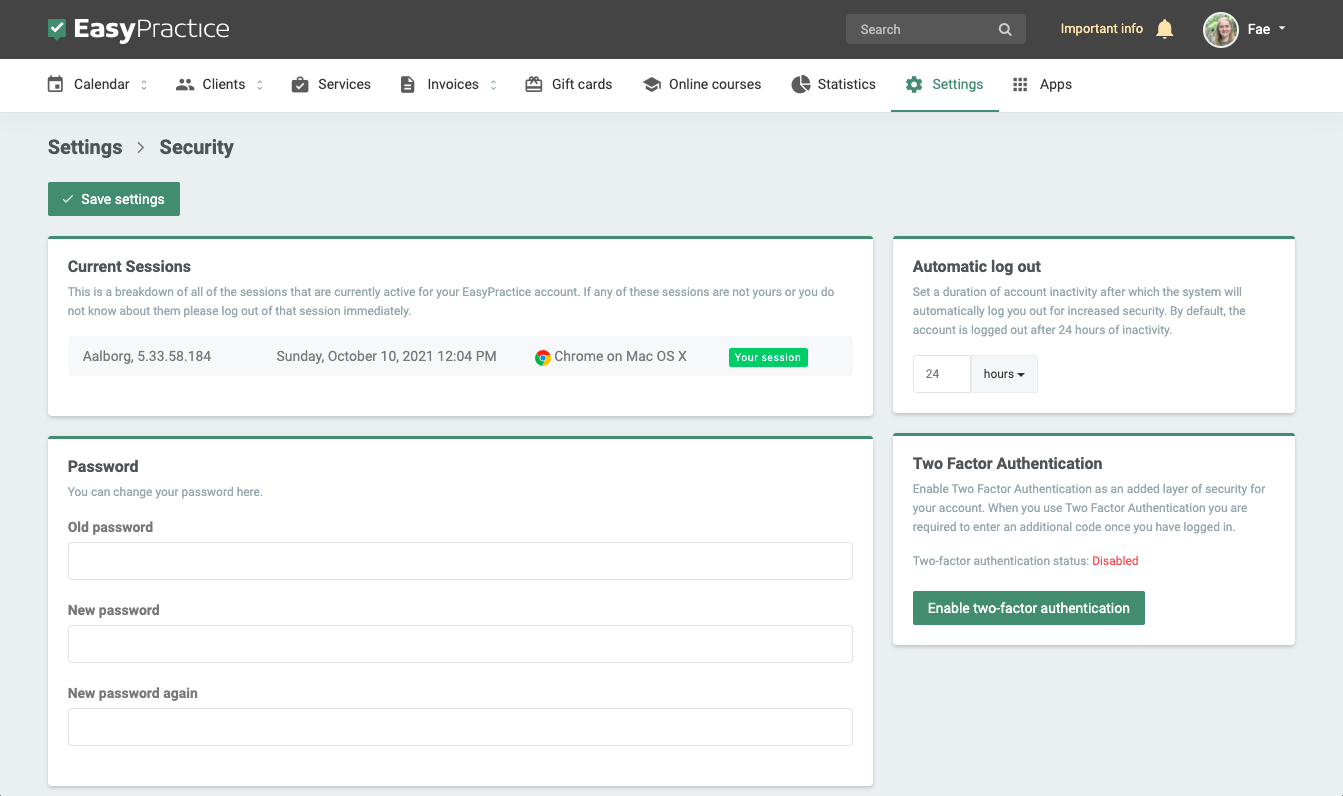 The four different parts of this page are as follows:
Current Sessions
You can see your current sessions. This shows where and on which devices you are currently logged into your account. This is a great way to make sure only you are logged into your account. Perhaps you logged in on a different device such as a tablet earlier and now you can keep track. If any logins looks unfamiliar to you, it's best to log out.
Password
On this page, you can also change your password. It is a good idea to have a strong password (as we are sure you know in any case) so just type in your "old password" and replace it with a new, strong password to keep your account secure.
Automatic Logout
The Automatic logout is very useful for users who log in on multiple devices. The default automatic logout time is 24 hours but you can make this sooner if you prefer to be logged out more frequently when not using the system. It is a good way to ensure you have not left your account open on your device.
Two Factor Authentication
Two Factor Authentication is an app we have added to EasyPractice for an extra level of security. If you enable it from this page, you'll be guided through the set up to install an app on your phone to verify that it's you, scan a QR code and then set up a password. With these quick steps, you can then be sure that nobody else will have access to your account with just one password.
In general, it's important to have great security in your online booking system because you are dealing with client data. Your clients have entrusted you with their data and so it is important that you keep it safe. We also help you to ensure you are dealing with data correctly so you can always read more about how we are GDPR and HIPAA compliant at EasyPractice.
---
We are always working on improving security in EasyPractice to keep you and your data safe. Please feel free to let us know what you think about our changes at [email protected] and keep an eye on our blog for more updates!