Online booking systems are widely used by businesses in a variety of industries. Consumers also expect companies to have an intuitive and user-friendly solution to conveniently book a service from. An online booking system can be used to make an appointment, and schedule a meeting. But also to book an appointment, book a reservation at a venue, or sign up for an event.
Using an online platform for scheduling appointments online has been growing in popularity, whereas phone calls or emails are slowly (but surely) being phased out. Especially during the past season when the COVID-19 pandemic was at its highest. Most of the population had to quarantine, nearly all of the day-to-day tasks were switched to an online format. This has resulted in people becoming more agile using technologies since we were forced to switch to online.
Due to technological advances, businesses are using an online booking system to automate and schedule chores. A report from the Data Bridge Market Research shows that the reservation and booking software market will probably grow at a rate of 12.50% in the forecast period of 2020 to 2027. With such significant expected growth, it is a good idea to stay on top of the latest trends and updates. So you can continue to deliver a smooth booking experience. Therefore, we have gathered a list of the latest updates in online booking systems that you should take advantage of.
Trends:
Friction-less online booking flow
When booking an appointment customers don't particularly enjoy getting stuck in the process. It's becoming increasingly more important that the functionalities are made with the end-user in mind and are intuitive. The trend dictates that the online booking systems industry will have to adapt to make the software frictionless. Resulting in fewer pain points for both the company using it and the clients who book appointments in it.
The learning curve shouldn't be steep. In fact, it should only take the users a couple of seconds to understand where they can find what they are looking for. Most online booking systems are embedded on the website and/or take the form of apps and programs installed on the device. To experience a seamless use of the platform, it's essential that there are no delays and that the software syncs instantly on the multiple devices it is used on.
Design forms for shorter attention spans
The attention span of an average person is shorter than the attention span of a goldfish – literally. According to this study, the human attention span is 8.25 seconds, whereas the goldfish has an attention span of 9 seconds. All this to say that the days of long sign-up with too many fields to write are numbered.
If your client has to fill out a form, make it as simple and quick as possible. The less effort the customer has to put in, the better. Newer versions of these forms will have more drop-off menus and more multiple-choice sections. Nevertheless, it is also useful to have a field to write on in the end. So the customer can let you know about any additional information that was not asked for. You will cater to the short attention spans of humans while giving your clients the opportunity to express any concerns and ask questions.
Although you should try to keep the questions in your forms to a minimum, you should not leave out important questions or information. The goal is to capture all the necessary information from the clients and only provide them with additional information when it's absolutely necessary to do so.
Be transparent about personal data
Even though the younger generations are tech-savvy and already know what the regular procedures are when opening accounts, the older generation of people over 50, are still hesitant in those situations. As more and more personal information is being submitted online, many's concern that their personal data could be stolen or exposed to third parties without their consent. The Americans' Views About Data Collection and Security study mention that even though 93% of the inquiries, which were American, said it was important to be able to control their data, only 9% say they feel they have "a lot" of control over how much information is collected about them.
Importance of personal data
So, what exactly can you do as a business to make your potential clients feel safer regarding personal data? There are a number of trends in online booking systems to make clients feel safe:
Allow to login as a guest – specially for first time users who are just testing the water of your services. This allows clients to not have to give out their personal data from the beginning. Also, not having to create yet another account makes the process more straightforward.
Integrate with well known apps – integrate with platforms that are already widely used. Not only because they are more trustworthy but also because your clients don't have to install another app and learn how it works.
Be transparent about your prices and fees. It makes your clients feel at ease to know exactly what they are paying – with no hidden fees. As an example, some online booking systems charge an extra fee for handling your customers. If this is the case, let your clients know from the beginning.
Let clients get to know you. Provide substantial information about your company. Let them know what you do, what your values are, your location, the services you provide, etc. This can increase potential clients' confidence to book an appointment with you and help bring them from consideration to action.
These solutions help keep your business trustworthy and improve the connection with clients at a more personal level.
EasyPractice and Security
The EasyPractice booking system provides optimal protection of your client's data and records, such as credit card numbers, transactions, and other highly confidential information. At EasyPractice, we are in close cooperation with Datatilsynet and the Danish Data Protection Agency. That means that we assure your company that nothing escapes from your files. We highly recommend that your online booking system (if you are using a different one) also prioritize cooperation and guidelines on how to best protect client data and records.
When you have and use an online booking system, it is extremely important that it is compliant with all requirements and legislation for the storage of data, both in Denmark and internationally.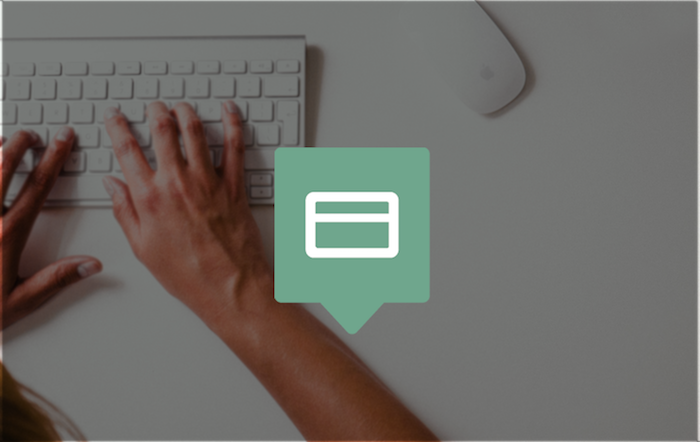 Informing your clients about what cybersecurity system(s) you have in place (like the one in the picture above), gives your clients a guarantee that their social security number or patient information will never enter the public arena.
Social-friendly booking sites
Another big shift in the way consumers do bookings is by using social media platforms. There are endless ways of interacting with consumers through social media channels, and booking through social media is increasing in popularity. Providing an insightful experience to the public is one step further for them to request your service. It is so much more convenient to book a service through a social media page than to manually search for a website and find the booking page.
Besides, 54% of social browsers use social media to search for products and services. So, having a direct link to your booking from your social media channels is likely to bring in new clients that would otherwise not have known about your business. For this to happen, it is a good idea to partner with an online booking system that offers integrations with the social media channels you use.
EasyPractice and Social Networks
For example, in the EasyPractice system, it's possible to integrate with Facebook and Instagram. So, if your clients find your company on Facebook, they might as well want to make bookings straight away.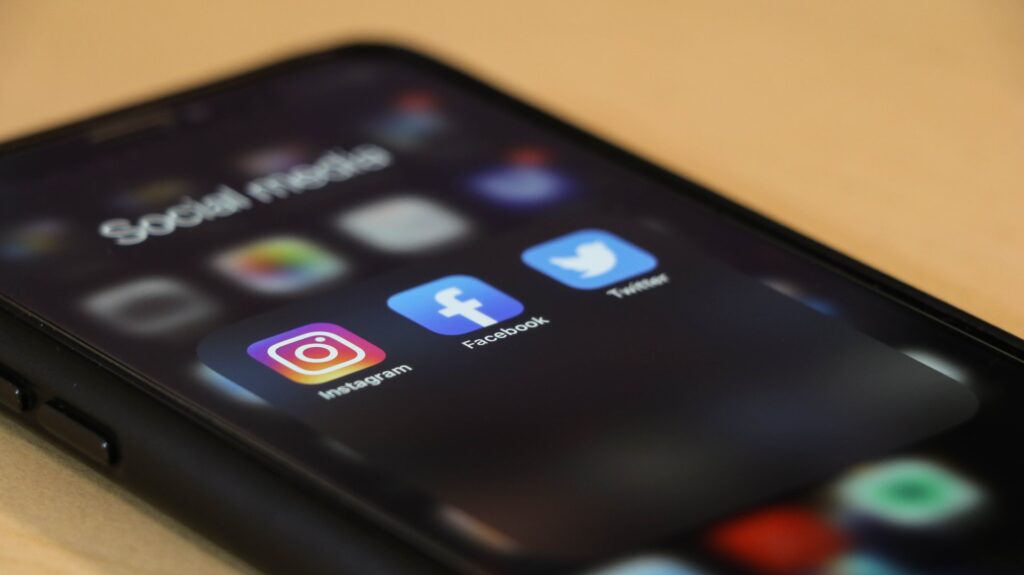 By letting them do this and then integrating your Facebook account with the online booking system, you can transfer bookings across channels without having to redirect your clients anywhere. Facebook is one of the most used social media platforms and can help you.
Social media platforms have become a place where businesses and practitioners can advertise, share news about the good work they have been doing, collect reviews, and communicate with their clients.
Cloud based system
Many industries have shifted to cloud-based software to manage appointments, clients, and staff. For example, hospitals are starting to shift to cloud-based patient data management to have easier access while keeping data secure.
Having a cloud-based booking system allows businesses that operate across locations and with remote employees to access all the information they need with one click. Since the cloud runs on its own servers through a company whose only job is to make the cloud system functional and free of bugs, it's usually a lot more reliable than an on-location server.
Making booking more personalized
For the upcoming year, online booking systems will become more personalized. This is part of the increased use of smart technologies and of providing a streamlined experience from beginning to end. Online booking software will improve to meet the expectations of customers by providing personalized confirmation messages, reminders, and follow-ups.
Most booking systems are adapting to save clients' history from previous visits, their preferences, conditions that might be necessary to know for upcoming appointments, and so on. This helps to keep the clients feeling valued and understood.
For example…
Let's say you work as a chiropractor and a client comes to your clinic for the first time. The client happens to have a job that is physically demanding that requires him or her to be standing and do the same movements repeatedly. This causes hip tightness and lower back pain. Since it is this client's first time, you (as the chiropractor) take note of this information so next time this patience shows up, (s)he won't have to provide that information again. If the patient instead has an appointment with one of your colleagues for his/her next visit, your colleague will also have this information readily available and will be able to treat the patient accordingly. Also, it increases the service level tremendously that the patient will not have to repeat the information for each visit.
Having a journal it's essential to store your client's history, to take note of health conditions that could affect the practice, such as allergies, previous diseases, or chronic illnesses, which can be essential for the client's treatment plan. This not only optimizes the treatment but also allows you to plan the session in advance to adjust to the patient's needs.
Our Journal
Using EasyPractice's "Journal" functionality, any of your employees or colleagues can create and access clients' records, edit, and adjust journal entries. With this feature, a clinician can also create different templates for specific types of records and add pictures or files to the client's record.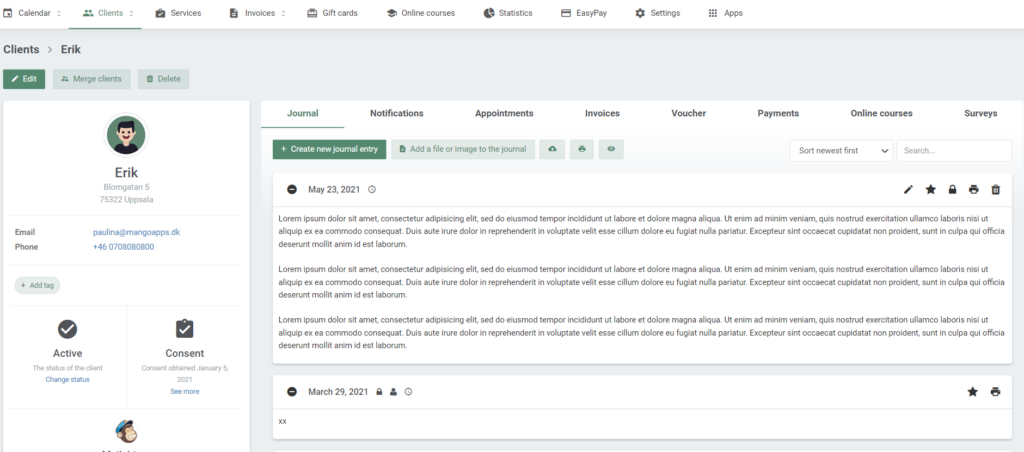 Also, this information can be used to target special offers to clients based on their medical history. This could be an offer on a complementary treatment to the massages the client is already doing. Going the extra mile to make your customers feel special highly increases the chances that they will be loyal to your clinic the next time they are in need of your services.
Increase in automation functionalities
We have built our online booking system to reduce the time-consuming tasks of handling customer reservations. Therefore, we expect that this software will use automation to make daily processes even more efficient. In fact, 48% of organizations are working on installing business process automation solutions that specifically automate the management of manual tasks.
Using an online appointment service also bridges the gap between personalized customer service and the convenience of automated scheduling.
Clients will receive automatic confirmation messages, reminders, surveys, gift cards, and special offers. However, it is important to keep these accurate to the client's preferences and history. Automation can also take the form of a bot. Bots can answer simple questions minimizing the number of calls or emails. Customers can get the support they need in real-time – no matter what time of the day it is.
The automatic confirmation of emails and SMS's function can be very useful. It allows your clients to have written confirmation of their appointment. The confirmation includes the time and date of their appointment, along with other information if needed. Having an automated email or text reminder service can prove very beneficial. This prevents clients from forgetting the appointment and prevents them from having trouble finding the location of the clinic. Even though automation is trending to watch out for, it is also important to keep the relationship with customers personalized.
Here's an example of how EasyPractice uses automation for booking confirmations, rebookings, reminders, and special offers.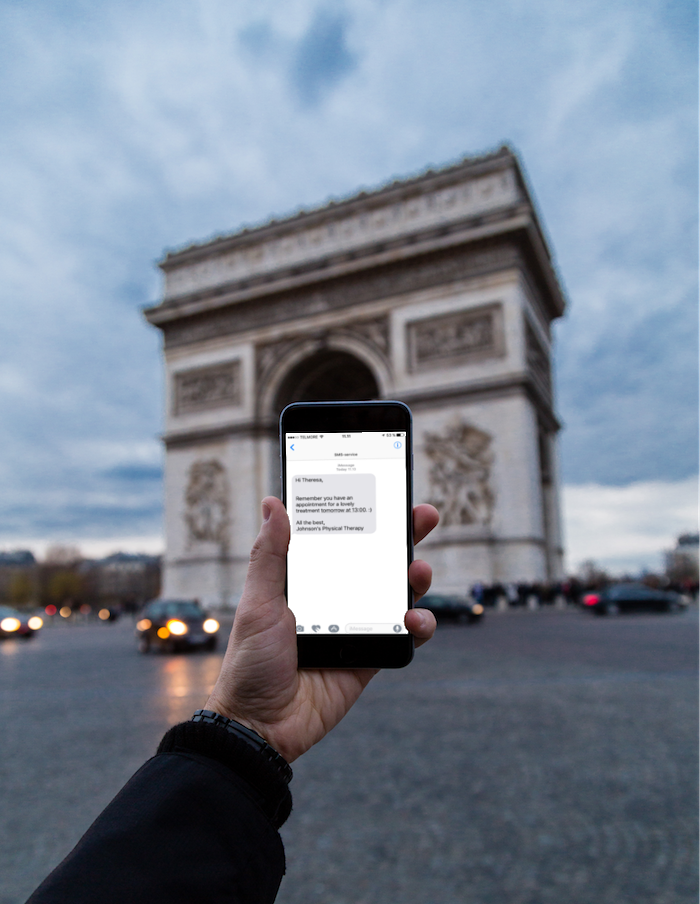 Thanks to automation, booking services will become more flexible for both the clients and employees. Clients can conveniently book whenever suits them because the system automatically updates the available time slots. Employees save time by not having to do that manually.
More industries adopting a online booking system
As online booking software becomes more convenient than traditional booking, other industries are joining the trend of having one. Also, many of this software are adapting so they benefit a bigger diversity of industries.
Previously, Restaurants, hotels, and travel agencies mostly used these systems. However, businesses such as health care clinics, beauty & wellness salons, events, and higher education are now hopping on the booking system trend. In addition to these, entrepreneurs and small businesses have increasingly been adopting booking software. It helps them utilize their human resources more effectively. Therefore if you own or manage a clinic or a practitioner center odds are that your competitors are optimizing their processes by moving from traditional booking to online booking systems as well.
EasyPractice supports numerous different businesses in the healthcare and wellness industry. However, it is not only for these fields. Some of the professionals EasyPractice works with are coaches, therapists, hairdressers, nail technicians, makeup artists, personal trainers, and instructors. Take a look at the full list of professions and see if we have already listed your business. If not, we will help to adapt our software to your business needs. Shoot us a message and we will respond as quickly as possible.
Wrapping up
In today's times, there are several options when it comes to online booking systems. However, the trends covered in this blog post are the ones you should pay attention to stay ahead of your competitors.
The online booking system industry is modernizing to become more efficient, intuitive, and time-saving for both clients and employees. The standard for these technologies has raised and the clients (especially the tech-savvy generations) aren't expecting any less.
Regardless of what industry your company is in, an online booking system could become handy. All businesses that work based on some sort of meeting with clients (either online or physical) should at least keep these 2021 trends in mind. Start using one of the 3 plans of our online booking systems completely adapted to these trends.
---
We are here!
In our Help Centre we have a lot of other useful and interesting guides.
If you have any questions or comments, please get in touch at [email protected] and we'll get right back to you! 😊 If you wish to try out our booking system free of charge to see if it works for you!