If you need to close your online booking for a certain period of time there are a few ways to do this easily! Maybe you or one of your employees is unavailable on certain days of the week or you are taking a week off and don't want your clients to book appointments with you for this period. We, at EasyPractice, have a number of ways for you to close your online booking so you and your clients can stay on top of appointments.
"Turn off Online Booking" in your calendar
Add a closed time by clicking anywhere in your calendar and selecting "Turn off Online Booking".
Then, you can choose the date and times for which the online booking should be turned off, which calendar the closing applies to and whether this should be repeated each week, for example.
This method is good to use if you will be closed on a particular day, or if you will be closed on the same day of the week for a few weeks to come.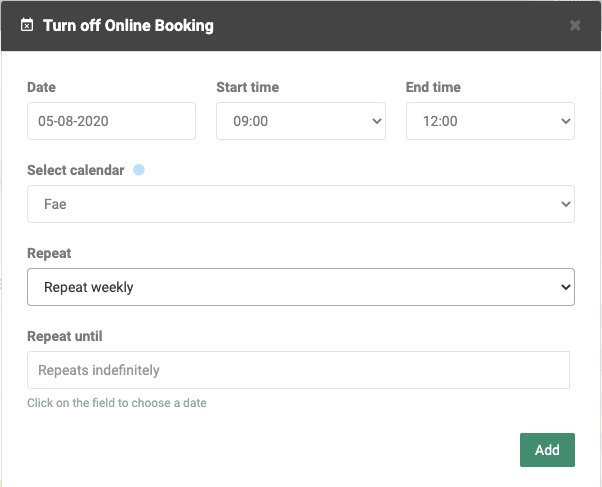 Change your opening hours
In the calendar you can select "Opening hours" at the top left. Here you can change all your opening hours.
If you are going to be away all summer, you can easily change the opening hours, so that your online booking is kept closed during the entire period you are away and can be opened again when you return.
Make sure to note that when you change this, it only affects future appointments so there may be bookings that your clients make before you changed the opening hours. Be sure to inform them of your changes.
Change the opening hours for a specific week
Just as you change your opening hours, you can also choose to change the opening hours for a specific week.
Once you have selected "Opening hours," if you click on the field "Opening hours in a specific week", you can select a date and you will be able to change the opening hours for that specific week.
Using this method, you can change your opening hours later for in the year, so that you avoid your clients booking an appointment that week in advance.
However, you can only change the opening hours for one week at a time. If you want to keep the business closed for several weeks, you must make the changes in several rounds.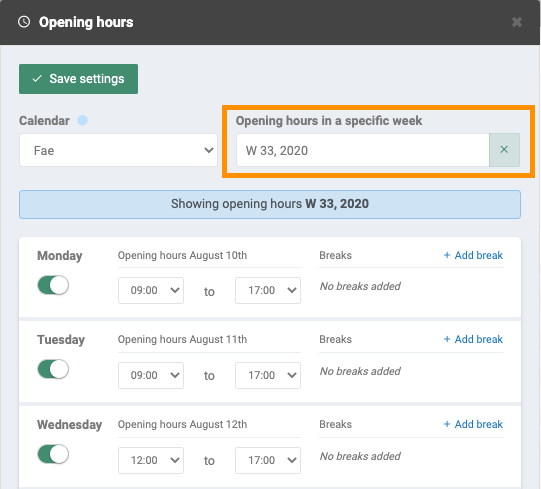 ---
In our Help Centre we have a whole section dealing with our Online Booking Function.
Do you need any further help to set this up or have any questions about EasyPractice? Just get in touch at [email protected] where we're ready to help!
Are you ready to make the leap into your appointment scheduling? Get access to all these tools and a lot more!