Now we have a new function in EasyPractice which allows you to send group emails! This was requested by many users and now it is in the system ready for you to use so here is a quick guide to show you how to take advantage of the new function.
How to send group emails
Just in the same way you could already send a group SMS to clients, you can now select "new group email" to communicate with groups of clients in one go.
First go to the "Clients" tab in the top menu bar. Then click on "Select clients" and choose whether to select some or all clients as in the screenshot below: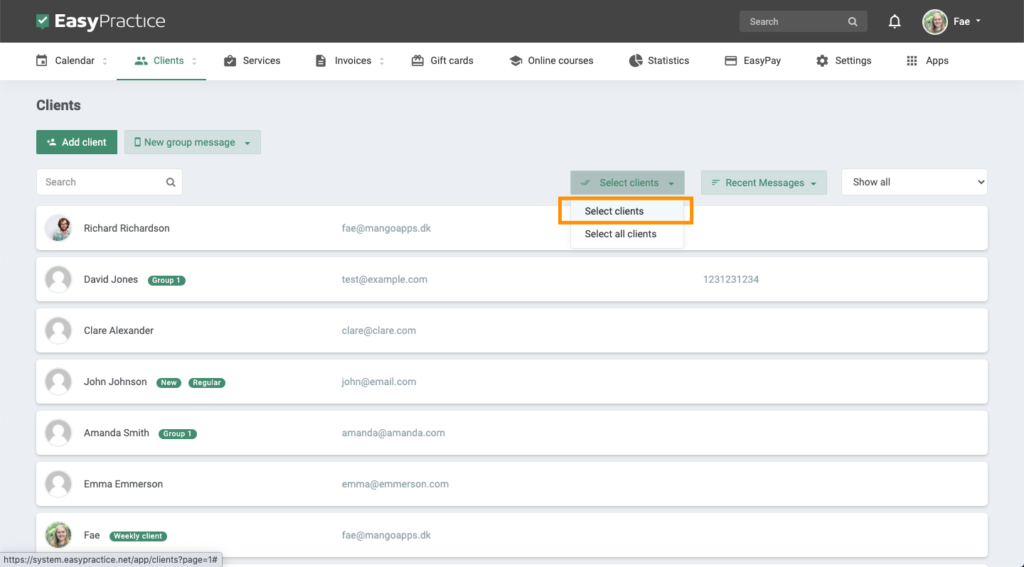 Once you have selected the relevant clients (you may have selected clients with the same Client Tags or those which have an upcoming appointment) then click on the option "New group email" as indicated in the screenshot below: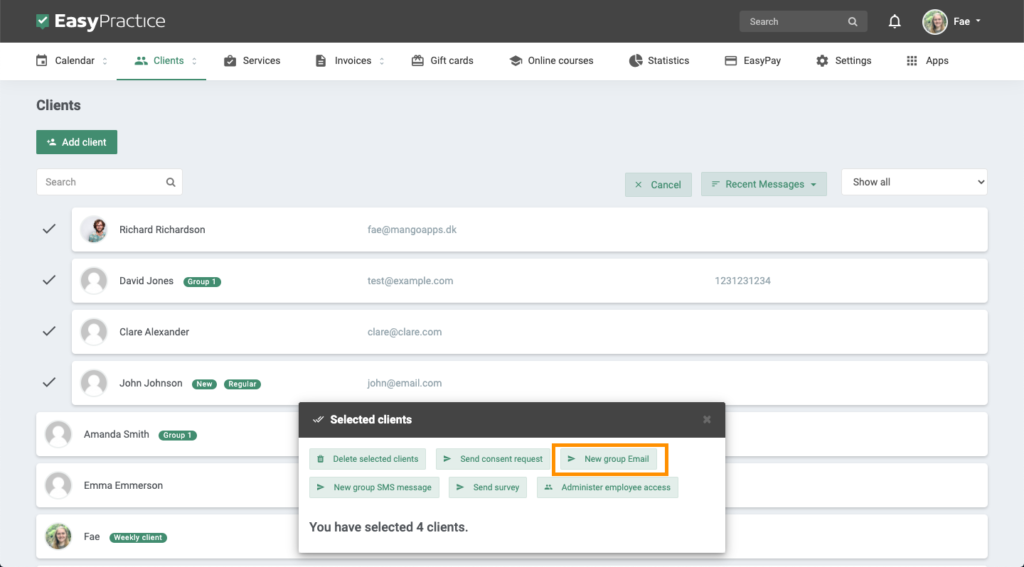 You can also choose to send a group SMS or to send a survey among other options when you select clients.
While you are writing your group email, you may want to use the personalisation options easily provided here for you. If you click "Client first name" it will show up as [firstname] like in the image below: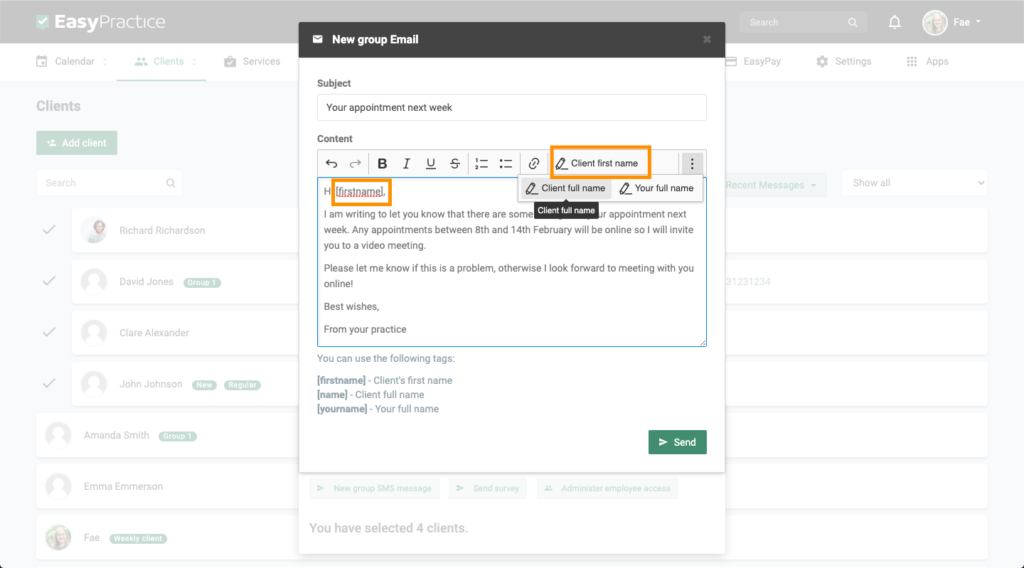 When your clients receive the emails, they will see their own first name in this place. This way, your clients will receive an email which appears more personal than something such as "Dear Clients" so make use of this option!
Why use this function to send group emails?
Many of our clients already know that they want to use this function because they have requested it. For those of you who would like some clarification, here are the reasons why this is a great function for you:
Save time by emailing many clients at once
Ensure you keep clients updated about your practice in a simple way
For clients who prefer to communicate via email instead of SMS, this is the best method of communicating with them
Other ways to communicate with clients
If you would rather send group SMS messages, you can do so by clicking "New Group SMS Message" in place of "New Group Email" as above. This may be more convenient for clients who prefer to receive messages this way or for you if you want to ensure that they see the message more quickly.
To communicate in a secure way, use Secure Messages which is an app in EasyPractice ensuring that your communication is safe. The messages you send with this app are encrypted and the client will receive an email or SMS (if you choose to enable this) to let them know that they have a message from you in the system. They can log in to see the message. You can also send files and journal entries in the Secure Messages app.
---
If you have any questions or comments, please get in touch at [email protected] and we'll get right back to you! 😀
In our Help Centre we have a whole section dealing with our Group Message Function.
If you have any questions or comments, please get in touch at [email protected] and we'll get right back to you! 😊 If you wish to try out our booking system free of charge to see if it works for you!