The Employees app just got better! Separate clients for employees is a new feature you wanted and if you didn't know you wanted it, you will once you have read this post. 😄
A huge number of our users already use the Employees app which allows you to handle multiple employees in your clinic or business with different permissions. Now, there is a new addition to the app. Each employee can have their own clients, meaning that it is no longer difficult to manage long lists of clients as you know who each client is assigned to.
This is also a great extra level of security considering GDPR, ensuring that nobody will have access to client data if they don't need it. Now, the main user in EasyPractice can give each employee access to the clients they work with and not each other's clients.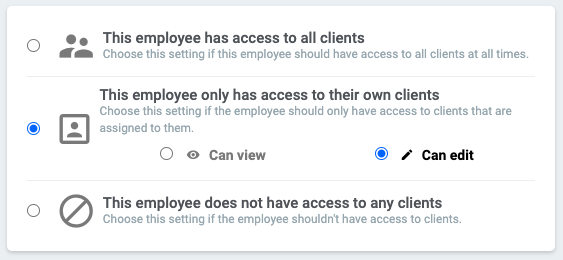 This screenshot above shows you where to give certain client accesses to your employees. Go to Settings -> Employees and select an employee. You can choose whether to give them access to all clients, only their own clients or no clients (if the employee does not work with clients but is an accountant, for example).
Now, if you go to the Clients menu and select a client, select 'Edit' and then 'Employees', you can change the permissions for each employee regarding this specific client. This is shown in the image below.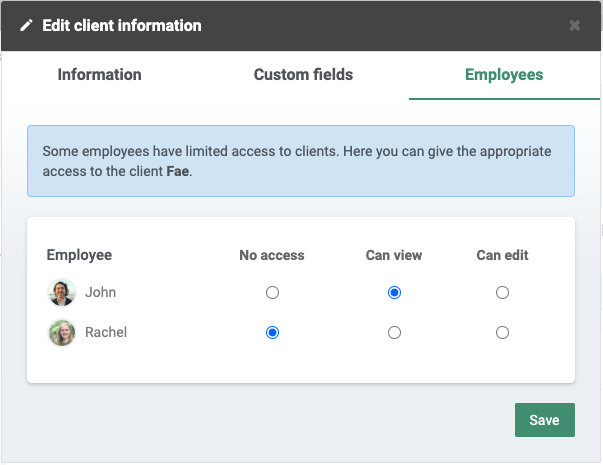 How does this affect Online Booking?
It is important to note how this will affect Online Booking. When a client books an appointment through Online Booking in a particular employee's calendar, this employee (even if they have limited access) will automatically be assigned the client and the booked time. The same applies if a client signs up for an event in a specific employee's calendar.
We hope you find this new addition to the Employees app useful in making your clinic or business run more smoothly.
---
In our Help Centre we have a whole section dealing with our Employees app.
If you have any questions or need any help with this new function, just send us an email at [email protected] and we will get right back to you. We're ready to help anytime 😀
Are you ready to make the leap into your appointment scheduling? Get free access to all these tools and a lot more!