We know you're going to love EasyPractice's Gift Cards feature – It's easy to use and looks great!
With the Gift Card feature, you can give your clients the opportunity to gift your treatments to others in the form of Gift Cards which can be used as payment in your practice. This helps to attract new clients for you while you make money! What could be better?
You can also customise your gift cards to add a personal touch so that they are in line with your business. Alternatively you can offer Vouchers to your clients.
---
Where can I find the Gift Card feature?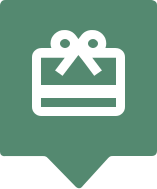 To find Gift Cards, in your EasyPractice account go to Apps > Services > Gift card.
Click Activate, then go to 'Gift cards' in your top toolbar. Here you can create a new Gift Card.
If you are not a user yet, you can create an EasyPractice account right away!
---
How do Gift Cards work?
You create your various Gift Cards inside the Gift Card menu.
Here, you can choose to invoice the Gift Card to the person who would like to give it to someone else or instead, you can create an invoice later, after it has been created.
Once the Gift Card is created, you are ready to go! Simply send it to the recipient directly from the system by clicking on the Card and selecting 'Send Gift Card'. Depending on which you prefer, Gift Cards can be sent by e-mail, SMS, or may be printed directly in your practice.
When the recipient then makes an appointment with you, they can choose to use the Gift Card to book their appointment with you for individual services or Events. If you use Online Booking, your clients may submit a Gift Card code when booking a new appointment. (You can make an appointment payable with a Gift Card when you click on the appointment in your calendar.)
EasyPractice make sure to keep track of which Gift Cards are active and which Gift Cards are already used. In the Gift Card menu, you can also select whether a Gift Card has been used.
---
How do I make my Gift Cards personal?
Remember that under Settings > Gift Cards you can choose:
how your Gift Cards look by changing the text and colour or adding your own background
whether they can be used in online booking
whether they can be used when registering for events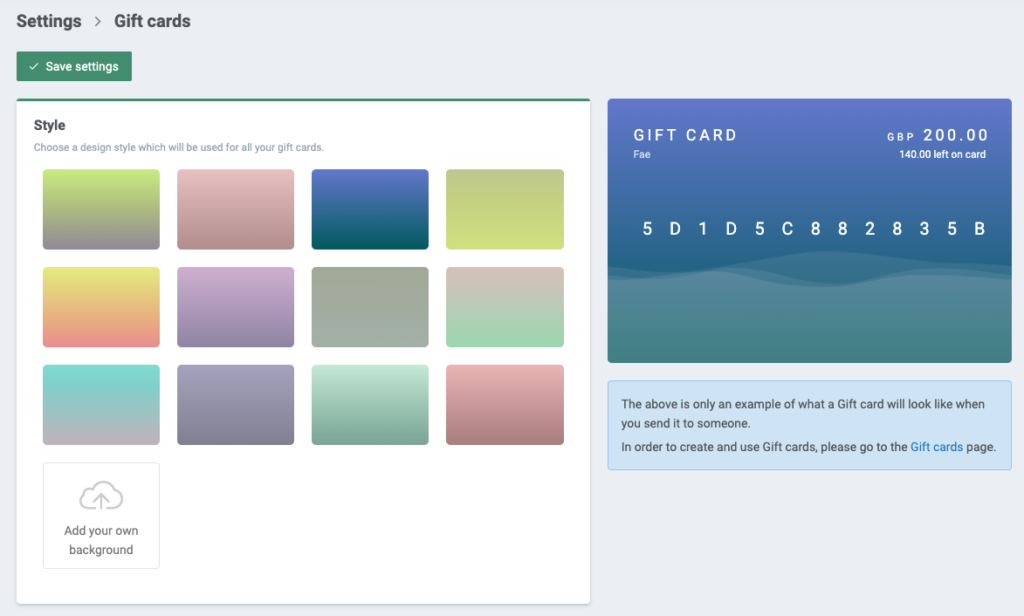 ---
How do I sell them online?
Not only can you sell Gift Cards directly through the system and assign them to clients, you can also sell the option of Gift Cards in your online booking! Your clients can create and buy Gift Cards whenever they want. They pay directly through the system with EasyPay, and you don't have to do anything yourself!
First you need to ensure you have the Gift Card app activated (as above)
Then you need to make sure you have EasyPay activated because your clients will need to pay online for the Gift Cards
Next, go to Settings > Gift Card > Purchasing. Here, make sure that 'Allow clients to purchase gift cards when logged into Online Booking' is turned on. In these settings, you can also choose a maximum and minimum amount to be used in Gift Cards, as well as an expiration date
Now a 'Gift Card' menu will appear on your online booking page. This is where your clients can buy a gift card by creating it themselves and choosing the amount
When your clients purchase a gift card, they can pay directly in your Online Booking with EasyPay. They will then receive an email with a receipt and a link to their gift certificate, which they can forward to someone else if they wish
An invoice is automatically created in your invoice menu when a client has purchased a new gift card – and all you have to do is approve it
---
Any more questions?
In our Help Centre we have a whole section dealing with Gift Cards.
If you have any questions or comments, please get in touch at [email protected] and we'll get right back to you! 😊 If you wish to try out our booking system free of charge to see if it works for you!