Do you want to change the color theme of your Online Booking?
Today we will write about a new feature in EasyPractice, which you may have already noticed and already used.
From time to time we have heard suggestions from our clients about being able to customize the booking site's design and appearance. There has been a desire for more options to tailor the page that the clients see when they are booking appointments according to the individual user's wishes. Both the support and development teams of EasyPractice have thought this is a great feature to have. Therefore, our development team has now built this feature that will allow you to change the look of your booking site!
Therefore, you can now choose colors in your Online Booking, and in that way, give the booking page a more personal touch that suits your clinic and the image you wish to present.
How do I customize my color theme and what options do I have?
It is quite simple to change this. If you go to Settings -> Online Booking -> Appearance, you will find a new field:

If you click on the green field (which represents the current color field in Online Booking), a new box will appear: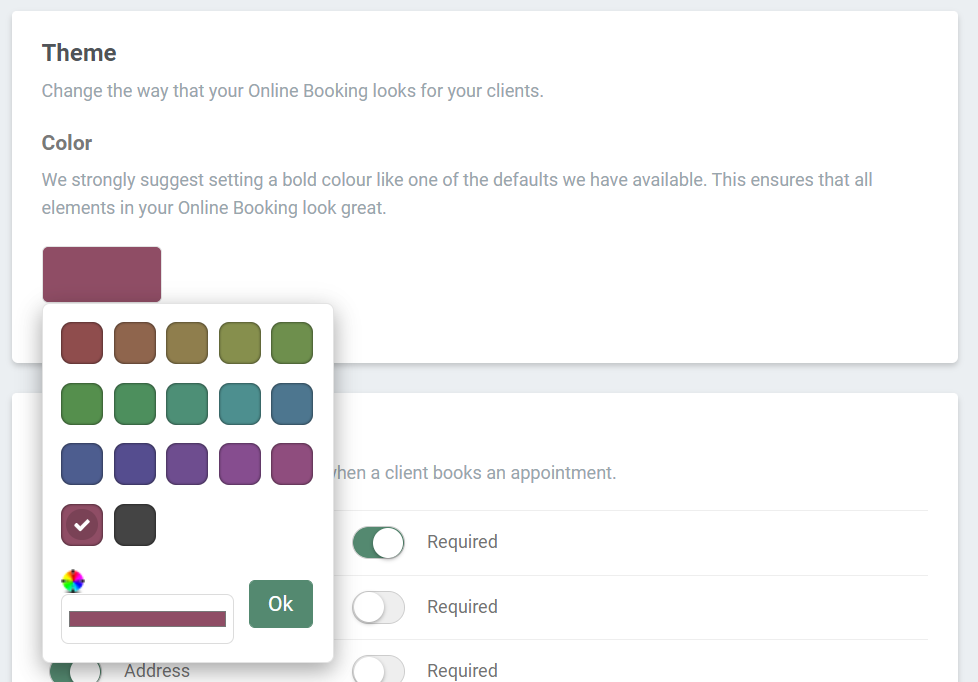 This is where suggestions for theme colors will appear. As it can be seen, all these colors are of a darker shade. This is because – as also described in the picture – you can advantageously choose a darker color. If a color is too light, you run the risk of making the text on the page difficult to see. However, you can further customize your own color. Click on the bottom elongated line that shows the current color: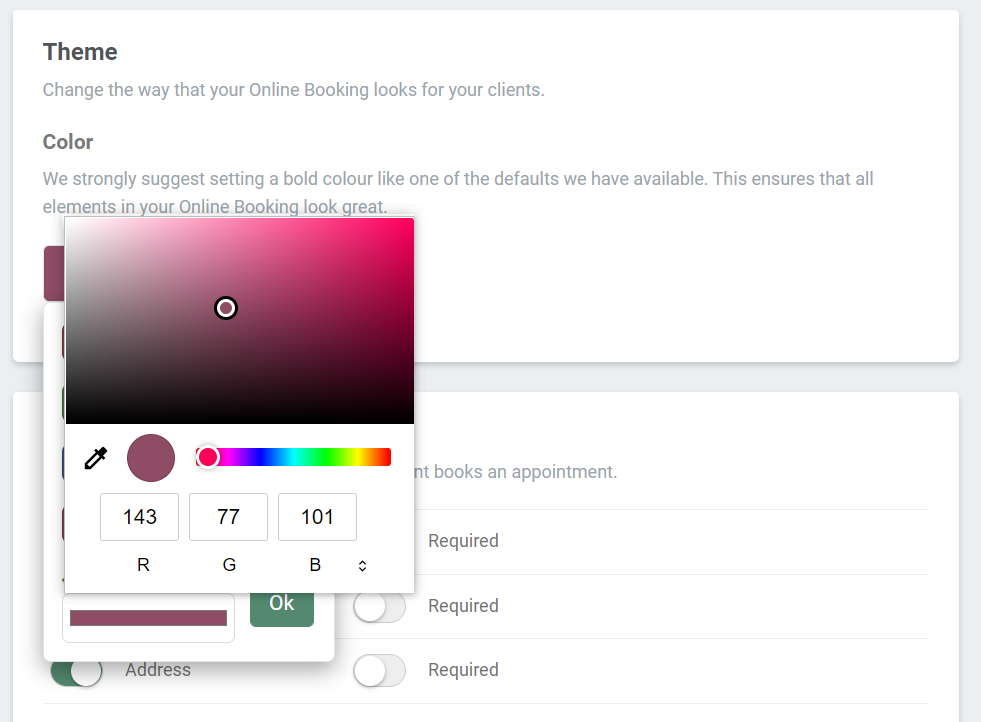 Here you will be free to mix your own color. If we choose a purple color, your Online Booking will e.g. look like this: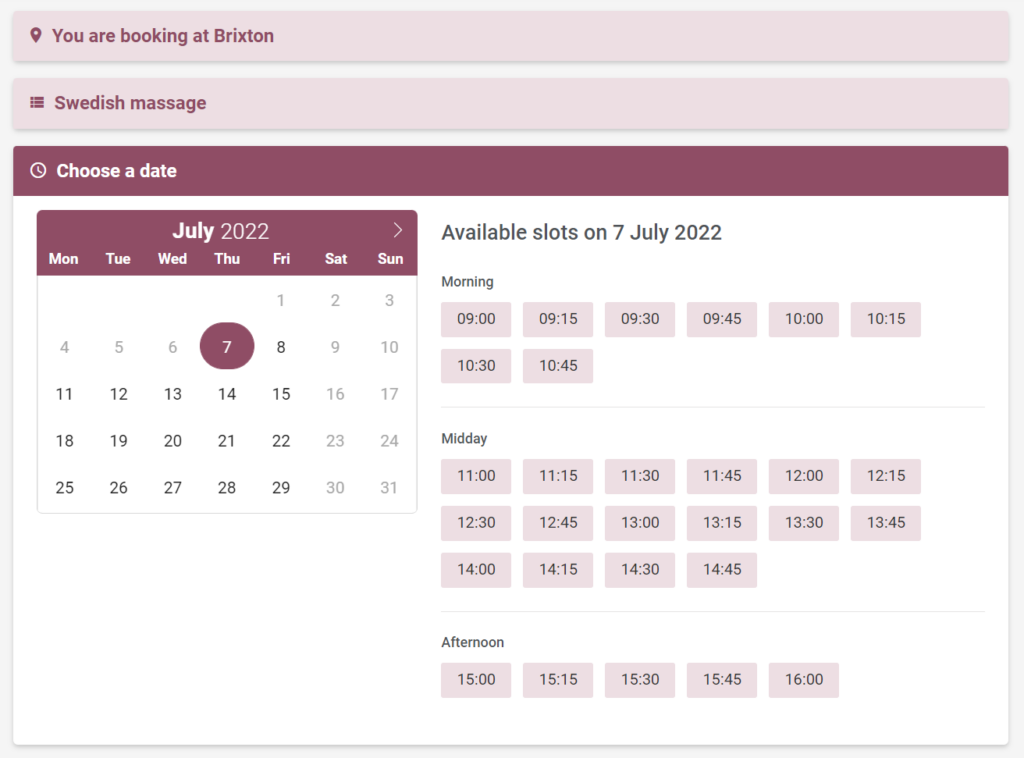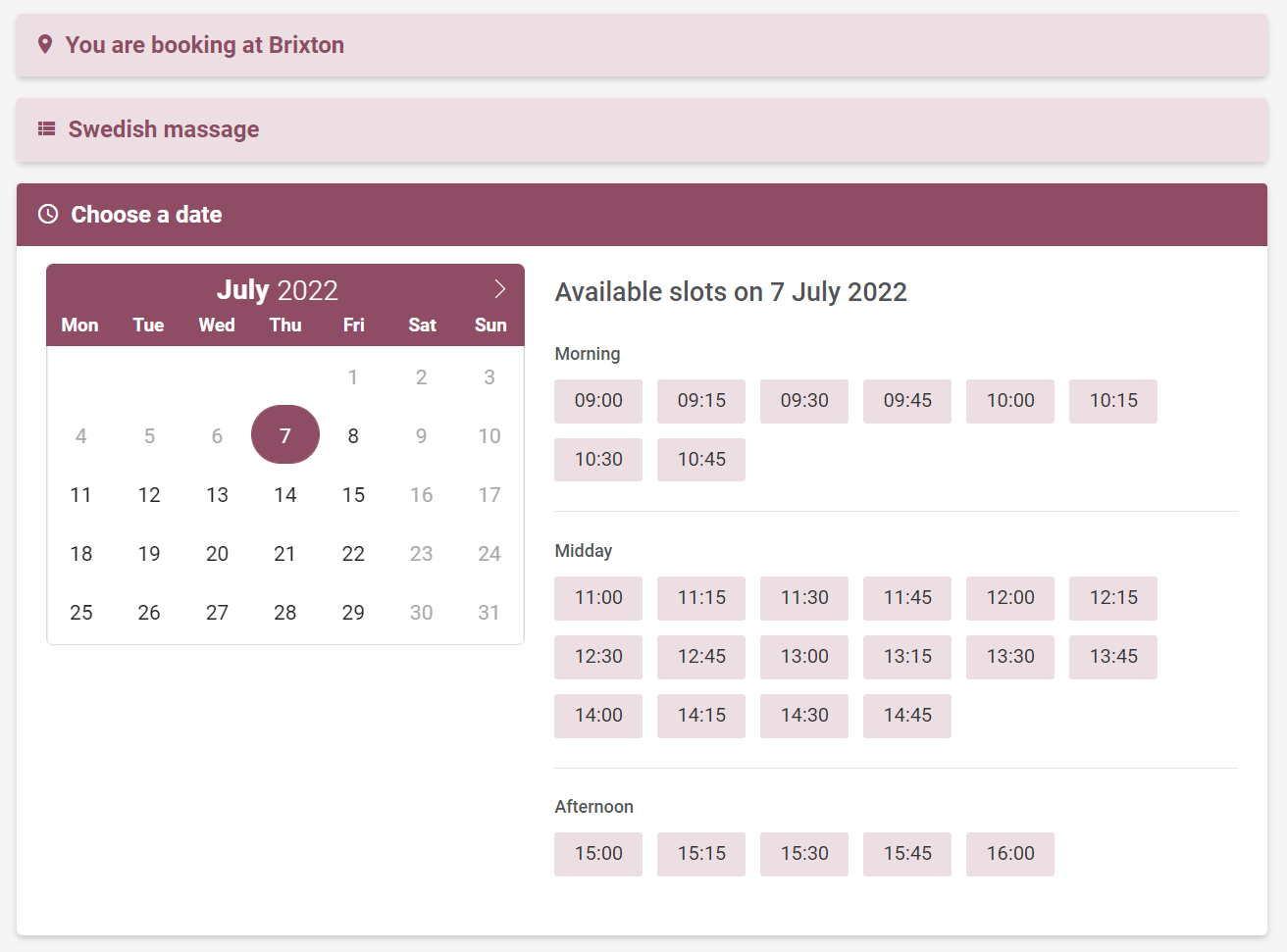 If you select a color and click 'Save Settings', you will be able to quickly check if the changes suit you by clicking the 'Click here to view your Online Booking' button:

Here, you will quickly be able to see how your changes look from the client's perspective.
If you have saved some changes that you don't like, you will be able to quickly return to the original color theme by selecting 'Reset color selection' under the color:

Is there anything else I can do to personalize my booking site?
If you want to make sure that you make use of all the options we have for Online Booking (and EasyPractice in general), then take a look at our help center. We have (among many other things!) several help pages dedicated to Online Booking: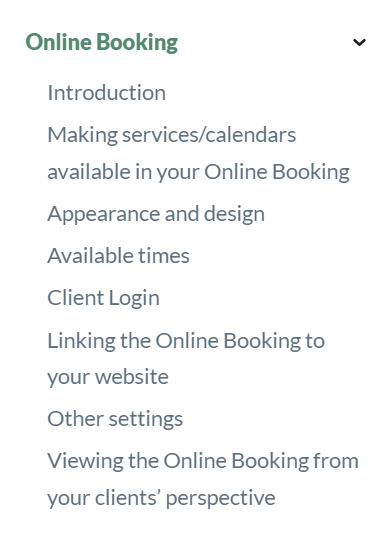 We have, for example, detailed guides to our online payment solution, EasyPay. If you are in doubt about any feature or app – check it out, if you have not already done so! We have tried to compile and structure guides for all functions and integrations in EasyPractice. If you would like to see a review of the most important features in one place, then I will refer you to our 'Webinar on demand'. Here, you can get help to make the best use of the most important functions in our system.
If there are some things that you miss being able to change on the booking page, continue to send your wishes and feedback on the system our way. We always value our customers' feedback – it is clearly you who know best what you are missing in the system. Finally, if you have further questions, you can write to us at [email protected]
Our support team is ready to help every day of the week! 😀