Looking for an alternative to SimplePractice?
See why thousands of users have chosen EasyPractice as their software to help them in their day to day tasks.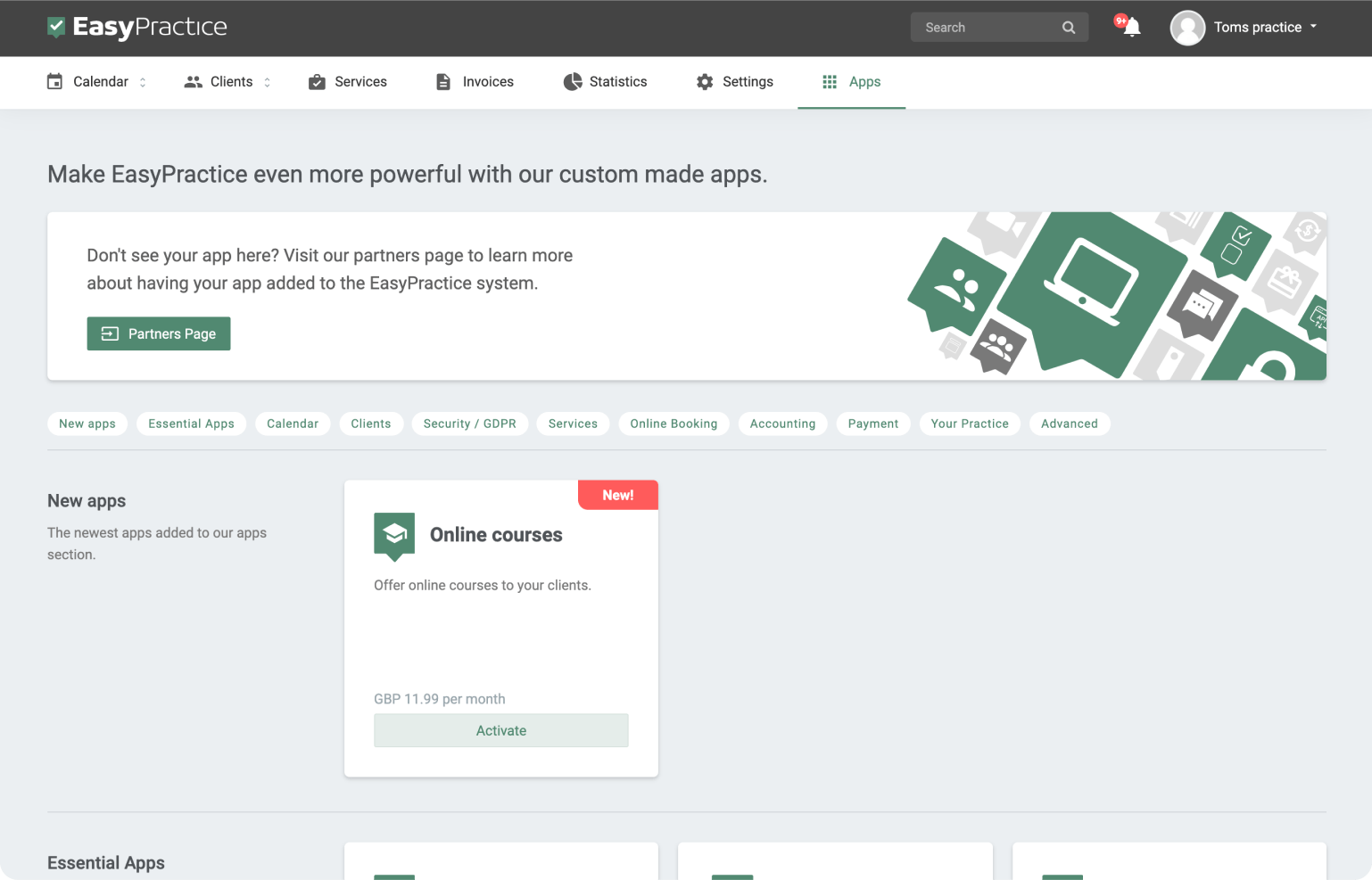 SimplePractice is a booking system for practitioners which helps you with your workday from booking to billing. Using a practice management system means you can go paperless and make booking easier for your clients while keeping on top of your calendar. Online systems are great for telehealth and working from any device whether you're in an office or on the go. With a system like SimplePractice, you can take all your notes with you and not have to rely on notebooks and messy, crossed out plans on your calendar.
Features
Why use EasyPractice instead?
EasyPractice has even more functions and apps to help you manage administration at your practice because of our very extensive catalogue of apps you can install inside your account. The conclusion is that, while both systems are great options, EasyPractice is a better option if importing client notes, having an open API, and real-time calendar updates are crucial to your practice.

At EasyPractice, we really value your relationship with your clients and we are aware of how crucial it is to maintain a personal connection even as you and your practice go more digital so that your clients know you are still available to them.

You have a platform with EasyPractice to find the perfect level of personalization and automation. In order to highlight the important similarities and differences between SimplePractice and EasyPractice and to assist you in making an informed choice, we examined SimplePractice. Or, simply start a free trial to see for yourself.
EasyPractice is at work for you even when you're not
Allowing your clients to book online means they can book while your practice is not open, maximising the bookings you will take.
If there is no appointment available which suits your client, they can sign up to your "Waiting List" and if the booked appointment is cancelled, you can invite them to fill the slot with just one button.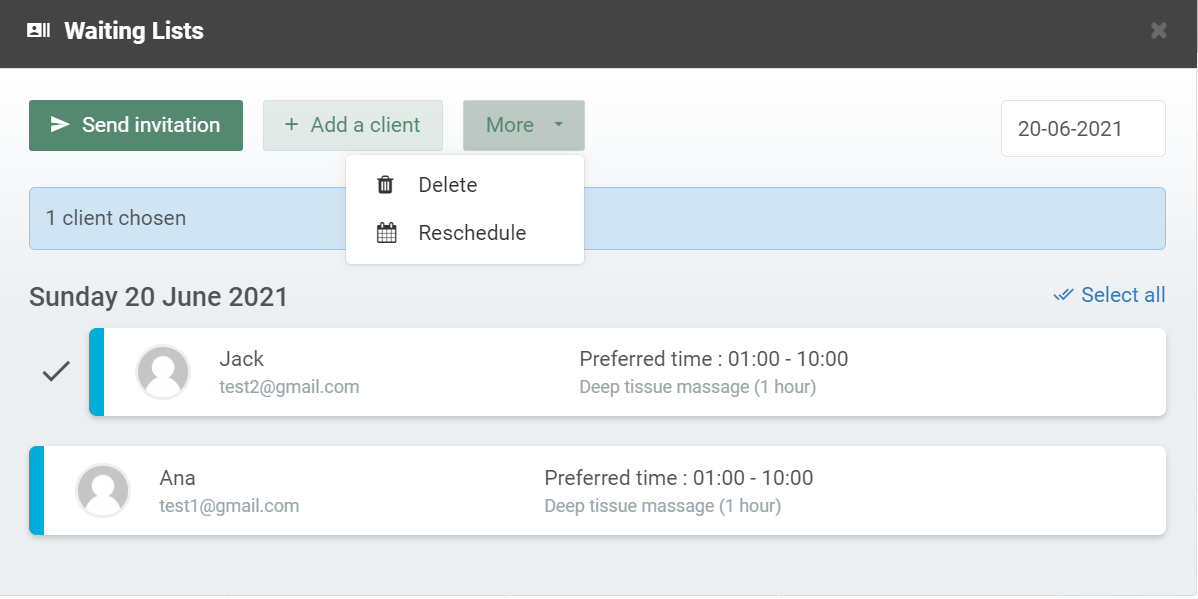 Managing your entire team securely and easily
Working with a group of therapists or practitioners using EasyPractice means you do not need to pay for a full subscription for each login. You can all be included as "Employees" under one account meaning you can have an overview of everyone's calendar and you can choose whether employees should have access to all clients or only their own. This is hugely important for data security which we take very seriously.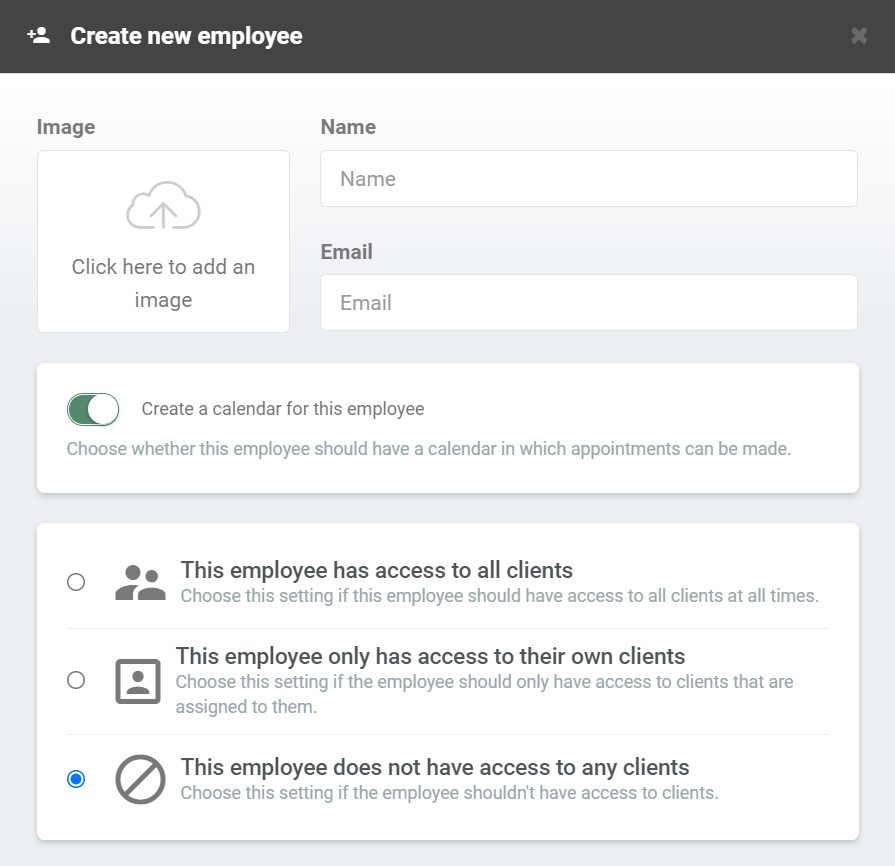 Apps for security and following GDPR guidelines
The "Clean Up" app allows you to ensure inactive client data is deleted after a certain period of time.
The "Consent" app allows you to request consent to process your clients' personal data from within the system. You do not need to worry about extra paperwork when you rely on the management system with everything in one place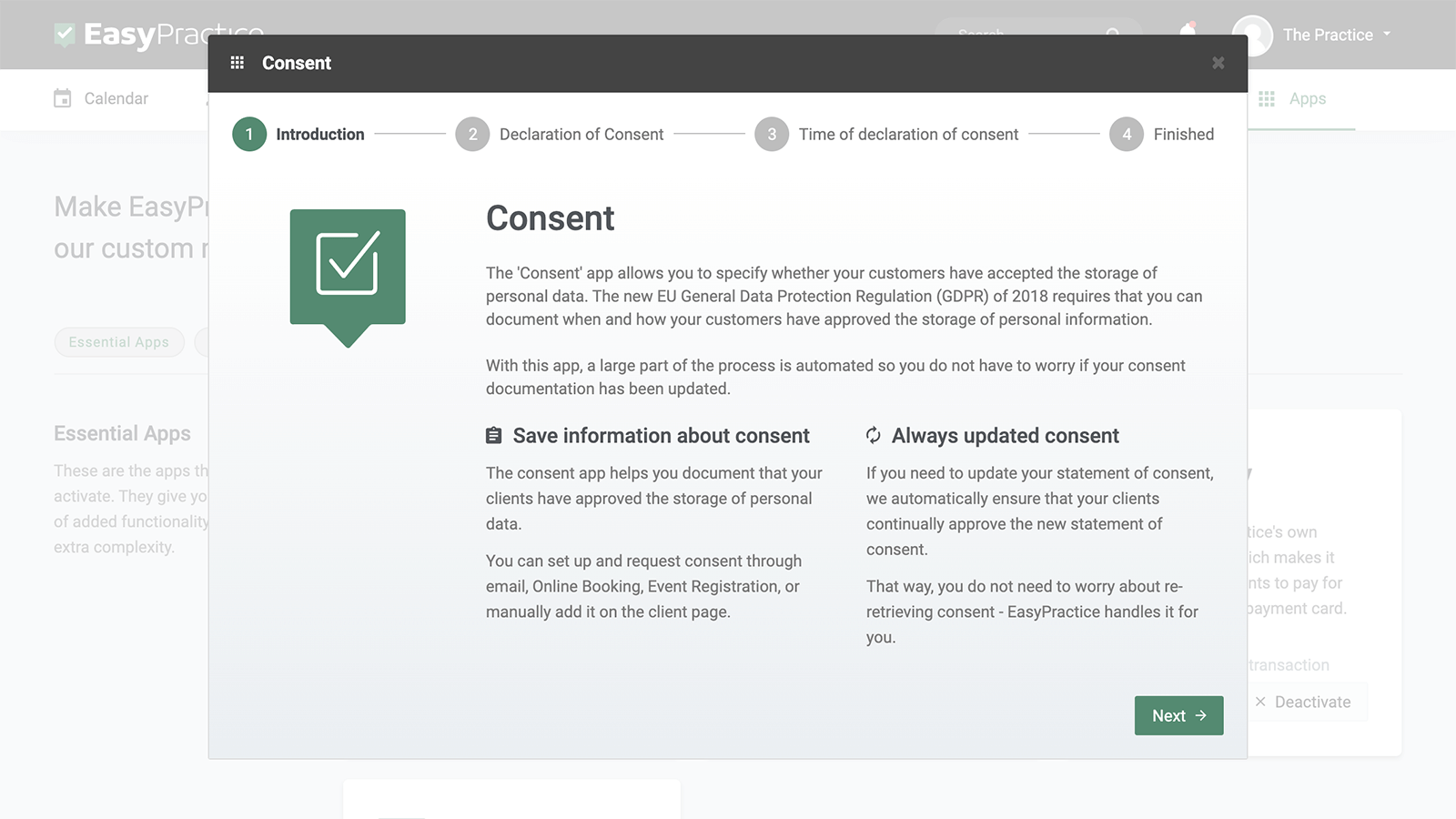 Advanced Waiting List Feature
It can be difficult to deal with cancellations, especially if they result in a financial loss. By using the Waiting List function, EasyPractice decreases the impact of cancellations. Based on factors including current wait time, availability, and preferred clinician, you can send an invitation for an appointment to a client who is on a waiting list. When the client accepts the invitation, the new appointment is promptly added to your calendar.

This enables you to swiftly fill open slots and enjoy happier clients. Although SimplePractice offers many fancy features as well, there is no waiting list functionality yet available.

You can import journals from other systems
When moving to a new system, the ability to take your data with you is essential. You won't have to start from scratch if you have access to prior data, which will cause less disruption to your business. Although client imports are supported by SimplePractice, client notes are not. Your customer history is so gone.
You can import journals from other systems.  Your data transition will be handled for free by our in-house import specialists! It couldn't be much simpler to switch to EasyPractice.

API, webhook, and integration
Build independent applications to connect to your EasyPractice system or make it available to the public by connecting to our appointment booking API. To increase your productivity and get updates right away, set up webhooks.
If there is a feature in our EasyPractice system that you need, you can connect to our API and create your own standalone applications. You have the option of opening these apps to the public or connecting them to your EasyPractice system. More endpoints are periodically added to this API, which is constantly being updated. You may get additional information about our API at our Help Centre.
With EasyPractice, you'll be able to establish a webhook and select the events it should include. The following options allow you to create webhooks:

booking created/updated/deleted.

When one of those events is included in a webhook you've established, an API request will be sent to the URL you selected during the webhook creation process whenever that event occurs throughout the system. Now, the URL is sent with event-related information, like when a booking was made. With Cliniko you have to check if there are any new updates manually.
SimplePractice relies on its own platform and does not offer an interface to connect your own integrations or apps. Also, there is no way to create webhooks to receive updates.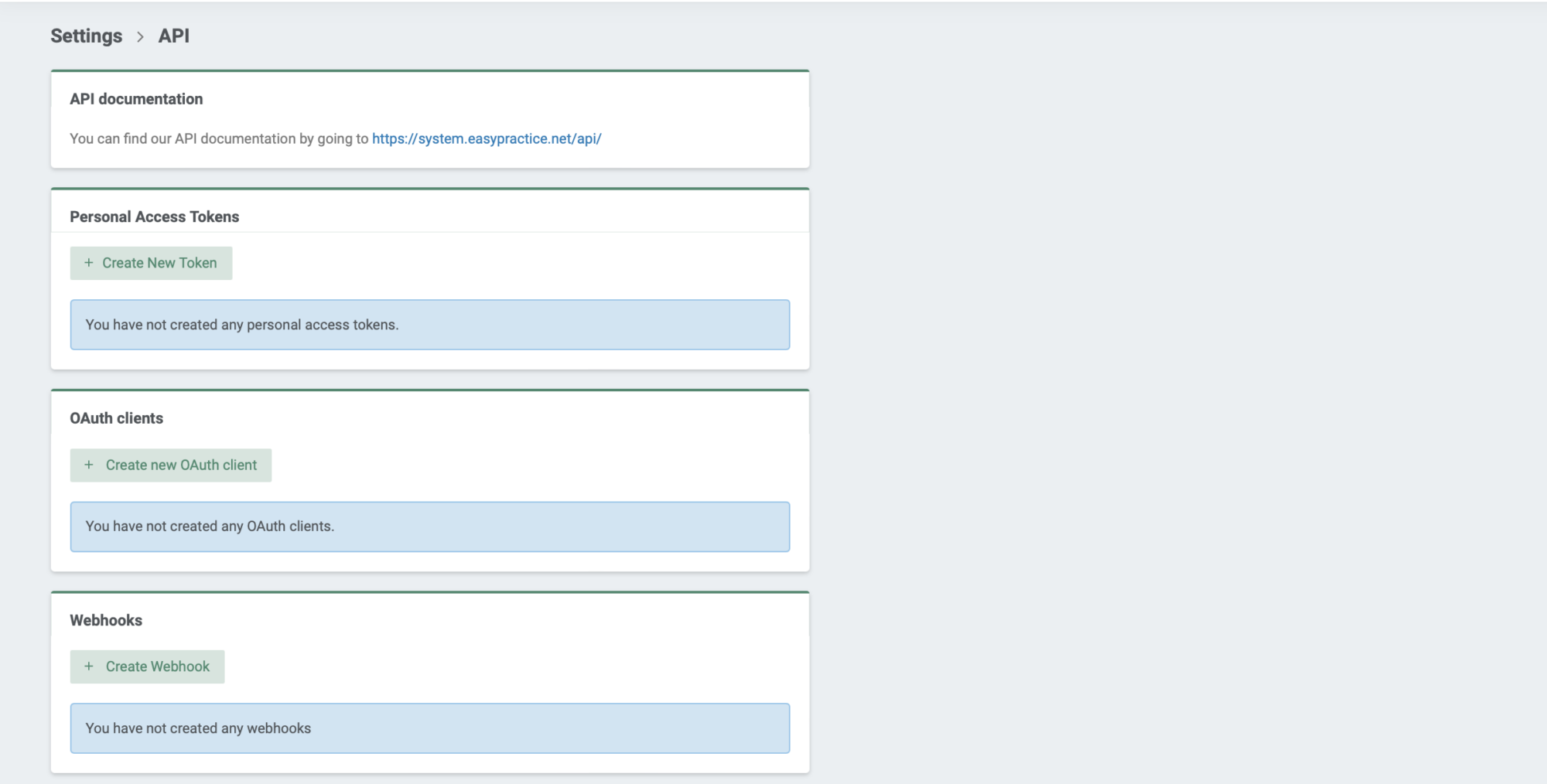 You have already worked out that it makes good sense to use a practice management system and we know there are many platforms available. SimplePractice is a great platform and EasyPractice is too! We are very glad that you are considering EasyPractice to help manage your workday and you should make sure you are using the right system for you and your practice.
The proof is in the reviews
Our users consistently rank EasyPractice as one of the best software for clinics. See how SimplePractice compares.
| | | SimplePractice |
| --- | --- | --- |
| Google | | |
| TrustPilot | | |
| Facebook | | |
Try EasyPractice for free
At EasyPractice, we're confident that you will be satisfied with our huge range of functions and apps. We're frequently told how user friendly and intuitive our platform is by our users. Why not give us a go for free to check that EasyPractice is right for you?
Get free access