We're delighted to introduce you to our new integration with Zettle! From now, you can activate the app in your EasyPractice account and allow clients to pay using your Zettle POS, directly from EasyPractice invoices. Combine your booking and payment system so that you can take payments in the way you prefer!
EasyPractice's skilled development team continuously updates the system with new functions and integrations. The team works hard to deliver the latest that our users ask for, and always prioritises what tops the wish lists. Most recently, for example, we have updated the system with a couple of smart shortcut functions. One makes it easier to scroll back and forth between different weeks, months or years in the calendar. Another shortcut takes you directly from a client booking to the client's journal.
But the big news from the last few weeks' updates is here:

We now offer an integration with the checkout system Zettle! This integration has been incredibly in demand among our users and you can now activate it completely free of charge in EasyPractice's App menu. The integration makes it easy to send invoices from EasyPractice to Zettle. You can then receive payment for the invoice via Zettle's card terminal. The payment is then automatically registered in EasyPractice, so that all information about your payments – regardless of whether they are handled online or physically at your clinic – is stored in one place.
In this blog post, we'll tell you a little more about Zettle for those of you who do not yet have a checkout system. We will also go through how the integration with EasyPractice works. This way, you can get as good a start with the Zettle integration as possible. If you have any questions, you are always welcome to contact us at [email protected] , and we will get back to you as soon as we can.
What does Zettle offer?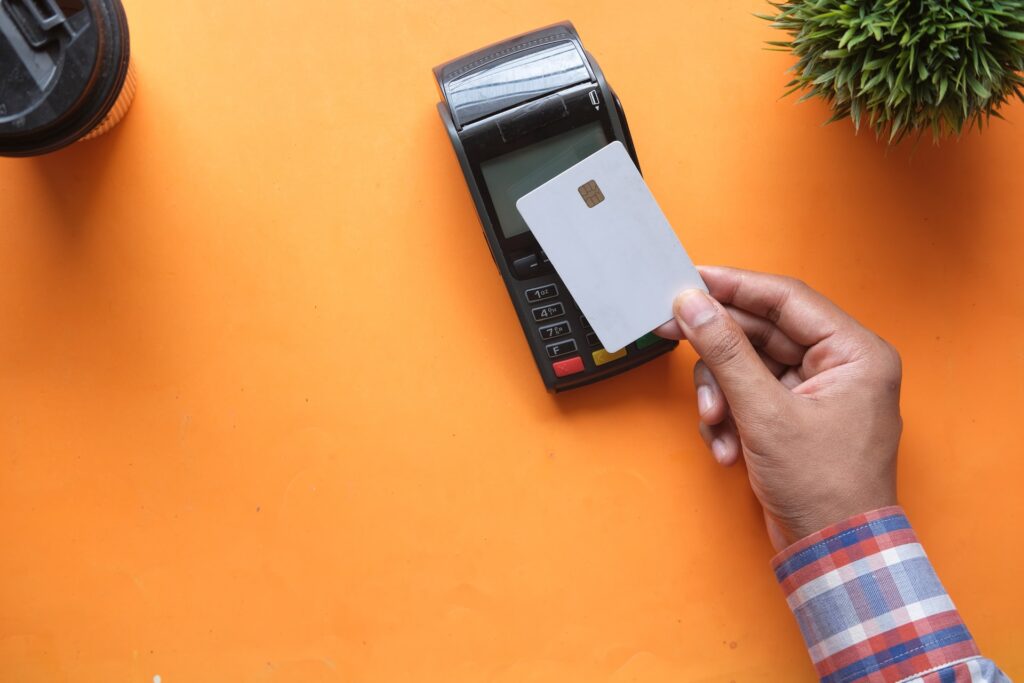 Zettle is one of the most popular payment solutions on the market right now, and is perfect if you want to be able to receive physical payments.
With a Zettle reader, your customers can pay by card directly at your clinic, practice or wherever you work. The payment is then registered directly on your iPad or iPhone, and you can also print the receipt on the spot to your customer.
Flexible card terminal
Print receipts on site
Register all payments in EasyPractice
The system also offers a number of different package solutions depending on what your company needs. Choose to buy only one card terminal or get a complete cash register system with receipt printer, card reader and cash register. A perfect tool for both large and small service companies.
What do I need to do myself?
For your Zettle reader to work, you need a smartphone or tablet with Bluetooth and internet connection. The system also requires an operating system that is at least Apple iOS 10 or Android 4.4. However, Zettle offers the option to buy an iPad in their package price, if you do not already have a tablet that you can use.
Integration between EasyPractice and Zettle
EasyPractice has long offered a complete payment system for online payments. With EasyPay, you can easily receive payments via your booking form and let customers pay directly at the time of booking. You can also reserve a payment and have the amount deducted only when your session is over. You can use EasyPay for services, events and online courses, and you always pay the same price: 2.9% + £0.22 per transaction. Want to learn more about how EasyPay works? Click here to get to our guide about the system!
Aside from this existing combined booking and payment system, you can now add Zettle to combine more payment methods. Now it is possible to also integrate EasyPractice into Zettle, so that you can let your customers pay directly at your clinic via Zettle. This arrangement is especially suitable when you do not want your customers to pay online, or if your customers want to make an additional purchase when they visit you. The integration will develop over time, but already now you can register all transactions from Zettle in EasyPractice without having to transfer all payment information manually. This will make it easier to gather all the information about your payments in one place.
Enable Zettle integration
Start by logging in to your EasyPractice account and go to the EasyPractice App menu. Here you can activate the integration by clicking on 'Activate' under the Zettle app. The integration is completely free to activate.
Then log in to your Zettle account and verify the integration between EasyPractice and Zettle. In step 2, you will then be able to choose whether a refund from Zettle should automatically generate a credit note in EasyPractice. If you do not choose to activate the option, refunds will still be registered in EasyPractice. The only difference is that Zettle does not create the credit memo automatically. You can always change the settings for this under Settings -> Zettle in your account.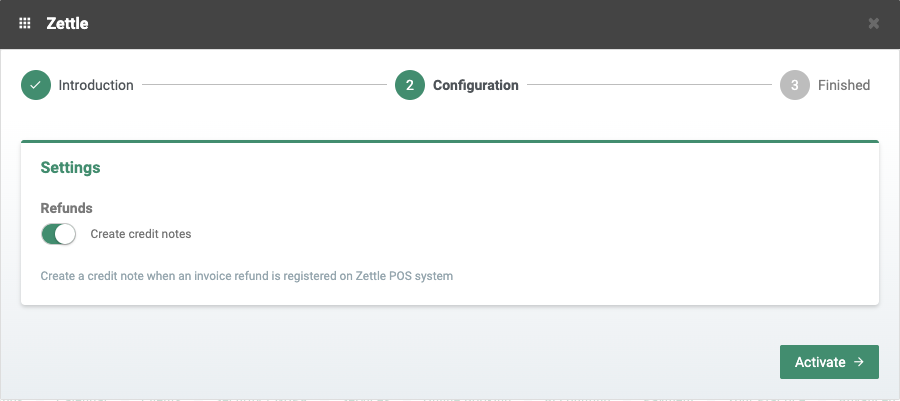 Finally click on 'Activate' to activate the integration. Then just start sending invoices from EasyPractice to Zettle, and register them with your card terminal!
Send invoices from EasyPractice to Zettle
When you create a new invoice in EasyPractice, you will now be able to send the invoice directly to Zettle.
Start by going to 'Invoices' in the main menu and click on 'Create new invoice'. Fill in the invoice information as usual and click on 'Accept invoice'. Here you will find a new option for the invoice at the top of the page: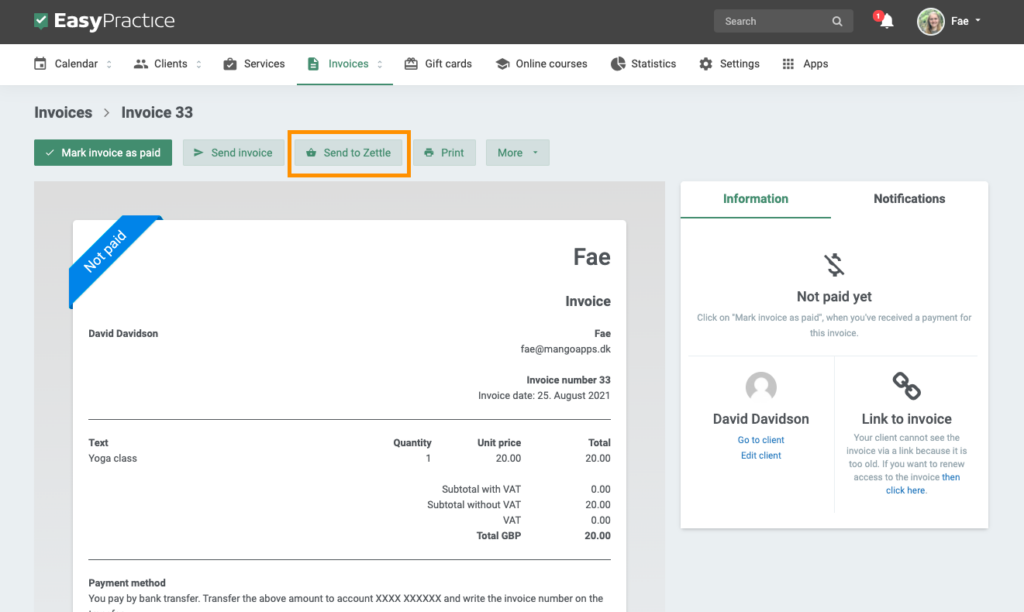 Click on "Send to Zettle" and accept that you want to send the invoice. It will be registered with Zettle immediately. At the bottom of the invoice you will see that the invoice has been registered in Zettle: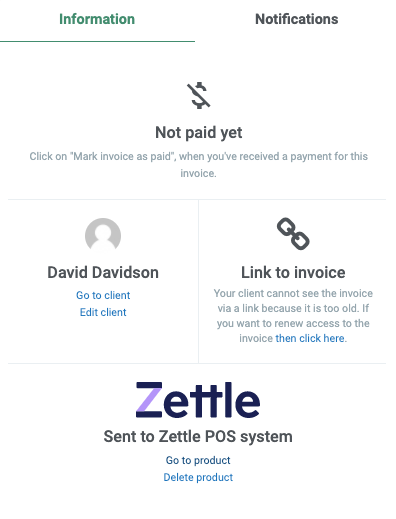 If you click on 'Go to product', you will automatically be taken to the invoice in Zettle. You will see all the information about the invoice created in EasyPractice such as in the screenshot below:



Register the payment from Zettle in EasyPractice
Once the invoice has been registered in Zettle, you can charge for the service via your card terminal. Once the payment has been completed, it will automatically be registered as paid in EasyPractice. Just click on the invoice under the 'Invoices' menu, and you will see the status "Paid with Zettle" on the right of the invoice.
Also note that as soon as the payment has been registered as paid, the invoice will disappear from Zettle and will only be displayed in EasyPractice.
---
We hope this blog post can get you off to the best start with Zettle integration. Do you have any questions about the integration or how to combine your booking and payment system? Or maybe you have some suggestions on how we can improve the integration? Please contact us at sup[email protected]. We look forward to hearing from you!

Eager to test the new integration, but haven't yet created an account with EasyPractice? Register a free account with us here and test the integration completely free of charge. With the free version you can add up to 2 clients in total and start sending invoices directly to Zettle 🙂