When using EasyPractice we know you need safe and smooth usage on the go. That is why EasyPractice is a 100% responsive system and you can access all your data directly from any of your android devices. Whether mobile or tablet, the system is easy for you to access. Moreover, EasyPractice is transformed to make it as smooth as possible for you when editing records or creating appointments on a smaller screen.
Provided below is a step-by-step guide on how to save your EasyPractice system on your android device for you to have even quicker access to it. Then you will always have your EasyPractice tool in your pocket – ready to use. It will only take you a minute to read this guide.
First you need to access the browser on your device (

Google Crome is used for this example)

Please, go to

https://system.easypractice.net/

(This is the site we want to save)

  Press the button shown below

Then press the button "Add to Home screen"

You have the option to rename the "app". This will be name appearing under the icon on your Home screen. 

Finish by pressing "add"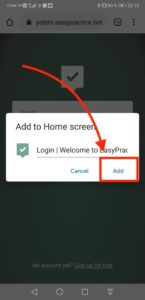 By doing this you will always be able to access your EasyPractice like any other app you have saved on your Android device.
If you have any questions or comments, please get in touch at [email protected] and we'll get right back to you! 😊 If you wish to try out our booking system free of charge to see if it works for you!